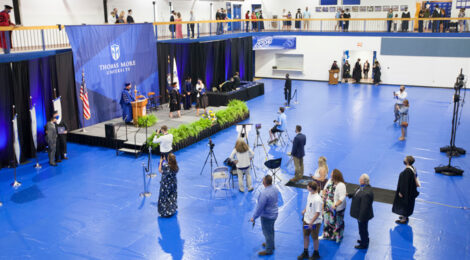 CRESTVIEW HILLS, Ky. (August 17, 2020) —Thomas More University honored its newest alumni during a socially-distant, day-long commencement ceremony on Friday, August 14. More than 200 undergraduate and graduate students arrived on campus to walk alongside their families today, receiving their diplomas.
---
CEREMONY VIDEOS
College of Business ceremony | College of Arts & Sciences ceremony | Graduate Programs ceremony | College of Education & Health Sciences & the Institute for Ethical Leadership & Interdisciplinary Studies
---
This year's Commencement was postponed from May to August 14, due to adjusts necessitated by the COVID-19 outbreak.
Related Photo Gallery: 2020 Commencement
"May Commencement, a moment of joy and celebration for the Class of 2020, was disrupted this year at Thomas More and across the country," said Provost Smith. "But President Chillo and the Thomas More community were determined that each of our graduates should experience this moment as a unique and special one. The Thomas More community came together, therefore, on August 14, for a beautiful, elegant, and personalized ceremony for our graduates, their families, and their friends."
The ceremony looked different than in years prior with graduates and their families socially distanced throughout the Connor Convocation Center and leading into the building. Each student was given a timeframe to arrive to campus to participate in the ceremony depending on their college and the level of degree they were receiving – undergraduate or graduate. To receive their diploma, each student walked across the platform where they were congratulated by President Joe Chillo, LP.D., Provost Molly Smith, Ph.D., and Board of Trustees Chair Judith A. Marlowe '69, Ph.D. The student's family members were their audience due to safety restrictions put in place by the University to ensure the health of those involved in the day-long event. The ceremony was livestreamed on Thomas More's Facebook page for those unable to attend.
Though more than 200 received their diplomas in-person, the ceremony honored the achievements of the entire Class of 2020, which included 485 undergraduate and graduate students, receiving a total of 516 degrees. Of this student total, 157 were first-generation undergraduate students. The class represented students from 12 states and nine countries, and 27 of the graduates were veterans or active military.
"Though this commencement celebration is more delayed than originally planned, today marks the opportunity for us to celebrate your notable achievement and it signifies to the world that you have met all of the requirements for graduation," President Chillo stated in a letter each student received alongside their diploma. "As you walk across the stage today, I hope you walk slowly, taking it all in, realizing that this graduation is a defining moment for both you and your family."
The ceremony was outlined as followed:
10 a.m. – College of Business Undergraduate Programs
11:30 a.m. – College of Arts and Sciences Undergraduate Programs
3 p.m. – Graduate Programs for all Colleges
4:30 p.m. – College of Education and Health Sciences Undergraduate Programs
4:30 p.m. – Institute for Ethical Leadership and Interdisciplinary Studies
Student Award Winners
Shelby Miller received the 2020 Outstanding Senior Award. She grew up in Cincinnati and transferred to Thomas More in the fall of 2018 to swim after competing at Wright State University for two years. She majored in exercise science with a minor in sports psychology. During her time at the University, Miller was the 2019-20 president of Student Athletic Advisory Committee, she was on the swim team, she was a leader for Delight Ministries, and she was involved in the 4C Scholar Society. Other awards she obtained for the 2019-20 year were Dean's List, a top eight national finalist (making her an All-American), the NAIA Champions of Character Award, the NAIA Academic All Mid-South Conference Award, and Swimmer of the Week for the Mid-South Conference. Miller plans on attending the University of Tennessee for her master's degree in sports psychology and motor behavior. She plans to work with collegiate athletes to discover effective mental strategies to improve athletic performance, discovering mental fortitude and positive attitudes, coping with life's anxieties and stressors, and learning ways to improve the practice environment and the coach-athlete relationship.
Kevin Borg received this year's Post-Traditional Adult Undergraduate Award. A new resident of California, Borg recently accepted a position with Procter & Gamble upon his graduation from Thomas More. As a US Navy veteran, Borg has served in several places around the world, including Iraq and Antarctica. He's happily married and have three great kids, Tyler (13), Makayla (10), and Makenzie (5). In his free time, Borg enjoys playing sports, especially soccer. He will say his favorite activity, however, is spending time and making memories with his family. With his background and education, Borg plans to provide the best life he can for his family and start a nonprofit to raise money for brain cancer research since his daughter was impacted by the disease nearly four years ago.
Emily Schultz received the 2020 Presidential Service Award. A Melbourne, Kentucky, native, Schultz studied nursing, was a four-year member of the Thomas More Women's Basketball team, and was a member of Campus Ministry. She recently began a career as an oncology RN at Good Samaritan Hospital where she is excited to make a difference in the lives of her patients.
Andrea Dingler received the 2020 Post-Traditional Adult Graduate Award. Dingler was born and raised on the east side of Cincinnati. She attended Mount Saint Joseph University for her bachelor's degree in special education. This year, she completed her master's degree in education at Thomas More, where she also received the Ruth Wernersbach-Shreve Award. Dingler will be starting her 10th year of teaching at Dixie Heights High School this fall as a special education collaborator working with freshmen. Dingler and her husband, Andrew, have three sons: Grayson, who is three, Daniel, who is two, and Oliver, who is three months. Dingler and her family love to play outside, go swimming, visit the zoo, and play together constantly.
"It was wonderful to capture the joy of our students' accomplishments in a ceremony that they will remember as special, in keeping with our longstanding ethos of student success in a personalized and caring environment," Smith added.
For more information about the weekend's activities, visit thomasmore.edu/commencement.
Thomas More University provides students with something much more than job training. Graduates are prepared for any career. But they leave prepared for much more. They are exposed to the very best thought, literature, art, and music. They learn to harness the power of human reason to solve problems and discover truth. Most importantly, they have the chance to begin to become the person they were created to be. This is the power of the liberal arts in the Catholic Intellectual Tradition at Thomas More University. Our students come here looking for more. And that's exactly what we offer. Here our students take that opportunity and…Make It More. Learn more at thomasmore.edu.
###
MEDIA CONTACT: Rebecca Stratton, director of communications and PR, strattr@thomasmore.edu, 859.344.3309