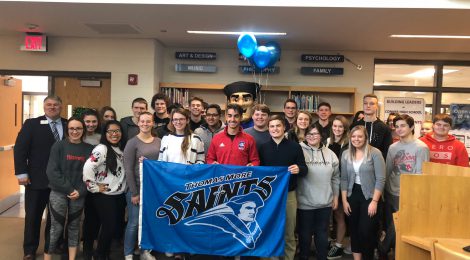 CRESTVIEW HILLS, Ky. (Feb. 27, 2019) — More than 25 students from two northern Kentucky high schools were surprised today with scholarship letters from Thomas More University.
The University's Vice President of Enrollment Management Chris Powers, Ph.D., mascot Tommy Mo, and admissions team hand-delivered the awards to students at Notre Dame Academy and Conner High School. "These school visits are exciting because we're awarding outstanding students scholarship money and jumpstarting their college careers," said Powers. "Through these scholarships, we are helping students continue their higher education goals and, in some cases, making college a reality."
Prior to this morning, scholarship letters were delivered to Holy Cross High School and Ryle High School. TMU's acting president, Kathleen Jagger, Ph.D., delivered the awards herself to Ryle High School students during the first week of February.
Additional scholarships will be awarded to high school students in the Greater Cincinnati area in the coming weeks. More than 100 students will receive hand-delivered scholarship letters from TMU overall.
"We look forward to welcoming more students into the Saints family!" said Powers.
For prospective students interested in attending TMU, Spring Preview Day is scheduled on campus March 23, 2019 from 10 a.m. – noon. For more information, visit thomasmore.edu.
Thomas More University is the Catholic liberal arts university of the Diocese of Covington, Kentucky. At TMU, we challenge students of all faiths to examine the ultimate meaning of life, their place in the world, and their responsibility to others. Through our integrated and traditional undergraduate, graduate, and certificate programs, we are inspiring innovation for a better tomorrow. Learn more at thomasmore.edu.