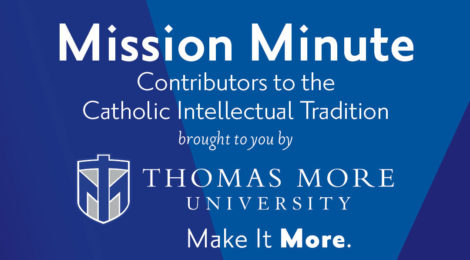 Dr. Brad Bursa, assistant adjunct professor of theology, profiles St. Benedict of Nursia, the founder of the Benedictine order and the source of the Rule which has inspired and governed hundreds of religious communities over the centuries. 
St. Benedict's Ladder of Humility – Quotations from Rule of St. Benedict, by St. Benedict of Nursia. Thought-provoking taglines by J. Augustine Wetta, OSB, author of Humility Rules
Step #1: Be afraid: Fear of God – "Always have the fear of God before your eyes (Ps. 36:2) and avoid all thoughtlessness so that you are constantly mindful of everything God has commanded."
Step #2: Don't be true to yourself: Self-Denial – "Do not be in love with your own will, but put into practice that word of the Lord which says: 'I have come down from heaven not to do my own will but the will of him who sent me'" (Jn. 6:38).
Step #3: Don't follow your dreams: Obedience – "For the love of God, be obedient to those in authority over you, imitating the Lord, of whom the apostle says: He became 'obedient unto death'" (Phil. 2:8). 
Step #4: Suffer fools gladly: Perseverance – "Be patient in suffering, even when you encounter difficulties and injustice, for Scripture says: 'He who endures to the end will be saved'" (Mt. 10:22). 
Step #5: Put your worst foot forward: Repentance – "Never hide any of the evil thoughts which arise in your heart or the evils you commit in secret. Instead, reveal them to someone you trust. For Scripture says: Commit your way to the Lord; trust in him'" (Ps. 37:5). 
Step #6: Be someone's doormat: Serenity – "When ill treatment comes your way, try to accept it. Learn to be content with the lowliest and worst of everything, and in all that is demanded of you." 
Step #7: Have a poor self-image: Self-Abasement – "Believe in your heart that you are an unworthy servant of God, humbling yourself and saying with the Prophet: 'I am a worm, and no man; scorned by men, and despised by the people.'" (Ps. 22:6). 
Step #8: Think inside the box: Prudence – "Only do what is lawful, and follow the example of your elders." 
Step #9: Don't speak up: Silence – "Only speak when you are spoken to, for Scripture says, 'When words are many, transgression is not lacking.'" (Prov. 10:19). 
Step #10: Laughter is not the best medicine: Dignity – "Do not be too quick to laugh, for it is written: "A fool raises his voice when he laughs'" (Sir. 21:20). 
Step #11: Be unassertive: Discretion – "If you must speak, do so gently, humbly, earnestly, and quietly, with few and sensible words; for it is written: 'The wise man is known by the fewness of his words.'" 
Step #12: Keep your chin down: Reverence – "Wherever you go, bow your head in prayer, remembering the words of the publican: 'God, be merciful to me a sinner!'" (Lk. 18:13).