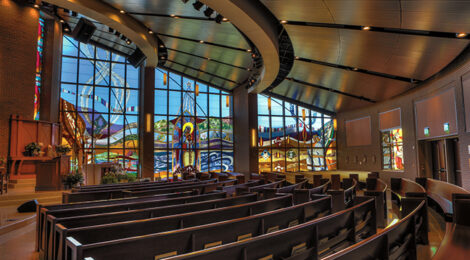 Continuing the historical connection of the permanent art collection
Making inroads into the permanent collection at Thomas More has been a rewarding project and since the spring Moreover, four additional episodes have been produced. Of these four episodes, two are collections of work by the same artist and one is the great outdoors. I hope you enjoy this continuation of the coverage of Thomas More's permanent art collection.

1. The Darryl Brothers Collection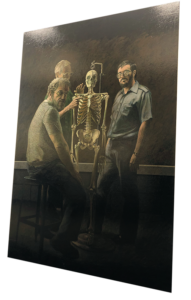 Darryl Brothers was a beloved member of the faculty at Thomas More for more than 25 years. His collection features artwork created in the '70s that were gifted to the University upon his death in 1993. One of the pieces in the collection features Brothers along with his former students, now colleagues, Dan Mader '71 and Bernie Schmidt '58. Both Mader and Schmidt became chairmen of art departments at other local institutions. This interview features the reflections of both Dan Mader '71 and Monsignor William Cleves. To listen to this episode, visit tmuky.us/brothers.
2. "…Unto Caesar… Unto God…"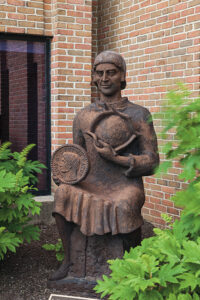 In 2003, Bernie Schmidt '58 crafted a bronze sculpture as a study of St. Thomas More entitled "…Unto Caesar…Unto God…" This study of More is a stylized capturing of the moment when our patron saint realizes he must forfeit his life in order to stay true to his beliefs. In this Art@ThomasMore episode, Monsignor Cleves discusses the research he assisted Bernie with in preparation for the piece. You will also hear from Annette Brink '77 whose parents graciously financed the sculpture. This episode can be heard by visiting tmuky.us/schmidt2.
3. William S. Bryant Arboretum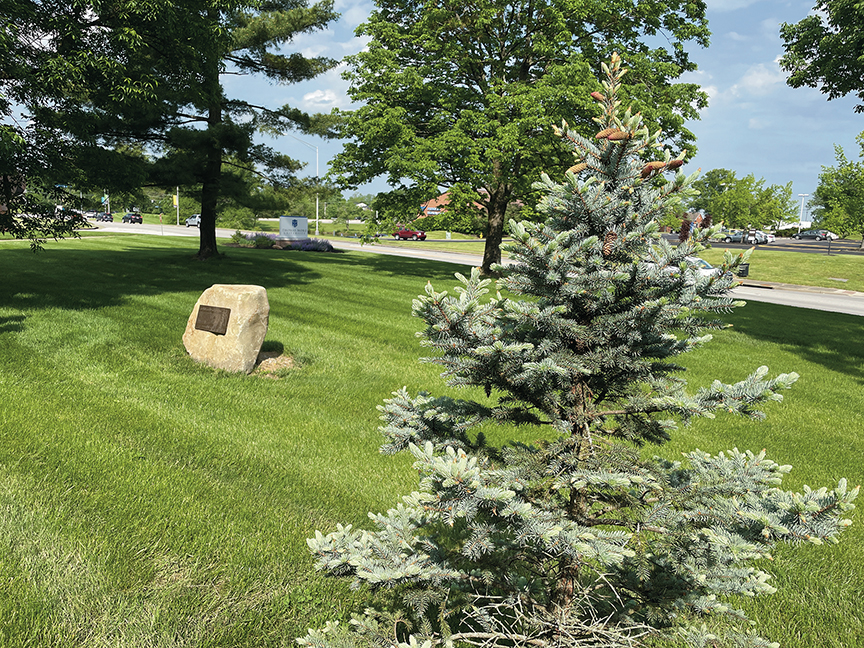 Some of the Lord's most beautiful handiwork comes in the form of nature's beauty. The William S. Bryant Arboretum, in addition to being a living classroom and laboratory on campus, is a prime example of living art. Professors Shannon Galbraith-Kent and JT Spence give insight into the history and direction of the arboretum since its introduction in 2008. To hear this episode of Art@ThomasMore, visit tmuky.us/wsbarboretum.
4. Mary, Seat of Wisdom Chapel Stained Glass Windows
The Chapel at the center of Thomas More's campus was dedicated in December 2012 and contains beautiful artwork crafted specifically to give witness to the mission of the University. Sr. Emmanuel Pieper, OSB, is a master artist when it comes to designing and creating stained glass windows and it is her vision that inspires those who visit the Chapel for Mass, meditation, or a campus event. To listen to Sr. Emmanuel's interview about the windows in Mary, Seat of Wisdom Chapel, visit tmuky.us/pieper1.
5. "Rhodora"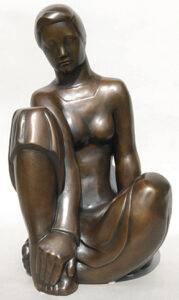 We close this coverage of Art@ThomasMore with an announcement of the newest acquisition which arrived in October 2021. "Rhodora" is a gorgeous bronze sculpture by alumna Barbara (Breen) Beatrice '88. Barbara went to her heavenly reward in spring of 2021 and her family was kind enough to donate this casting to Thomas More (the original sculpture was carved in cherry wood). Thank you for this generous gift! The permanent home where this sculpture can be viewed will be shared at a later date. If you would like to read a review of Barbara's work in Gallery and Studio, visit tmuky.us/beatrice.
FUTURE EPISODES
As more episodes of Art@ThomasMore are completed, they will be posted to more.thomasmore.edu and shared with the Thomas More community via social media and the alumni magazine. If you have a story to share about artwork on campus, please contact Judy Crist at 859.344.3443 or email cristj@thomasmore.edu.