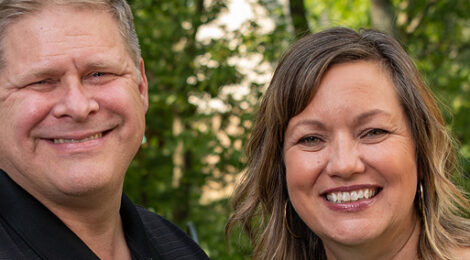 How to give where you care, and how Thomas More became a family affair
Submitted by Amy '94 and David Darpel
Every year, you are asked to donate to organizations of many different backgrounds and purposes. At work, you are asked to contribute to the United Way and ArtsWave (formerly the Fine Arts Fund). At church, you are asked to support the parish, school, various religious orders, and more. Your old high school, your spouse's high school, your kids' schools – they all want your support. This time of year, you even find politicians knocking on your door. So, how do you decide who to support? Whose need is greater, and how much should you give? Well, you first must decide what you really want to support then make a plan to get the best bang for your buck.
Several years ago, we did just that. With three kids in the Catholic school system (then eventually all three kids at Thomas More), we didn't exactly have a lot of money floating around. For most of our adult lives, it seemed like every dollar was spent before we made it. As we got older and started to see more success professionally, we started giving sporadically to local organizations. They would call, we would give a few dollars. They would call, we would give a few dollars again. The cycle continued like this for years. The problem with this sort of giving is that we were shot-gunning our limited funds around to multiple places. We never really got to see the benefit of the dollars we donated: never felt that we made an impact. We didn't have a plan.
As time moved on, we were able to give a little more, but we didn't want to continue our pattern. We decided that we wanted to see our giving make a difference, and we wanted to be able to actively participate in that organization.
To be honest, the first organization on our list was a local high school. With Amy working in the development office, it was nearly a forgone conclusion. Our son also attended the school. Even after he graduated, we found ourselves spending countless hours there on whatever effort we can help with. It isn't just Amy's job, we are committed to the success of the school. We thought about why we believed so much in the school. Why do we so easily give of our time and money to support their mission? We believe that the mission of the school is critical for the community and the kids that go there. There simply has to be an option for Catholic gifted and talented students in Northern Kentucky. So many people have benefited from it over the years, and it is up to us to ensure that continues.
As we looked at other organizations to diversify our giving, we were searching for a passion for an organization that we felt as strongly for. For a long time, we gave with no more passion than if we were paying a bill. As our kids started at Thomas More, we started to attend parent and alumni events. We heard more about the mission of the school. A new president was installed, and we heard about how many students were the first in the family to pursue higher education because of the changes being made.
The fit for our children at Thomas More felt right. Samantha stayed in the dorms to get that "college experience" and loved it. We supported her throughout her undergraduate career by attending theatre events and meeting her friends. She was able to be a big fish in a little pond and gain confidence and relationships that we hadn't seen her have before. One night, we came home to half of the theatre kids in our kitchen: singing, dancing, and cooking a meal.
Jake was just starting in the dorm hoping to leverage a Thomas More scholarship in order to save money and get a spot in a top (i.e. expensive) graduate program.
Maggie was still in high school, but she had already decided to attend Thomas More and be a cheerleader (we are hoping a major is declared soon).
Each of our kids were getting a very different experience from Thomas More University. Again, we started to feel that this organization simply had to be here. They could not have gotten this experience anywhere else.
We vividly remember being at an alumni event and hearing a speech about what was going on at the school. They had a vision to build the school up and increase enrollment. They wanted to build a new dorm, give more work at the Biology Field Station, and, of course, offer more scholarships. That was the moment that we decided that we could do more. We could adjust. With planning, we could focus our giving to include Thomas More University. This organization also needs to be here for our Catholic community, for our NKY community, and for all the kids that could get as unique of an experience as my children did from a small, local institution. We set our sights on reaching the President's Society giving level. It was not terribly higher than what we were already giving, and it allowed us to continue as a larger part of the community. We get to see firsthand the impact of our gift. We are now part of several events each year that celebrate the school and everything that happens there.
Many people give so much more than we do and they have for years. They have helped Thomas More University to provide the varied experiences that my kids, and thousands of others, have had. As time moves on and our children become more independent, we will be able to do more. We are grateful for the relationship of giving that we have developed with Thomas More University. By getting involved now, we know we can trust that our future gifts will help to provide a place that will bless many more families through the years, just like it did ours.