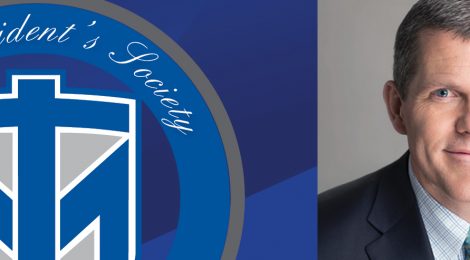 Submitted by Michael Orr '15, Annual Fund Officer

Stephen Wright '99 has been named the new chair of the President's Giving Society. Wright is a partner and advisor with MCF Advisors based out of Covington, Ky. He and his wife, Amy, along with their three children are enthusiastic and involved members of the Northern Kentucky and Thomas More communities. While a student at Thomas More, Wright took full advantage of the opportunities to get involved while also balancing being a student-athlete on the Saints football team, studying abroad, and starting his career through an internship.
"I am a proud Thomas More alumnus and thrilled to be serving as the chair of the President's Society," said Wright. "It's hard to believe, but Thomas More has been part of my life for 25 years now. Looking back over those 25 years, I don't recall a time where the excitement, the vision, and the leadership team has been stronger than right now. President Joe Chillo is doing incredible things at Thomas More University. It's something that I am excited about and happy to invest in. The President's Society exists for that reason – to celebrate and honor those that are giving to that vision and to encourage those that aren't giving just yet. If that's you, I would encourage you to join us in the President's Society."
Moving into the Centennial Celebration of 2021, Wright will be helping to advise and support President Chillo along with many other President's Society members. Plans to expand and enhance the President's Society for this special occasion include the addition of young alumni rates to encourage Thomas More's young professionals to engage as campus leaders, special opportunities to access centennial events, greater contact with and impact on students, and more opportunities to celebrate together as leaders and visionaries for the University.
"Leadership giving makes the mission of Thomas More possible and allows us to grow and innovate while holding true to the distinctive and unique educational experience that has been provided by the institution since its founding in 1921. As we move into our second century, Thomas More will continue producing graduates that shape our region. These young men and women will share our values and our commitment to excellence. President Chillo's focus on innovation, entrepreneurship, and deeply held Catholic values is a beacon that we can follow into that future."