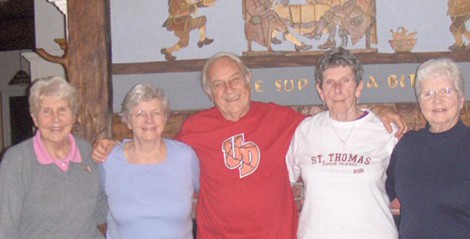 1950s
Members of the Class of 1956 recently gathered at the Marianist Community on Governor's Island in Ohio. Pictured are Nancy (Black) Kuchle '56, Marilyn (Wiedeman) Sullivan '56, Brother Don Smith '56, Patricia (Rott) Lemon '56 and Dottie (Tillman) Kennedy '56.
1970s
Diane M. (Bacon) Donnermeyer '70 retired 7 years ago from St. Agatha School in Columbus, Ohio. Her husband, Joe Donnermeyer '71, retired from The Ohio State University in May 2014. Diane now volunteers at her grandchildren's school, substitute teaches, and aids her oldest grandson who has Asperger Syndrome. She and Joe travel whenever possible and are both enjoying retirement.
Barbara (Teufel) Jacobson '71 has four children and four grandchildren. She remarried a couple years ago, retired from teaching and recently moved back to Northern Kentucky.
2000s
Jessica Nitschke '02 married Robert Miller at St. Cecilia Church in Independence, Ky. on July 12, 2014. Several TMC Saints attended, including Christy (Cleves) Daly '01, Angela (Young) Kuethe '02, Katie (Hellman) Eckell '02, Suzanne (Kleier) Kress '02, Denise (Beam) Qualls '04, Joe Qualls '02, Jessica (Blust) Yaeger '02, and Jason Yaeger '03. Jessica is the Library Media Specialist at Beechgrove Elementary in the Kenton County School District.
Brian Sheeley '05 and Molly Bush '12 were married on June 28, 2014 in TMC's Mary, Seat of Wisdom Chapel.
2010s
Michael Renauer '10 was recently promoted to Director of Recruitment and Mission Integration for the Eastern Region of St. Vincent de Paul Society in Detroit, Michigan. He will continue his duties as Youth and Young Adult Ministries Coordinator and was additionally appointed to St. Vincent de Paul's National Youth Advisory Board. He is engaged to Allison Taunt of Grand Rapids, Mich. with their wedding scheduled for May 2015.
Mike Bianchi '14 is now the Director of Safety and Security at U.S. Bank Arena in Cincinnati, Ohio. He thanks TMC for playing a huge part in this exciting venture since retiring from the Erlanger Police Department.
Karlie Smith Sudlow '14 and Heather Burns '14 received the Kentucky Association of Teacher Educators (KATE) professional development awards presented at the KATE annual conference in September. Karlie received the award for the Baccalaureate level, and Heather received the Post-Baccalaureate level award.
Congratulations to several of our TMC alumni who were recipients of the following awards at the 2014 Alpha Delta Gamma National Convention: O'Brian Davis '14 won National President's Award and Active of the Year; Aaron Judd '09 won Outstanding Chapter Ombudsman of the Year; Chris Sapp '95 won the Presidential Citation; and TMC current student April Husak won National Sweetheart.
Do you have news to share? We'd love to include it in the next Class Notes. It's easy, just email alumni@thomasmore.edu – include a photo (high-resolution jpeg or tiff format)!