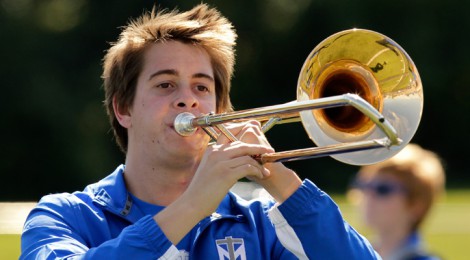 This may be the inaugural year for Thomas More College's marching band, but the Marching Saints are already in step with other successful extracurricular programs at TMC. Two band members in particular have proven that they can compete with top-notch musicians from other colleges and universities in the Commonwealth. Kristin Gibson, a freshman planning to major in medical laboratory science and minor in chemistry, and Brandon Shuey, also a freshman with plans to major in biology and minor in chemistry, were recently selected to participate in the prestigious Kentucky Intercollegiate Band (KIB). The KIB was formed in 1985 by college and university band directors from across Kentucky. The ensemble's goal is to provide an enriching musical experience for collegiate wind and percussion students. The KIB affords selected students with the opportunity to rehearse and perform exceptional wind literature under the direction of a guest conductor.
Kristin, who plays the clarinet and is from Owenton, Ky., and Brandon, who plays the trombone and is from Blue Springs, Mo., join musicians from fourteen colleges and universities across the Commonwealth at the Kentucky Music Educators Association (KMEA) Annual Conference in February. "Being selected for the collegiate level honor band is so exciting and I am looking forward to seeing all of the talented students that are going to participate," exclaimed Kristin. "I enjoy being involved in band because it is another way to test your abilities. Music is like another language, and each instrument has its own accent. Each accent is so beautiful and trying to learn its dialect is challenging, but very satisfying," she further elaborated. Brandon also commented, "Being selected to perform at the KMEA conference in Louisville is a huge honor. I had actually never expected this to happen; I was completely surprised when Professor Webb asked me to participate. I enjoy being involved in band – what other activity can a group of individuals get together and work in perfect synchrony to build a fabulously artistic end product?"
Thomas More College Director of Bands Randy Webb, who has been involved with KMEA for the past 30 years (and served as District Chair for three years) chimed in, "These two young people represent some of the great things going on here at Thomas More College. I know that they will do a fantastic job at the conference."
The 105-member Kentucky Intercollegiate Band is comprised of some of the finest college and university band members from across the state* and will perform at the Kentucky Center for the Performing Arts during the annual KMEA Conference February 4-5, 2015 in Louisville. "At the conference, I hope to make a few new friends as well as make gorgeous music with people like myself," said Brandon. Brandon and Kristin exemplify the culture of excellence found at Thomas More College. They performed at a high level in the band's inaugural year, and have set a strong precedent for future members of the Marching Saints.
*A complete list of KIB band members can be found here:  https://pjlkib.files.wordpress.com/2014/12/2015-kib-final-roster-updated-december-9.pdf