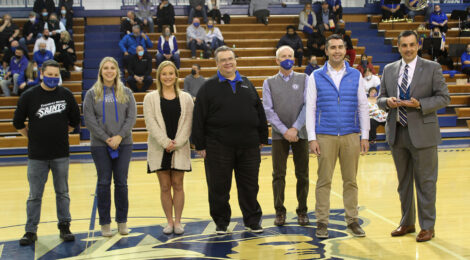 CRESTVIEW HILLS, Ky. (Jan. 25, 2022) — Thomas More University extended a Saints Salute to VonLehman CPA and Advisory Firm, one of the largest private CPA and advisory firms in the region, in honor of their incredible work in the community and years of association with the University. The Saints Salute is a community outreach award given by Thomas More to honor partner organizations making a difference through continued support of the University and in the region. VonLehman received the honor during a Thomas More men's basketball home game against the Lindsey Wilson College Blue Raiders on Jan. 20, 2022. "We wanted to take the opportunity to honor VonLehman for their contributions to the University and dedication to bettering the community," says Thomas More University President Joseph L. Chillo, LP.D. "Their continued work as the University's auditing agent and their support for our students through internship opportunities and jobs, in addition to their philanthropic support sponsoring different vital initiatives, makes them an invaluable member of the Thomas More community."
President Chillo presented the Saints Salute during the first half of the men's basketball game. VonLehman CPA and Advisory Firm representatives in attendance to accept the award included several Thomas More alums: President Adam Davey '97, CPA, Shareholder Dave Macke '81, MBA, SHFP, FHFMA (also vice president of the Thomas More Alumni Board), CVA Manager Sarah Kubala '05, CPA, and Taylor Jolly '20. "We are humbled to be recipients of the University's Saints Salute award," says Davey. "VonLehman is indebted to the local community that has supported us for over 75 years. We are fortunate to have tremendous partners, like Thomas More University, who are true stewards of the community and who make Northern Kentucky such a special place to live and grow."
Photo: A Saints Salute honoring VonLehman CPA and Advisory Board took place on Jan. 24, 2022, during a Saints men's basketball game. Acting on behalf of Thomas More and receiving the honor for VonLehman are (from left): Thomas More Vice President for Institutional Advancement Kevin Reynolds, Ed.D., from VonLehman CVA Manager Sarah Kubala '05, CPA, Taylor Jolly '20, and Shareholder Dave Macke '81, Thomas More Associate Director of Development for Athletics Tom Brady, VonLehman President Adam Davey '97, CPA, and Thomas More President Joseph L. Chillo, LP.D.
###
About Thomas More University
For 100 years, Thomas More has created a university for the student who wants to Be More, Do More, Seek More, Win More, Achieve More, and Create More. Since its founding in 1921, Thomas More has provided a mission-driven, liberal arts education that is based in the Catholic Intellectual Tradition. Students learn to harness the power of human reason to solve problems and discover truth, which allows them to begin the journey to become the person they were created to be. Entering into the second century, it's time for More. Serving more than 2,000 students, Thomas More aspires to be the premier Catholic university in the Cincinnati/Northern Kentucky region, to build upon the #1 ranking for long term gain in Kentucky (2019 Georgetown study) and share with this generation the transformative power of the Thomas More experience. To find out more, visit thomasmore.edu.
About VonLehman CPA and Advisory Firm
VonLehman is a leading full-service CPA and business advisory firm with 140 employees. With offices in Kentucky, Ohio and Indiana, VonLehman takes a proactive approach to assurance, accounting, tax and strategic business advice for closely-held businesses, nonprofits and governmental entities. VonLehman supports clients with the depth of services and resources expected from larger national firms but with an unmatched measure of personal care and attention. The firm has a deep expertise and offers a wide array of services, with a focus in manufacturing and distribution, construction and real estate, nonprofit, professional services, and high net-worth individuals. Learn more at vlcpa.com.