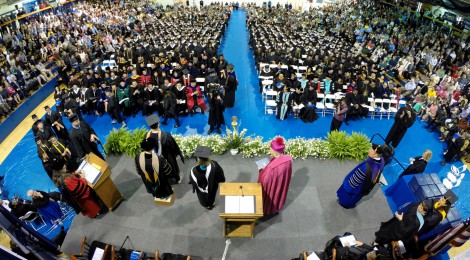 The Thomas More College 88th Commencement Exercises took place Saturday, May 14, 2016. Family, friends, faculty, staff, and board members gathered to celebrate the accomplishments of the newest TMC alumni. The Most Reverend Roger J. Foys, D.D., let the Baccalaureate Mass and as Chancellor of the College opened the Commencement Ceremony. All were welcomed by President David A. Armstrong, J.D., as the graduating class took their places for the conferral of degrees.
The class of 2016 included 398 students, 295 undergraduates and 103 graduates receiving 476 degrees (103 master's degrees, 287 bachelor's degrees, and 86 associate degrees – 78 students received dual degrees). Mackenzie Staley received the Presidential Service Award, presented to a student who exemplifies the importance of service to others, promotes a life of faith, and demonstrates commitment to campus ministry. Rio Rose Henry received the Outstanding Senior Award, demonstrating a positive impact during her years at TMC through scholarship, academics, leadership, service, and integrity. Lori Eifert received the Post-traditional Adult Undergraduate Student Award having displayed scholarship as well as leadership, service, and community involvement while working towards her degree with the TAP program. Rosalind Koop received the Outstanding Graduate Award, recognized for her scholarship, leadership, professionalism, and service to others as she accomplished her Master of Education through the TAP program.
Faculty honors were awarded by Rebeca Tacy, associate professor in nursing, as Outstanding Full-time Teacher and Joseph P. Shadle, adjunct professor, theology, as Outstanding Part-time Teacher.
Congratulations to the Class of 2016!