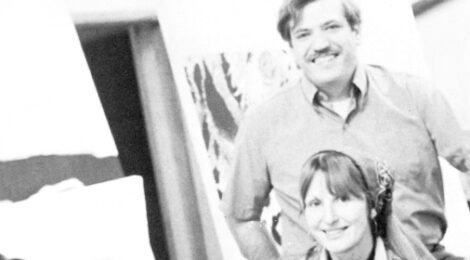 Reprinted from spring 2014 Moreover Retrospective: Remembering Bernie Schmidt Jr. '58 (1936-2013) – alumnus and former art professor leaves a lasting impression for students and the Thomas More community – by Stacy Smith Rogers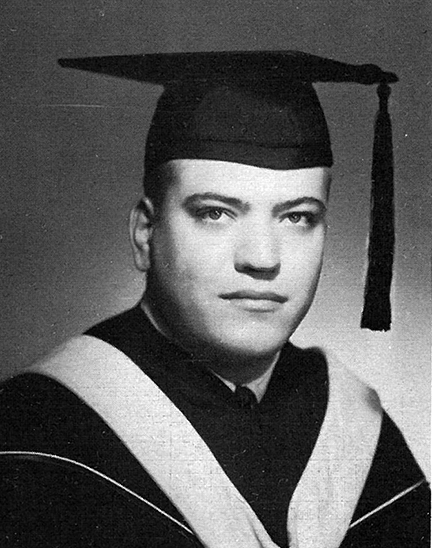 The Thomas More College community remembers a well-known art professor and alumnus whose impact on his students and the community will continue to thrive not only in the art he left behind, but in the hearts and minds of those who had the pleasure of his friendship and tutelage. Bernie Schmidt Jr. died Oct. 25, 2013, at the age of 76.
Bernie's passion for art was recognized at an early age. As a second grader, he took private lessons from Aileen F. McCarthy, who had been a student of noted painter Frank Duveneck. His creative talent was fostered throughout his teen years, and he pursued a bachelor's degree in art at then Villa Madonna College. After graduating, he earned a Master of Arts from the University of Notre Dame, where he studied under liturgical sculptor Ivan Meštrovi´c, regarded as one of the greatest sculptors of the 20th century. Bernie proceeded to earn a Master of Fine Arts from The Ohio State University.
Bernie began teaching at his alma mater in 1967 alongside Darrell Brothers, under whom he studied while at VMC. For nearly a decade, he made a lasting impression on his students and the Thomas More College community. Dr. Ron Mann '57 served as academic dean during Bernie's time at Thomas More College. (He was also a fellow student at Villa Madonna College.) "He was a very dedicated Christian, a hard worker and and an excellent sculptor," Mann recalled. In 1978, Bernie left Thomas More College to teach at Edgecliff College in Walnut Hills which later became a part of Xavier University. There he became chair of the Art Department and served as director of the Art Gallery.
Michael Burkart '75 is a former student of Bernie's. He explained the impact Bernie had on him: "He was supportive and encouraging in every way, and had a certain friendliness and openness that inspired you to want to do well. I considered him a mentor and a close friend." Michael kept in touch with Bernie throughout the years and saw him just two weeks before his death. "When he was at the Carnegie, he arranged for me to have a show there. Then later when he was at Xavier, I had a one-man show there. He provided me with on-going support and opportunities," Michael said.
Reverend Ronald Ketteler, associate professor and chair of TMC's Theology Department, was a former classmate of Bernie's as far back as high school. He acknowledged Bernie's influence: "He was extremely dedicated to his art and teaching. He was a great family man; his sons would attest to that. In addition, he was a very strong practicing Catholic."
Dr. Ron Mielech '57, who was chair of TMC's Theatre Department, was also a classmate of Bernie's at Covington Latin School. "He was a very unassuming guy who was easy to get to laugh. In study hall, I would ask him to draw things for me because he was an amazing artist, then I would start telling him funny stories. He would do everything he could not to laugh."
Another former student of Bernie's, Jennifer (Bucalo) Baldwin '76, considered him a lifelong friend and mentor. Jennifer took her cue from Bernie and embraced his passion for educating others about art. In addition to teaching art at Dixie Heights High School in Crestview Hills, Ky., she currently serves as director of the 2014 Regional Scholastic Art Awards Competition and Exhibition which, she said, will present an honorary award in Bernie's honor to a young sculptor. "As my educator, Bernie had a way of challenging some of my conventional perspectives on art that made me a better artist and teacher. He always had something insightful that I could move forward on." Life's circumstances kept Jennifer in touch with Bernie after she married and had children. "Bernie's wife became my son's elementary teacher and his son was a scout leader in my son's troop. When it looked as though the Scholastic Art & Writing Awards might not continue in our region due to the lack of a sponsor, I contacted Bernie for advice about my running the program. He told me if anyone could take on the leadership of this job, it would be me. Bernie inspired, supported, challenged me more than he will ever know and praised me more than I ever deserved," she elaborated. Jennifer said that she could normally find Bernie at Remke's reading his newspaper and enjoying coffee and donuts. "I would park the cart and sit with him for hours sometimes, solving all the ills of the day. … I will miss my breakfasts with Bernie, and I will always be grateful for him in my life," she added.
After retiring in 1999, Bernie traveled extensively and was known to enjoy East Coast swing music and dancing. Bernie was preceded in death by his wife, Patricia Brady. He leaves behind three sons: Bernard, Daniel and Nicholas Schmidt.
About His Art
Throughout his career, Bernie was commissioned to create works for a variety of clients, including corporate entities, religious orders, construction companies, families, and individuals. At Thomas More, he was commissioned by Robert '51 and Loraine '51 Brink to create a sculpture in the likeness of St. Thomas More entitled "…Unto Caesar…Unto God…". Currently, it is displayed near the front entrance of the library.  In addition to Thomas More and Xavier University, his work is displayed throughout the Greater Cincinnati and Northern Kentucky region, including East Walnut Hills, Cincinnati State Technical and Community College and other universities and churches across the country. In complement to his large masterworks, he created smaller portraits in clay and pieces known as ceremonial art medallions, one of which is on display in a permanent collection at The Smithsonian Institution in Washington, D.C.
Art@ThomasMore
CLICK HERE, to read an interview about Bernie's piece "The Good Shepherd" which is located in the reconciliation room in Mary, Seat of Wisdom Chapel.