Cleves Scholars Re-build the Compassion Pantry
Submitted by Samantha Palmer and Kiera Bowman '22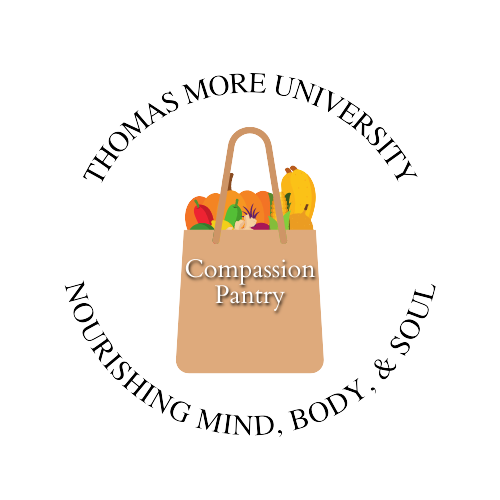 Last summer, during a quiet day on the Thomas More University campus, staff members Kiera Bowman and Samantha Palmer started to brainstorm ideas to revive the Thomas More Compassion Pantry. They knew it would require a great deal of work, and that they would need help.
Similar to other programs during the pandemic, the Cleves Scholars program faced challenges. Scholars had been unable to meet their service hours, and all events had shifted to an online format during the prior school year. Bowman and Palmer had both attended universities that emphasized the importance of community service and they were eager to bring that same energy to the Cleves Scholars program. It was the perfect time to try something new. Knowing what they wanted to build would be drastically different from what Cleves Scholars had done in the past, they knew they needed to develop a well thought out and meaningful plan to pitch to Cleves Scholars leadership. Armed with years of experience in service-learning and a lifelong passion for service to others, Bowman and Palmer began the process of systematically creating the syllabus, stating their expectations, and merging the two goals of reviving the Compassion Pantry, and expanding the character development and community engagement of those participating in the Cleves Scholars program.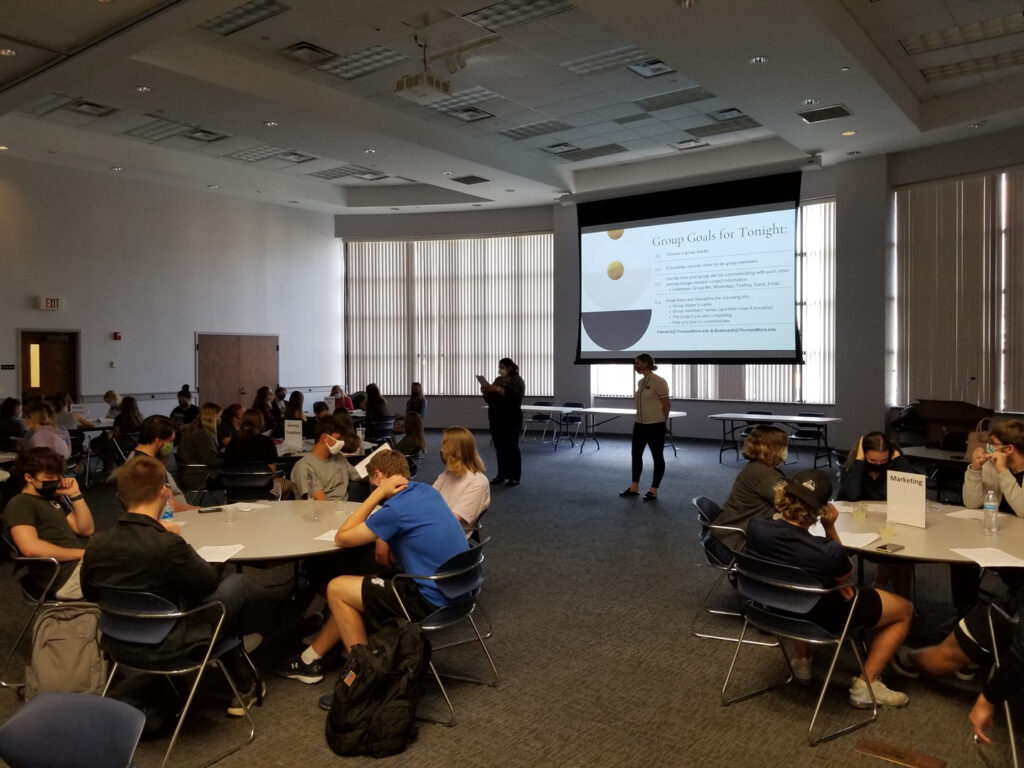 Student buy-in and accountability would be a significant component of the plan since Cleves Scholars involvement had historically been voluntary. In addition, Bowman and Palmer wanted to be mindful of the scholars' time commitment. They divided the actions needed to revive the pantry into seven distinct projects: Suggestion Box, Donations/Drives, Marketing, Survey Creation, Amazon Wish List, Management Manual, and Interviews, Videos, & Articles. The syllabus provided a week-by-week chart that guided the scholars from developing their team relationships, to implementing their projects, to presenting their results and reflections.
Fifty three first-year and sophomore scholars were divided into seven teams to focus on the individual projects. Each team chose a leader and roles for their members. During the fall 2021 semester, the teams brainstormed project plans and bonded as a team. Every scholar can agree that the most challenging part of this project was scheduling team meetings. Cleves scholars represented 21 majors and 16 sports teams, plus various clubs, jobs, and volunteer responsibilities. Scholars worked cooperatively to find a common time to work, with two teams making an early start on implementing their projects. The Donations/Drives team held community-wide food drives, which allowed the pantry to open sooner than expected. The Survey Creation team also understood how the data they collected would help their fellow teams be more effective. They created a survey and were able to collect student responses to help guide the other teams.
During the spring semester, all teams focused on implementing their projects, and the Compassion Pantry opened in its new home, room 3302 on the 3rd floor of the Administration building. Students began using the pantry and leaving helpful suggestions in the suggestion box. Community members ordered from the pantry's Amazon Wish List and packages began to arrive on campus. Over time the pantry added a microwave and full-sized refrigerator to meet ongoing student needs. The Marketing team created an Instagram account, and all of the scholars shared its content to spread the word about this new student resource. The Management Manual team collected valuable information from each team and built a pantry manual to explain how to keep the pantry running. In addition, the Interviews, Videos, & Articles team met with each team and documented their journeys. One scholar, Belle Wilson, decided she wanted to do even more to support her classmates. She worked with Kevin McCarthy from Aramark to plan and run two meal swipe donation days. Her efforts allowed Compassion Pantry to collect 100 meal swipe "donations" that students could use to eat in the campus dining room.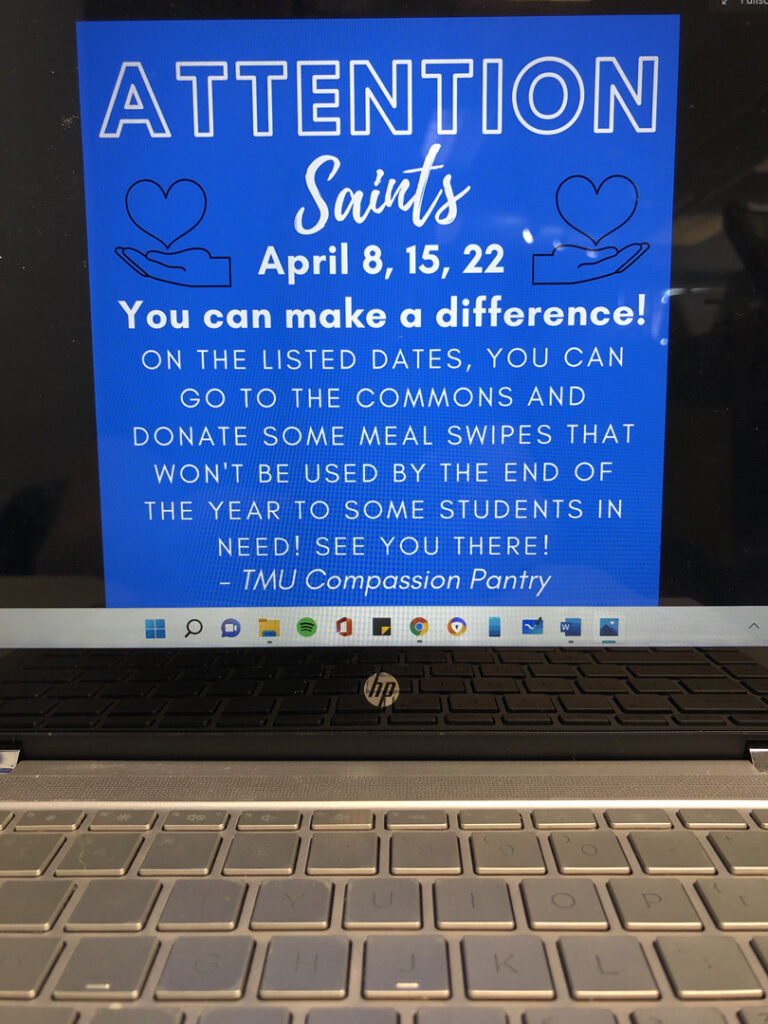 In April, the scholars, staff, and faculty gathered on campus for the Cleves Compassion Pantry Showcase. During the showcase, the seven teams shared their results as presentations that described the outcome of their service-learning projects. The presentations included a reflection on their personal and team journeys, and discussed the impact the projects had on their community.
Since the showcase, Bowman and Palmer have taken some time to reflect on this year-long service-learning project, "It is still difficult to articulate how proud we are of the scholars and each other. We are eternally grateful for our supervisors who supported our idea and the scholars who brought our plan to fruition. We were confident that when given the opportunity and guidance, these scholars will continue to be successful in living out the Thomas More mission and we are honored to be part of their personal growth in discovering their place in the world and responsibility to others."
Together, Thomas More scholars and employees, have revived the Compassion Pantry, an essential component of a healthy community. It is now available to all students experiencing food insecurity. Students have access to perishable foods, pantry staples, and personal hygiene products in the pantry.
_________________________________
Remarks from scholars and staff about the Compassion Pantry project
"At first, my intentions in coming to Thomas More were to play baseball. Now that I have made it through my first year of college, I have learned so much more about what Thomas More really is, and the Cleves Scholars project showed me that I came to college to graduate with a degree, not just be an athlete on the baseball team."
"I always thought highly of community service, but throughout working with revamping the Compassion Pantry, I have found that community service can happen anywhere, even on a college campus! I can't wait to continue this work through next year as well. I love seeing the Compassion Pantry grow and I can't wait to see what the future holds for it and its servers as well."
"As someone that sometimes doesn't know if they will be able to get lunch at school on any given day, this project has been especially important to me. I know that people, other than myself, have this issue and it is great to know we are helping."
"This experience has led me to meet an amazing group who work well together and are very dedicated to the compassion pantry. I am glad this experience is not only helping those in need, but bringing us together as a community."
"Though I have participated in many service projects previously, the Compassion Pantry is the first project that I have done to help the people that I am around every day. I hope this project not only provides students with access to the food they need, but also shows them how much the community here at Thomas More cares for them."
"I think this experience is an amazing part of Thomas More because it shows how much the students and staff care about those who are in need of help. I hope the Compassion Pantry continues to grow in the future to help the community around us."
"This experience has shown me how much we care for each other at Thomas More. It showed me how we, as college students, can make a big difference and create a program to help others as long as we work together and put our minds to it."
"It has shown me how rewarding it can be to serve the direct community around me; people I know personally. I used to travel around the country on mission trips to serve the needy, and don't get me wrong, they were awesome! But there was just something so humbling about being able to provide a service to my peers, in my own college."
"I think the Compassion Pantry is an amazing part of Thomas More and it shows just how much staff and students care about the well-being of other staff and students."
"There will be more compassion and empathy for those who struggle among the students of Thomas More. Helping to destigmatize food insecurity and let everyone at Thomas More know they're not alone."
"This project will guide students to continue giving back to the community. We will carry the ideals and dreams of the pantry with us in other projects as we move on from Thomas More, bettering more and more communities."
"We were able to watch first-hand as items flew off the shelves. It raised awareness for the amount of students really in need, as well as what they needed."
"Our vision is to facilitate the success of a sustainable, student-accessible on-campus food pantry."
"Making a difference = simple | 1) Work together | 2) Start small and work your way up"
"Running a food pantry is harder than it seems due to all the factors that go into the operation. You need accessibility, food storage, volunteers, funding, and management."
"The Compassion Pantry is a paragon example of what Thomas More is about. The community opens up with helping hands to anyone who is in need and has no judgment on anyone."
"I discovered that one of my students had been eating only one meal a day because of finances; so, I investigated the Compassion Pantry so I could tell them its location and the sorts of foods it offered. Wow, I was blown away, both by the effort and organization behind such a project, as well as by the abundant assortment of food and the amazingly beautiful and tranquil atmosphere of the room itself. I felt like I had stumbled upon some little oasis in this sea of chaos!"
_________________________________
You can be a part of the Compassion Pantry project through a donation that is shipped directly to campus and made available to students in need, please visit tmuky.us/pantrygift, and thank you for taking part in this community effort.