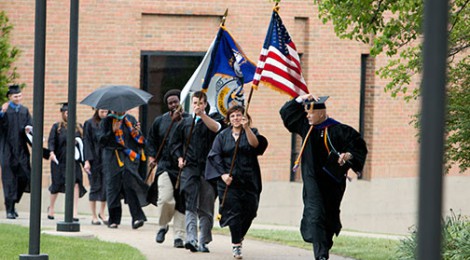 May 17, 2014 began as a blustery day with cool temperatures and damp conditions but that did not deter 342 graduates and their families and friends from celebrating the result of their hard work and accomplishments at the 86th Thomas More College Commencement ceremony.
The Baccalaureate Mass, held in Mary, Seat of Wisdom Chapel, on the Thomas More College campus, opened the day's celebration. The Most Reverend Roger J. Foys, D.D., S.T.D. was the celebrant with Reverend Ronald M. Ketteler, S.T.L. and Reverend Gerald E. Twaddell, D.Phil. in attendance as concelebrants.
The Commencement Exercises began with the graduates processing from the Administration Building, passing under the Mary, Seat of Wisdom Bell Tower to Connor Convocation Center. Bishop Foys performed the opening benediction of the ceremony followed by President Armstrong presenting the Presidential Service Award to graduate Courtney Smalley. Special recognition was also awarded to Christina C. Petroze, Ed.D. who received the Outstanding Full-Time Teacher Award and Carrie Jaeger, who received the Outstanding Part-Time Teacher Award.
Special guest Oakley Farris was awarded the St. Thomas More Medallion. Farris, along with his wife, Eva, has contributed significantly to the landscape of education in Northern Kentucky and continues to support Thomas More College. Special guest, Matth. Toebben, founder of Toebben Builders and Developers, was awarded the honorary degree Doctor of Business and Industry, Honoris Causa for his continued support of the College and involvement in Catholic education in the region.
Rick Hulefeld, Executive Director of Children, Inc. located in Covington, Ky., received the Doctor of Humane Letters, Honoris Causa and delivered the Commencement address. Hulefeld and his wife, Mary, founded the Cathedral Child Development Center in 1979. Ultimately the Center grew to become Children, Inc. and Hulefeld has dedicated his life to the development of children. He related this experience to the graduates in his address.
Hulefeld began with this: "What I really want to talk to you about is your original wisdom. What you knew when you were four years old. You knew about three key things: happiness, time and self worth." At the end of the address he challenged the graduates with these final questions: "Can you find moments in your day when you can allow yourself to be happy with no "ifs"? Can you live in the present moment without feeling the need to fill the moment with other "to do's"? Can you see yourself and others the way God sees you?"
____________________________________
A picture is worth a thousand words, click here for Commencement day photos, plus to see a time-lapse version of Commencement Exercises click here.
____________________________________
For a breakdown on the graduating Class of 2014, check out these stats: