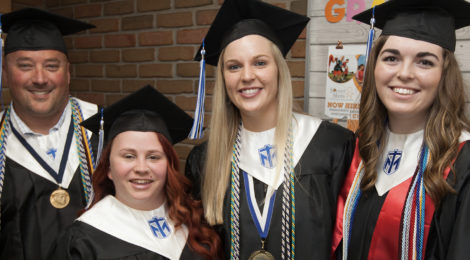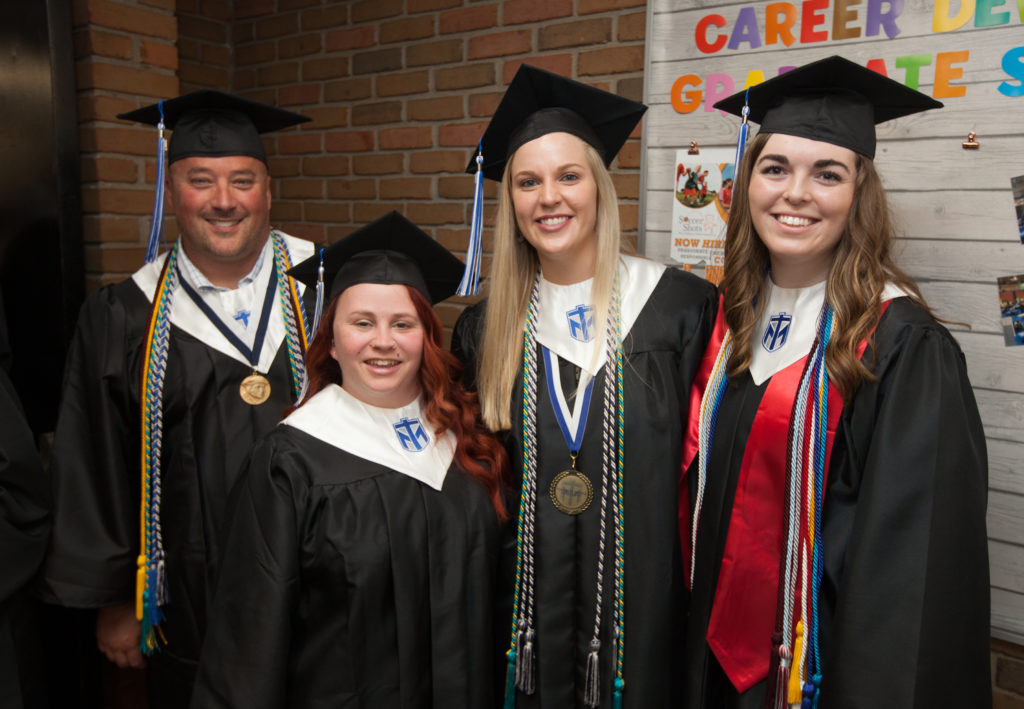 SUBMITTED BY REBECCA STRATTON, DIRECTOR OF PR AND COMMUNICATIONS
Brad McClain '19 carried himself with pride as he walked across the
commencement stage this past May, accepting his well-earned diploma from Thomas More University. Brad had spent the years leading up to this moment defying the societal norm as he pursued his bachelor's degree at age 43. His story captures the mission of the University, and his degree was a step closer to his dream of making a direct impact on the lives of others within his community.
Brad took a non-traditional path, having first completed and retired from a career as a firefighter before pursing higher education. During his 18 years with the Lexington Fire Department in Lexington, Kentucky, he witnessed significant tragedies, many of which involved children. Brad recalls the difficulties of treating children who were the victims of trauma, like car wrecks or fires. The incidents he found the most challenging to make sense of were those involving child maltreatment. "The most difficult days were those involving runs in which children were sick, injured, or worse. Seeing a child lost in a fire, or a car wreck, or seeing some medical condition were some of the hardest things that I had to try and make sense of," Brad recalls.
Brad says that he relied on the very close-knit family atmosphere, or as some know it, the brotherhood/sisterhood that exists in the fire service to get through these difficult experiences. He loved helping people, especially at the time they needed it most, and he loved sharing these experiences with other admirable people who continue to serve with distinction. "I was part of a very close team, and we counted on one another to get through the bad days. The career itself was very rewarding, and I always felt the sense that I was making a difference with my life and career choice. There are not many emotions that compare to saving a life or helping someone when they need it the most."
The profession of firefighting is an extremely noble and rewarding career, but just like many other firefighters, Brad understands that this calling can have an emotional toll on those who pursue it. He wanted to continue to make a difference, just as he did over the course of his career as a firefighter. After much prayer, he arrived at the decision to enroll at Thomas More. He says it was one of the best decisions he ever made and claims he found the same close-knit family environment that he experienced in the fire service among his peers and mentors at Thomas More. He excelled in coursework, was accepted as a member of the James Graham Brown Honors program, completed service learning programs in Jamaica and the U.S./Mexico Border, and had many other notable accomplishments, which he says were made possible by the extremely professional and caring faculty, as well as the amazing support of the other students who completed their journeys alongside his.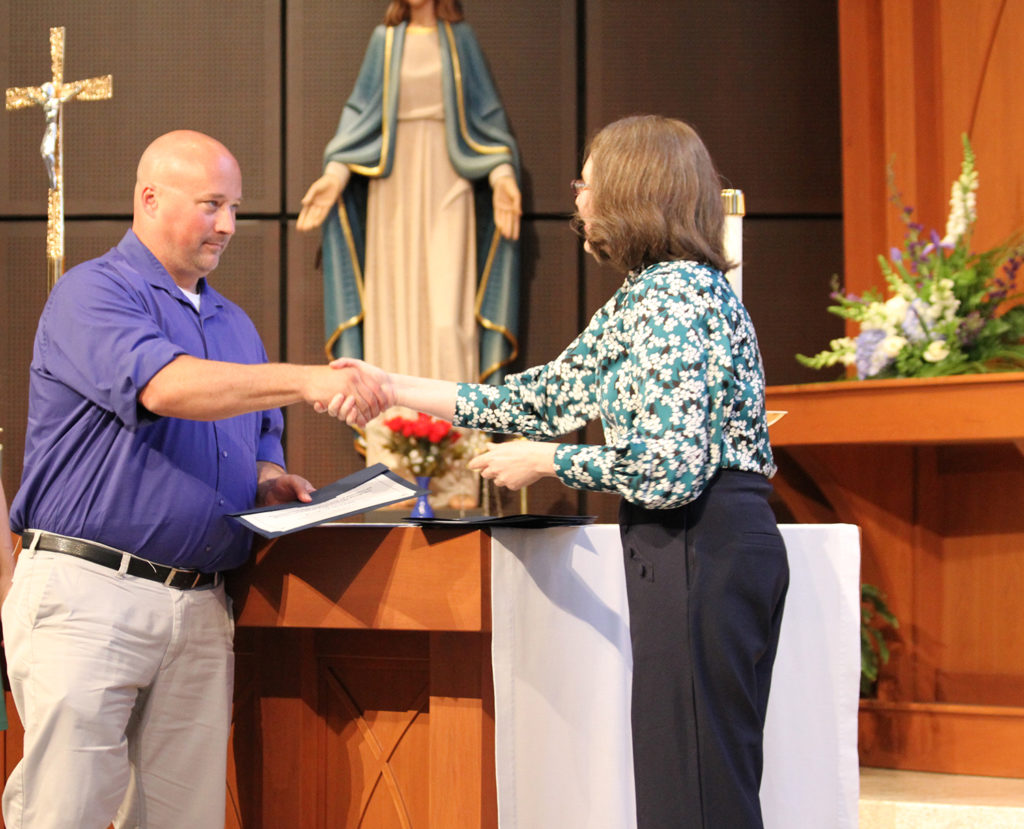 Brad's admittance to the University was coupled with financial assistance, a scholarship from Will Ziegler '53, S.J.D., a Board of Trustees member. The Ziegler Scholarship allowed Brad to supplement his education with numerous, out-of-the classroom activities surrounding his desire to better the well-being of the community. One of his volunteer activities included being a Court Appointed Special Advocate (CASA) in Boone County. "In this role, I was assigned children who had been abused, neglected, or were otherwise dependent. In these cases, I performed investigations and monitored the child's situation to ensure their safety and advocated for their best interest to ensure they had the best possible outcomes. I was also able to complete two internships outside of Thomas More, one at St. Elizabeth in the Adolescent Intensive Outpatient Unit and one at Cincinnati Children's Hospital in the Division of Developmental and Behavioral Pediatrics. In both of these placements, I witnessed the effects that childhood adversity has on families and children, and I'm sorry to say, the failings of the current methods of treatment. Many children are exposed to abuse, neglect, violence, and adversity, and yet they are still expected to develop and behave normally. These adverse conditions often remain undetected and unmitigated. These children don't need a mental health diagnosis and a handful of pills, they need a home free from fear and a place where they are nurtured as they grow and develop."
His time at Thomas More presented service learning opportunities. In the spring of 2019, Brad traveled to the U.S./ Mexico Border with Professor James Camp, Ph.D. During this experience, Brad and his fellow classmates assisted with the transportation of migrants to bus and air terminals, accompanying them and getting to know the true people behind the news stories. "Some of the major takeaways from that program for me were: some of the narratives circulating in the news and social media outlets
are inaccurate; the vast majority of migrants are fleeing violence, oppression, and poverty. They are seeking a better life for their children, and who can blame them? They have the same hopes and dreams for themselves and their children as many Americans. There are a few bad seeds, drug smugglers, human traffickers, etc., but the vast majority are normal folks who braved an incredibly dangerous journey to ensure their children's future is better. I can relate. The majority of the Border Patrol agents are great people who are doing a very difficult job with the utmost professionalism and integrity."
Brad's dedication to helping those in need continues today
as he combines what he learned at Thomas More with his career experiences in order to contribute to research that will impact some of the most vulnerable people, specifically children, within the community. "In the late 1990s, a study was conducted on Adverse Childhood Experiences. It found that a very large percentage of children in the U.S. are experiencing [domestic and other violence, drug abuse, child abuse/neglect, incidents involving unstable mental health conditions,] which then contributes to poor health outcomes and increased likelihood for addiction, suicide, and many other negative eventualities. Because I've seen this first hand, I understand what the children are going through, and I don't think the current mental health care and social service systems are adequately addressing these conditions. The increased rates of addiction, suicide, incarceration, violence, and prevalence of mental health diagnosis are indicators that the systems are failing to address the root causes. I want to help fix that.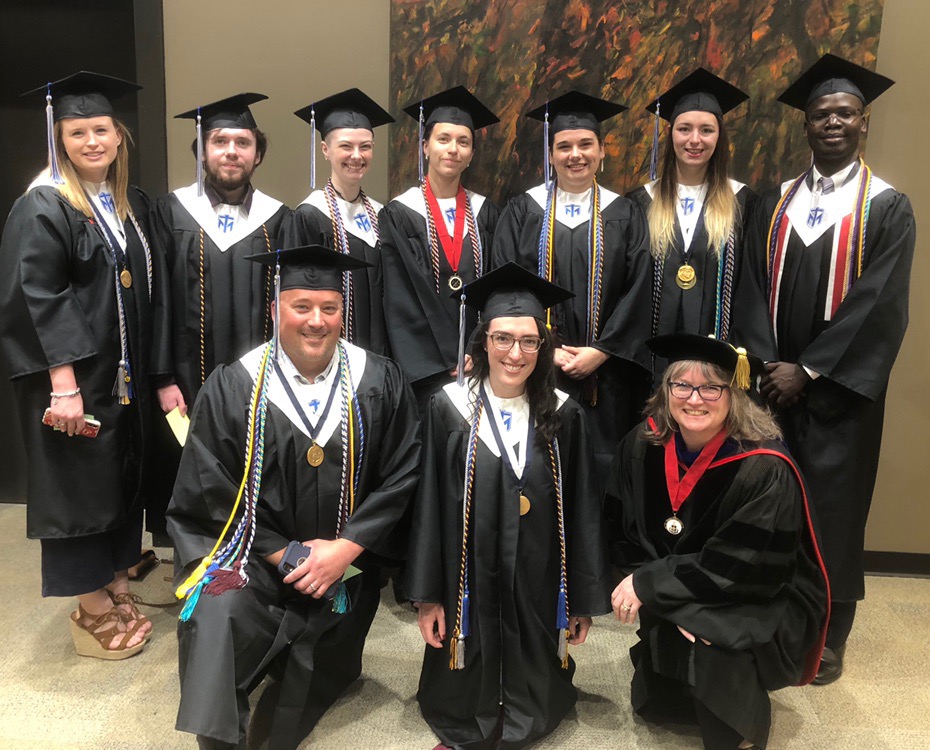 "Over the last two years, I came to understand that Thomas More is not an academic degree mill, but a place where education truly happens." Brad has taken his degree, experiences, and lessons learned at Thomas More beyond campus and into the Greater Cincinnati area since his graduation, making real-life contributions and meaningful changes to the current methods
of practice in mental health care. Since May, Brad has spent his summer with family, volunteering with CASA, and preparing for graduate school. He is enrolled in the Master of Arts Psychology program at the University of Cincinnati. Once completed, he hopes to either continue his education by earning a doctoral degree or obtaining a job in research contributing to the improvement of the mental health care and social service fields, specifically focusing on interaction with children.