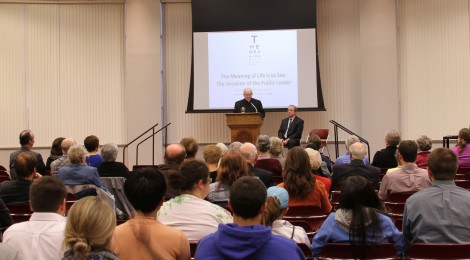 Edward C. Monahan '73 has been very busy in the public sector for the last 40 years, since graduating from Thomas More College. Monahan is currently in his second four-year term as Kentucky Public Advocate, a position appointed by the commonwealth's governor.
Monahan grew up in Ludlow, Kentucky. After graduating from Thomas More College in 1973, he attended prestigious Catholic University of America's Columbus School of Law in Washington, D.C. After graduating from law school in 1976, Monahan obtained a position as a public defender. He remained in this appellate position until 1980, when he moved on to supervising the local Department of Public Advocacy's (DPA) trial representation services.
Monahan provided guidance and supervision to public defendants for over 20 years while supervising for the DPA. He also edited the DPA's journal of education and research, The Advocate, from 1984-2004, and was co-chair of the National Legal Aid and Defender Association's training section from 1990-2004.
Dave Schroeder, Director of the Kenton County Library and lifelong friend, described Monahan as a calm and deliberative leader. "He never draws attention to himself, instead putting all of the focus on the cause for which he is working," explained Schroeder. Schroeder continued, "The one common theme in all of the projects he has done is they all have a direct benefit for people. Ed truly cares about his fellow citizens and has spent his entire career trying to make the region and the Commonwealth a better place to live and work. He has a real sense of social justice, and he not only lives it in his own life, but has also spent a career advocating it for others."
Monahan spoke at the 2015 Hillenmeyer Lecture on Thursday, March 19 on the Thomas More College campus. His empowering lecture, entitled "The Meaning of Life is to See: The Vocation of the Public Leader" focused on the complexity of authentic leadership in the public sector.
Moral leadership practice, which is under siege in organizations and communities, must be capable of accessing multiple perspectives, riding the rough whitewater, and adapting to environments in service of the common good. Monahan implored that we all have the ability to lead in this manner.
Edward C. Monahan is a prime example of a Thomas More College graduate living out the College's mission statement in his career. He has used his position and voice to advocate for social justice in Northern Kentucky and throughout the entire Commonwealth.