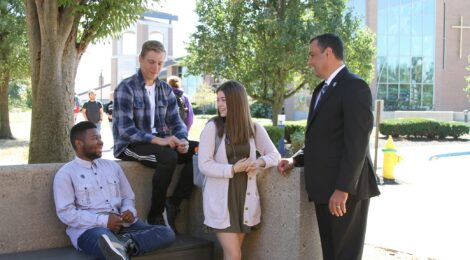 CRESTVIEW HILLS, Ky. (Nov. 21, 2022) —  More exciting changes are on the horizon at Thomas More University as work begins to relocate the Education and Psychology departments to the CAPE building. This move will begin in mid-December and be completed by summer 2023.
The move also includes a phased plan to support updates creating additional academic, instructional, and collaboration spaces for faculty and students. The CAPE classroom will be available for classes beginning in summer 2023. The University also announced the building will officially be named Cabrini Hall as of December 1, 2022. As with both Covington and Centennial Halls, the name seeks to honor the University's history. One of the original buildings at Villa Madonna College was Cabrini Hall, named after Mother Cabrini, who established a number of schools in New York City, across the U.S., and in Latin America.
The move stems from the five-year Strategic Plan: Lighting the Way, supported by the major comprehensive fundraising campaign, The Second Century: It's time for More. In addition to other campus improvements, the Strategic Plan includes projects for enhanced student spaces. Through these changes, the University is moving forward with the Strategic Plan: Lighting the Way and its commitment to student success and academic innovation.