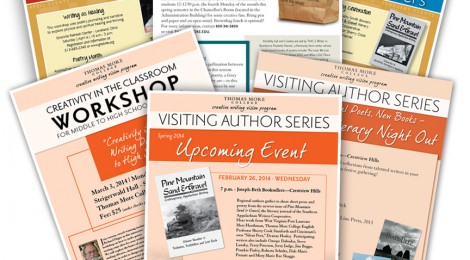 "Imagine stepping away from rows and podiums to engage dynamically with established authors and fellow writers from many corners of the community. It is this kind of person-to-person reflection that shapes people into creative writers and promotes life-long commitments around literature." -Professor Sherry Cook Stanforth
I just graduated from Thomas More College with a degree in Communications. However, I have a secret: I'm actually a creative writing major at heart. During my spring 2014 semester I had the chance to combine both of these interests. No, I didn't live a double life working as a public relations specialist by day and a tormented author by night. Instead, I had the unique opportunity to be the student intern for TMC's Creative Writing Vision program (CWV).
I had attended several of the program's events before I realized who and what was behind them. I sat in on a poetry reading at a local bookstore, I went on a writer's retreat on the banks of the Ohio River at the TMC Biology Field Station, and I attended "Eat and Create" workshops during my lunch breaks on campus. I enjoyed them all as creative outlets during my sometimes overwhelming schedule—but I took them for granted, not realizing the amount of work put into them. Now, after six months of press release writing, designing and hanging program flyers, sending out social media blasts, and assisting in leading outside writing workshops—I have a much better idea of the amount of work required to make this program successful.
At the very core of this program is Dr. Sherry Cook Stanforth. She's a visible presence on TMC's campus, and has been known to tote a penny whistle and travel with a folk band in tow. After taking many of Dr. Stanforth's classes throughout the course of my college career, I was excited to work alongside her outside of the classroom. It's an inspiring thing to witness a professor who is engaged beyond her courses. It makes them feel like they're truly living in their field. Do as I say and as I do. Ask her one question about the lasting value of writing in a community setting, and you can instantly feel Dr. Stanforth's passion for it.
As an intern, I quickly developed an understanding of the program's intent. Pauletta Hansel, TMC's current writer-in-residence (a role brought into fruition by the CWV) describes its mission as being a place "where writers across genres and experience levels, from within the TMC community and outside it, can come together for the sheer love of writing and literature." And then Sherry made it happen.
Creative Writing Vision program guest authors have included Jim Webb, Marc Harshman (the poet-laureate of West Virginia), Frank X Walker (the poet-laureate of Kentucky), Cathy Smith Bowers (the poet-laureate of North Carolina), Jim Minick, Jeanne Bryner, Rebecca McClanahan, Crystal Wilkinson, and Katerina Stoykova-Klemer. Local writers included Rhonda Pettit, Mike Henson, Richard Hague, Kate Fadick and Karen George.
"Making it happen" involved extensive grant writing, support from outside donors* as well as faculty members, and bringing Pauletta to the team as the very first writer-in-residence. Most of my time as the CWV student intern involved working one-on-one with Pauletta. While she admittedly specializes in poetry (author of collections
The Lives We Live in Houses
and
What I Did There
), her expertise in the craft was apparent in the undergraduate courses she led—from a multi-genre survey course, to the more specialized "Writing Spiritual Memoir." She was also active on campus, leading noon-time writing workshops and an eight-week course for outside community writers.
From a personal standpoint, Pauletta has met with me personally to help revise and give feedback on pieces I've struggled with. She encouraged me to submit a non-fiction essay I wrote to a national competition, and I was thrilled to have the opportunity to read it at the Sigma Tau Delta convention in Savannah, Ga. after it was accepted. Her level of experience in this craft is evident in the way she's able to bring out the voices of writers who may be starting out—or are just hesitant and still developing their confidence.
Another accomplishment of the CWV has been to organize and host a plethora of on and off-campus events. I have attended a large university as well as this small Liberal Arts College, and I can vouch for the fact that generating attendance for on-campus events is a task in itself. Generating attendance off campus is a whole other animal. This was where I was able to bring in my communications and marketing skill set by using both traditional and social media outlets to promote CWV's many events. It is a good feeling to meet someone at a writing event and learn that they found out about it from a post online— one that I posted. "I did that!"
One of the most unique parts of the program is the series of guest author readings at a local bookstore. Regional, local and community writers travel from near and far to share their pieces with a friendly and familiar crowd. Before a reading you can usually find the authors mingling with professors and students at a nearby restaurant—approachable and eager to give encouragement to up-and-coming writers.
A particularly strong memory that I will always carry with me is when an author teared up at one of our guest author readings while sharing a poem she wrote about Alzheimer's. The emotion in her work was so strong and tangible that the entire room could feel it. Despite sitting in a crowd, I could feel this indescribable bond of people who love, enjoy, and are passionate about the same thing that I am: writing. Writers come from all walks of life, and I truly believe that there lies one within all of us. I am proud to say that I have contributed to the program, and I have only the highest of hopes for the community that it is building within, and outside of our school.
*This program was made possible by the generous support of the John A. Schroth Family Charitable Trust, PNC Bank, Trustee and insightful guidance from TMC's former Vice President of Academic Affairs, Brad Bielski, and Vice President of institutional Advancement, Cathy Silvers.