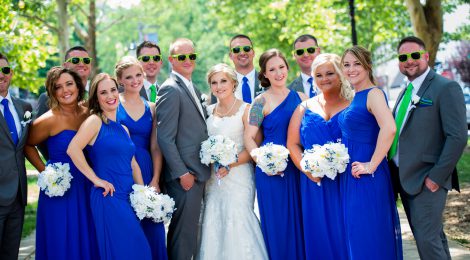 1960s
Sr. Mary Ethel Parrott, SND '69, provincial superior, Sisters of Notre Dame was honored with the Judith Clabes Lifetime Achievement Award at the Outstanding Women of NKY luncheon in spring 2018. The luncheon is presented by the Northern Kentucky Chamber of Commerce Women's Initiative and honors women who exemplify notable achievement, outstanding service in their professions or to the Northern Kentucky community, and the qualities of personal integrity, perseverance and leadership. Well deserved, Sr. Parrott!
Joan (Wernersbach) '69 and the late Wm. T. (Bill) Robinson III, J.D. '67 were presented with the Devou Cup at the 2018 NKY Chamber of Commerce Annual Dinner. The Northern Kentucky Fund of the Greater Cincinnati Foundation created the Devou Cup to honor the generosity of individuals who make a profound difference in the quality of community life in Northern Kentucky, now and into the future.
1970s
Congratulations to Sr. Aileen Bankemper, OSB '72, who was elected as the thirteenth prioress of the Benedictine Sisters of St. Walburg Monastery in spring 2018. Sister's installation was June 9 with Sr. Mary Catherine Wenstrup, OSB '65, the previous prioress, presiding and Sr. Lynn McKenzie, President of the Federation of St. Scholastica, attending and speaking. Sr. Aileen serves a four- year term.
Congratulations to Karen George '74, on the release of her second poetry collection, "A Map and One Year." Excerpt from the book:
Figment
Hemlock trees
of full-throated green
brim the forest
full of eyes and wings
Light glooms
mossy at my feet
and leaves murmurous
rhyme the air
I have found a path
opening like a bell
from the well
deep in a dream
1980s
Sr. Maria Therese Schappert, SND '85, carries on the mission of the Notre Dame Urban Education Center to "promote Catholic education, especially among women and children in urban and mission schools." She became Executive Director August 2018.
Jerry Lovitt '88 accepted an appointment as a federal Administrative Law Judge with the U.S. Office of Adjudication and Review in Louisville, Kentucky in 2017. Congratulations Jerry!
2000s
Nick '05 and Anna (Ross) '07 Payne currently reside in Lexington, Ky., and are involved in the education system. Anna teaches special education in central Kentucky and recently received the Special Education Teacher of the Year award for the Jessamine County School district. Nick also received a Kentucky Colonel Award for his dedication to teaching and coaching football. Congratulations to you both!
Camille T. Fadia '08 has just written her autobiography entitled Life Is A Journey of Faith to be published in 2018. "I am very glad to be an alumna of TMU."
2010s
Congratulations to Joshua Vogel '10 and Erin Sandy, who were married on June 9, 2018. Joshua and Erin met at  Thomas More where Erin worked in the financial aid office. Erin left Thomas More to pursue a law degree. Thomas More alumni and friends in attendance included Ryan Vogel '14, Aaron '09 and April (Husak) Judd '15, Caleb '07 and Brittany (Goetz) Finch '10, Nick Whalen '05, and Vaughn Helmer.
Amberlie Clutterbuck '12 applied for a competitive science policy fellowship through American Association for the Advancement of Science (AAAS) and officially became an AAAS Science andTechnology Fellow in Washington, D.C., on Sept. 4, 2018. She has been placed in the Department of Energy, Energy Efficiency and Renewable Energy, Fuel Cell Technologies Office, Hydrogen Fuel R&D Team and will be working on a project called H2@Scale. As a part of this team, she works to implement hydrogen fuel technology into the lives of Americans in order to lessen dependence on foreign energy sources and promote the use of an energy source safe for the environment.
Congratulations to Andy '15 and Katie (Duke) '14 Bramer, who were married on May 5, 2018. In addition to the newlyweds being Thomas More grads, the wedding party included alums Evan Angus '14, Alex Bramer '17, Thomas '12 and Holly (Beckemeyer) '13 Duke, Elizabeth Kraemer '14, and Ian O'Donnell '15. 
__________________________________________
Art Alumni on Display!
During the 50th Anniversary Celebration in September 2018, the Creative and Performing Arts Department welcomed alumni artists back for a fabulous display of original artwork in the Eva G. Farris Art Gallery. The following artists had pieces on display: Jennifer Bucalo Baldwin '76, Christopher Beiting '13, Mackenzie Staley Bessler '16, Andrew Blom '14, Sarah Brandt '16, Michael Burkart '75, Jacob Condon '16, Karen Cress '16, Elizabeth (Meyer) Ehrler '99, Guadalupe Fernandez '17, Kayla Fulcher '17, Kennedy Fry '18, Rita (Koehl) Geiger '74, Bonita Williams Goldberg '88, Mick Goldberg '65, Cody Goodin '84, Barbara Airhart Gronefeld '76, Richard Gronefeld '77, Maria Anne (Creed) Hoban '81, Nicole Kallmeyer '16, Nathan Klare '12, Ben Kleier '16, David Klocke '96, Rose Hatmaker (Abbott) '02, Jaime Maley '17, Jason Matheny '14, Tricia Kramer Noe '67, Barb Rauf '69, Kate Rowekamp '12, Emily Sanker '16, Victoria (Hoening) Sapp '95, Cathryn Scheben '17, the late Bernard Schmidt '58, Roger R. Schwartz '73, Alexis Taylor '11, Emma Teller '11, Heidi Toelke '75, Carolyn Wagner '13, Leslie Strecker Weisner '73, Ruthe Wyman (Reeves, Smith) '76. (Not all participants are pictured here.)