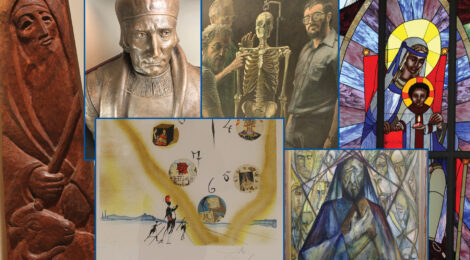 Harrison Walz: Hello, my name is Harrison Walz and I am a member of the Art at Thomas More initiative. This initiative sheds light on the permanent collection of artwork and artifacts at Thomas More University. Today, we would like to share one of two pieces of artwork on campus that were created by sculptor Bernie Schmidt, a class of 1958 alumnus and former faculty member at Thomas More. Mr. Schmidt was a prolific artist as well as educator during his lifetime and has artwork displayed both locally and nationally. This wood carving, created in the '70s, is a visual reminder of Jesus as the Good Shepherd. It can be found in the reconciliation room of Mary, Seat of Wisdom Chapel. Here is Fr. Gerald Twaddell with a commentary on the piece.
Monsignor Gerald Twaddell, D. Phil: This piece by Bernard L. Schmidt, a 1958 graduate of then Villa Madonna College now Thomas More University, was done by him, I believe, while he was faculty here in 1970-71 or there about. This is a piece that has been with us for a very long time and it now occupies a place in our reconciliation room in Mary, Seat of Wisdom Chapel. As you can tell, if you look closely, it's a carving of the Good Shepherd. The Good Shepherd has gone in search of his lost sheep and note a little detail down here that may not be immediately obvious, is that the Good Shepherd has caught the sheep with his crook and is holding him close. It's a very interesting carving, very moving piece, I believe, and it's especially suited to be in the reconciliation room as a reminder of the Good Shepherd's care for all of his sheep. 
CLICK HERE, to read the retrospective of Bernie's life which ran in Moreover after his passing in 2013.