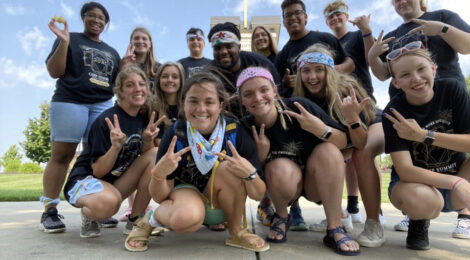 Talented Thomas More Writers Gain Regional Publication Experience
Congratulations to Thomas More English majors and alumni for their recent successes with the decades-old regionally prominent literary journal, Pine Mountain Sand & Gravel. Volume 24 (the "Appalachian Witness" edition) which will be released in print later this fall.
· English graduate Courtney Barnoski '21 had the poem "Hellions" accepted.
· Senior English and laws major Clhoe Kincart had the book review "Lock Her Up by Tina Parker" accepted.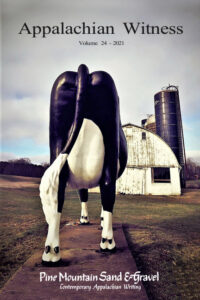 · Senior English majors Margaret Dredger and Alyssa Dowdell served as editorial interns, showing their usual exceptional abilities in editing, project management, and communications.
Thomas More professor Sherry Cook Stanforth, Ph.D., current managing editor of Pine Mountain Sand & Gravel, notes that Thomas More students are gaining a positive literary identity beyond Northern Kentucky, "In recent years, quite a few students have had creative work accepted in this juried annual publication. They've also served as editorial interns, providing impressive dedication and talent to our regional team. I am very proud of Margaret, Alyssa, Courtney, and Clhoe for their efforts, and I truly love working with them!"
Creative Writing Vision holds Community of Creative Writers River Retreat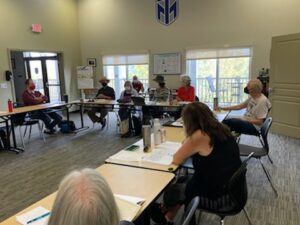 Local authors gathered on Saturday, Oct. 2 at the Thomas More Biology Field Station's scenic Ohio River venue to experience the bi-annual Community of Creative Writers Retreat. Sponsored by Creative Writing Vision and led by its director, Sherry Cook Stanforth, Ph.D., this event provided attendees with a day of high energy writing sessions, reflective discussion, and sharing inside a supportive literary community. Thomas More artists-in-residence Dick Hague and Pauletta Hansel also led sessions throughout the day. This nature-centered retreat regularly produces creative projects that its writers later revise and publish.
Creative Writing Vision – Express Open Mic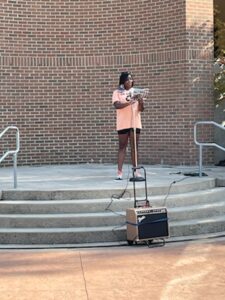 Students and faculty gathered outside on Tuesday, Sept. 28 for two sessions of Creative Writing Vision's Express Open Mic to share poetry, music and prose inspired by the theme "What We Carry." Here, English minor Anissa Bradley reads her poetic tribute to a deceased musical friend.
Thomas More's English Department Unveils a Little Library
Located in the Joy Nolan Garden outside of the main administration building, the little library is a free resource for free books to borrow and read, or to donate. For more information and photos of the unveiling, CLICK HERE.
Biology Field Station Summer Interns 2021
From a large, competitive, national pool of applicants, 16 outstanding students were chosen as research interns, environmental educators, and work-study students for 2021 based their strong academic records, research interests, and genuine passions for ecology, environmental studies, and aquatic biology. These students represent the next generation of developing, young STEM scientists and represent a broad range of ethnic, geographic, and socioeconomic backgrounds. This year's Lab Crew members included Lena Bauer and Alexis Brandenburg from Thomas More University and Amanda Crespo-Gomez and Luis Tron Esqueda from sister school Universidad Del Sagrado Corazón in San Juan, Puerto Rico. The River Crew included Sawyer Lorentz and Spencer Trimpe from Thomas More, Molly Williams from Hillsdale College in Michigan, Christian Slone from Murray State University in Kentucky, Hannah Gill from Ohio Northern University, and Ignacio Gotelli Gerstner from Universidad Del Sagrado Corazón in San Juan, Puerto Rico. The Stream Team included Madison McVey from Thomas More and Maggie Voyles from the University of Sioux Falls. Independent Researchers included Michael Brett, Jo-Jo Kelly, and Sarah Gibson from Thomas More University and Hailey Oldfield from Coastall Carolina University in South Carolina.
To mark the 50th anniversary of the internship program, the Field Station hosted an Open House in July 2021 with the newest interns welcoming back past interns and other invited guests.
We would like to recognize those who have given financial or technical support of this program including, the Friends of the Field Station, Duke Energy Foundation, Sanitation District No. 1, USEPA, USFWS, and the Universidad del Sagrado Corazón, as well as the Department of Biological Sciences at Thomas More University and the administration at Thomas More.
The Return of Camp Summit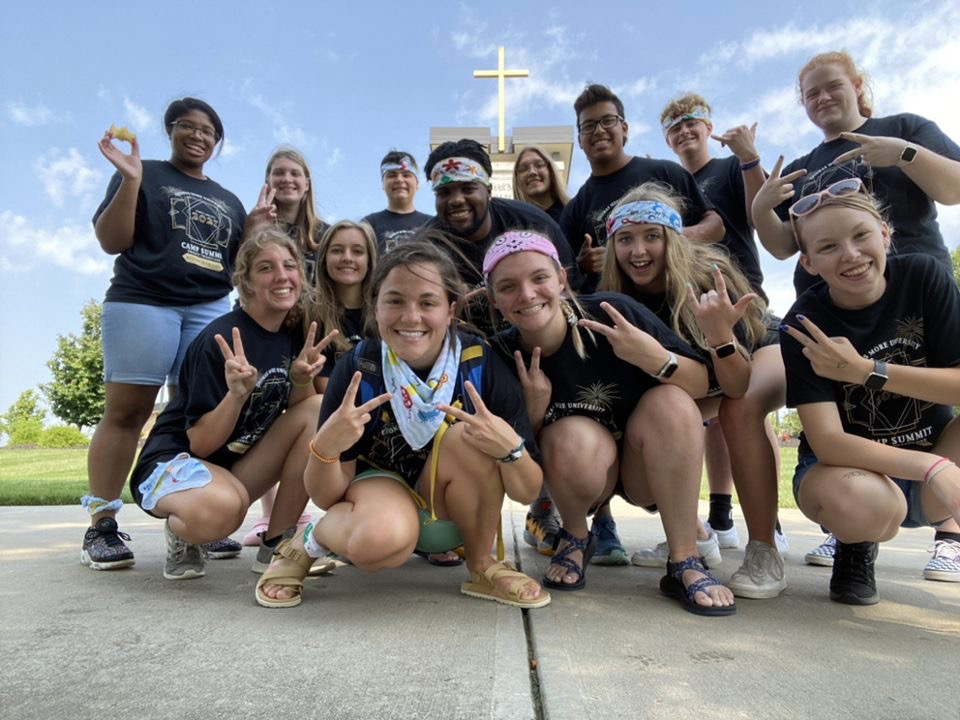 Student Life and the Institute for Career Development and Graduate School Planning welcomed back Camp Summit after a 2020 hiatus due to COVID 19. Eight student mentors welcomed 52 incoming first-year students to a three-day retreat that helps develop a deeper understanding of Thomas More, resources available, and the culture between students, staff, and faculty. One participant describes their favorite part of the experience, "The connections I made with people in my group and other groups. I can honestly say I met my best friend and someone I really connected with during this camp and we hang every day now."
NASA Grants Fund Student Research
Professor of physics Wes Ryle, Ph.D., applied for and received grants from the NASA Kentucky Space Grant Program to fund two Research Experience for Undergraduates (REU) projects. The grants will provide a stipend for Ashlyn Coleman (junior physics/math double major) and Lindsay Dawson (sophomore math major/physics minor) to conduct research at the observatory over the academic year and present their work at a research conference in the spring. Ashlyn's project includes observations of eclipsing binary star systems to determine stellar masses, temperature, and size. Lindsay is collecting data on pulsating variable stars for use in an interactive undergraduate laboratory program.
Into The Urban Fabric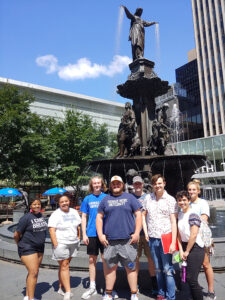 Welcoming the opportunity to get back into the community, professor JT Spence's Urban Studies class visited three sites in the Cincinnati metro area to explore the city from a distance and up-close. They first examined the urban landscape from the vantage points of Devou Park in Covington and Mt. Adams in Cincinnati. The class then explored Fountain Square in downtown Cincinnati. Questions were posed regarding the natural and built environments and a reflection paper was written to connect their experiences in the urban setting with assigned readings. Participating are (from left) India McCullough, Aletha Wiggins, Houston Watson, Jake Perkins, Cole Rankin, Logan Fedders, Sophia Hermosilla, and Cierra Ackerson. Next they will explore the "ideal city" of Greenhills, Ohio.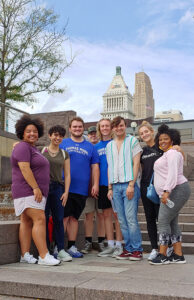 Into the Urban Fabric part II: The City as Spectacle
 Students in Dr. JT Spence's Urban Studies class explored the city as an urban cultural spectacle with a "Flanuer's" walk along the Ohio River. Following a reading of Deborah Stevenson's "City as Spectacle," students got a chance to interact with the dynamic environment of the urban riverfront, which over the past 75 years has been transformed and enlivened by the impact of multiple cultural and commercial developments, and become a regional magnet for tourism, the arts, and entertainment.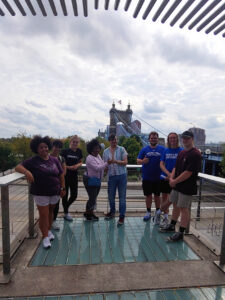 In addition to seeing the spectacular changes that have taken place on both sides of the river and how the three riverfront cities of Cincinnati, Covington and Newport have rediscovered their connection with the river, students were also able to consider questions of what constitutes public and private space and how that speaks to issues of equity in society.
Rosary Rally Year Six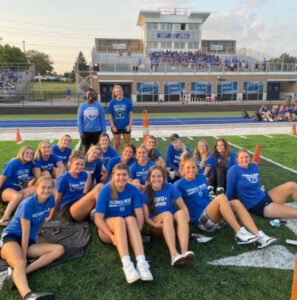 Thomas More's annual Rosary Rally took place at Griffin Plaza and on Republic Bank Foundation Field on Sunday, Aug. 22. Led by Monsignor Gerald Twaddell and Director of Campus Ministry Andrew Cole, students prayed the rosary after the evening Mass as a blessing for a safe and productive 2021-22 academic year and sports season. The venue allowed for social distancing between teams and contingents of students.
For more campus happenings, visit the student online news outlet The More You Know.