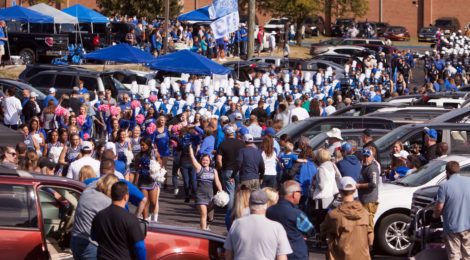 The Thomas More University Homecoming Celebration took place Oct. 17-19, 2019, on the beautiful Crestview Hills campus. The first event, on Oct. 17, was U(topia)Fest, a community block party complete with food trucks and live entertainment. This neighborhood-style party was full of fun for students, alumni, and friends of all ages.
The next day, Oct. 18, was the Anniversary Luncheon for the Class of 1969. Members of the class of 1969, the first class to graduate under the Thomas More College name, were invited to gather on campus to catch up and celebrate their 50th anniversary. That evening the inaugural Bourbon Tasting with alumni and friends took place at The Phoenix in Cincinnati, Ohio. The tasting included a variety of local bourbons paired with heavy hors d'oeuvres.
Saturday, Oct. 19, dawned with beautiful weather for the Homecoming Alumni Tent Party. The family-friendly tent party included access to three intercollegiate games, parking, food, beverages, children activities, and more. Alumni and friends cheered on as the Saints took on the Lindsey Wilson Blue Raiders in football, followed by the women's and men's soccer teams playing in a trifecta of sports entertainment.