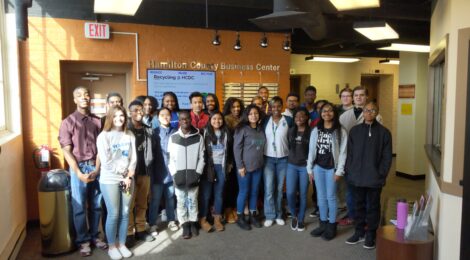 CRESTVIEW HILLS, Ky. (Dec. 2, 2021) —Thomas More University's Center for Leadership, Entrepreneurship, & Innovation provides an incubator space for students, faculty, and staff to explore and test ideas before advancing them as initiatives. Staff and faculty at the Center assist students as they advance these new business ideas from concept to implementation. Teaming up with local non-profit Square1 for the Center's first partnership, Thomas More plans to provide scholarships to trailblazing students in the region, including a first-place, full-tuition scholarship, a second-place $25,000 scholarship, and a third-place $22,000 scholarship.
"These scholarships and our partnership with Square1 will help young, and now proven, student entrepreneurs matriculate into Thomas More University, getting them involved with the newly established Dr. Anthony '65 & Geraldine '66 Zembrodt Center for Entrepreneurship and Innovation," says University President, Joseph L. Chillo, LP.D. "Thomas More University is quickly becoming the innovation destination for young entrepreneurs looking for resources to develop their ideas in an academic environment."
Scholarship recipients are selected from Square1's NEXT program. Square1 honors local innovators in the community as well as entrepreneurs at the annual Pitch Contest, their final event of the year. These local leaders act as judges, along with an honorary judge from Thomas More University. This panel scores the teams to place them for scholarships.
"Square1's NEXT program has for years strived to guide our students to whatever their next is," says Keith Schneider, Square1 President. "This partnership with Thomas More delivers a significant tool to empower our students to take the life changing step of higher education. We are thrilled that Thomas More not only believes in our cause but has invested wholeheartedly in the success of our young innovators."
Square1, with locations in Covington and Cincinnati, seeks to uncover, educate, support, and inspire emerging entrepreneurs and leaders, who ultimately create opportunities for themselves and others by overcoming the many obstacles life poses. This mission is achieved through the NEXT program, which works with high school students to teach how innovation and an entrepreneurial mindset can change their life's trajectory. Schools and students from across Greater Cincinnati participate in this region-wide innovation and work skills education and development program.
"Thomas More University's recent partnership with Square1 is an absolute homerun," says Stephen Wright '99, Vice President and Senior Consultant at MCF Advisors and chair of the Thomas More University President's Society. "Square1's annual Pitch Contest has gained tremendous momentum, active in 33 local high schools, with 600 students participating. Thomas More has stepped up in a big way by awarding contest winners with scholarships, and the Center for Entrepreneurship and Innovation is the perfect fit for them to continue beyond high school. This is a fantastic investment in our local students. Kudos to Keith Schneider and Dr. Chillo for coming together on this!"
For more information about Thomas More University, visit www.thomasmore.edu.
###
About Thomas More University
For 100 years, Thomas More has created a university for the student who wants to Be More, Do More, Seek More, Win More, Achieve More, and Create More. Since its founding in 1921, Thomas More has provided a mission-driven, liberal arts education that is based in the Catholic Intellectual Tradition. Students learn to harness the power of human reason to solve problems and discover truth, which allows them to begin the journey to become the person they were created to be. Entering into the second century, it's time for More. Serving more than 2,000 students, Thomas More aspires to be the premier Catholic university in the Cincinnati/Northern Kentucky region, to build upon the #1 ranking for long term gain in Kentucky (2019 Georgetown study) and share with this generation the transformative power of the Thomas More experience. To find out more, visit thomasmore.edu.
MEDIA CONTACT: Lyna Kelley, director of communications and PR, kelleyl@thomasmore.edu, 859.344.3309