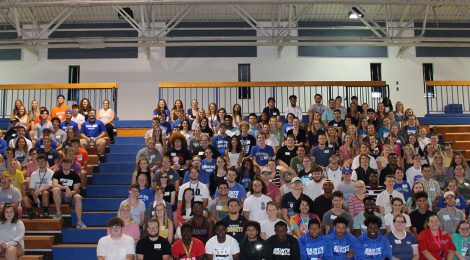 On August 20, Thomas More College welcomed the largest class ever in the history of the school.  The total of incoming students for the 2018-19 school year is 563 – a 34 percent increase over the 2017 incoming class.
Thomas More has seen unprecedented enrollment growth in recent years, growing from 837 full-time, traditional students in the fall of 2013 to more than 1,300 at the start of this academic school year.  The overall headcount, which includes graduate, dual credit, and adult students is more than 2,200.
"We knew we were going to have a large incoming class, but all the facts and figures now point to a record-breaking number!" said Thomas More College Vice President of Enrollment Management Christopher Powers, Ph.D.
This year's incoming class holds an average GPA of 3.41, with 37 percent being first-generation students. One hundred and sixteen students are coming from parochial high schools, mostly from the Diocese of Covington. The top three feeder schools for this incoming class include Boone County High School, Campbell County High School, and Holmes High School.
"It's an exciting time of growth for the college," said Thomas More College Acting President Kathleen Jagger, Ph.D. "This incoming class displays creativity, diversity and great aptitude, and I can't wait to see the impact these students make as they pursue their academic interests and passions here at Thomas More."
Thomas More College is a values-based liberal arts institution, one of nine Catholic Diocesan colleges in the nation. Located in Crestview Hills, it was originally founded in 1921 by the Benedictine Sisters as Villa Madonna College.