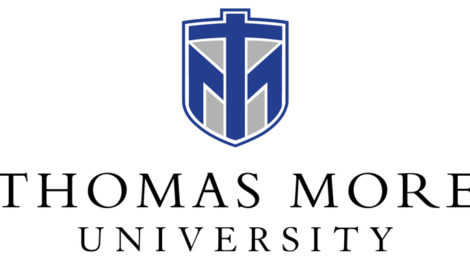 CRESTVIEW HILLS, Ky. (June 8, 2021) — Thomas More University Provost Molly Smith, Ph.D., announced last week that after an internal search Joe Christensen, Ph.D., will serve as Dean of the College of Natural & Health Sciences and Kimberly Haverkos, Ph.D., as Dean of the College of Liberal Arts and Social Sciences. Christensen and Haverkos will assume duties on June 16, joining Bruce Rosenthal, Dean of the College of Business, who also begins his tenure as Dean at Thomas More University on that date.
The three-college structure within Thomas More University was further refined in June 2021 and the University now includes the following Colleges: The College of Liberal Arts & Social Sciences, which includes a School of Education, the College of Natural & Health Sciences, which includes a School of Nursing, and the College of Business, which includes the Center for Leadership, Entrepreneurship, & Innovation. Deans in each of the Colleges oversee all undergraduate and graduate programs and are responsible for developing new programs, attending to faculty development, and extending student success.
Christensen is a tenured Associate Professor of Physics and most recently served as Chair of the Department of Mathematics and Physics. He has also served on a variety of committees and led the significant task of revising the Faculty Constitution and the Faculty Policy Manual. Christensen earned his bachelor's degree in Physics and Mathematics at Bradley University and his doctorate in Physics at the University of Kentucky.
"Dr. Christensen is a deep thinker, attentive to the nuances of policies and procedures. He has rich experience of the University, having served and led a number of important faculty initiatives. I am excited to welcome him into the academic leadership team as we continue to extend the University's reach and reputation as a Catholic university rooted in the liberal arts," said Smith.
Haverkos is a tenured Associate Professor in the Department of Education and most recently served as Interim Dean of a college which included Education and Health Sciences. Haverkos has led several initiatives at Thomas More and served on numerous committees.
"Dr. Haverkos is a passionate spokesperson for diversity, an individual with deep-felt convictions about equity and inclusion, and a committed advocate for meaningful change that can continue to propel the University into academic prominence. I look forward to working closely with her and to welcoming her on my leadership team," said Smith.
Haverkos earned her bachelor's degree in Biology from Xavier University, her master's in Secondary Education from the University of Cincinnati, and her doctorate in Educational Leadership from Miami University, OH.
"This is an exciting time at Thomas More," Smith added, as the new Deans and I work with others to advance the University to model the compelling and transformative power of Catholic higher education."
---
Thomas More University provides students with something much more than job training. Graduates are prepared for any career. But they leave prepared for much more. They are exposed to the very best thought, literature, art, and music. They learn to harness the power of human reason to solve problems and discover truth. Most importantly, they have the chance to begin to become the person they were created to be. This is the power of the liberal arts in the Catholic Intellectual Tradition at Thomas More University. Our students come here looking for more. And that's exactly what we offer. Here our students take that opportunity and…Make It More. Learn more at thomasmore.edu.
###
MEDIA CONTACT: Rebecca Stratton, director of communications and PR, strattr@thomasmore.edu, 859.344.3309