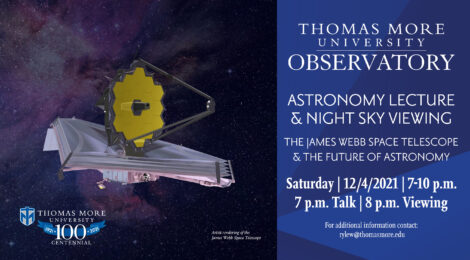 Astronomy Lecture & Night Sky Viewing – The James Webb Space Telescope & the Future of Astronomy
Saturday | 12/4/2021 | 7-10 p.m.
7 p.m. Talk (Steigerwald Hall, Saints Center)
8 p.m. Viewing (Observatory – weather permitting)
Despite being more than a decade overdue and way overbudget, the James Webb Space Telescope is finally destined to be launched on Dec. 18, 2021. Join us as we discuss the spacecraft's troubled history as well as its immense promise for the future of astronomy.
FREE and open to the public.
No reservations required. All ages welcome.
Note that all attendees must wear a face-mask at all times while indoors.
For additional information, CLICK HERE.