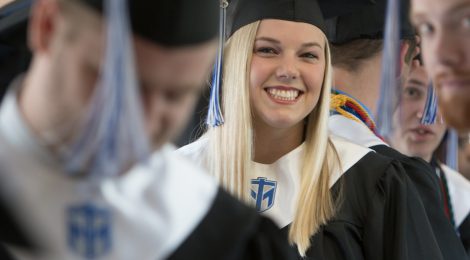 CLICK HERE for a photo gallery of Commencement and pre-Commencement photos of the TMU Class of 2019.
CRESTVIEW HILLS, Ky. (May 14, 2019) —Thomas More University will honor its newest alumni during commencement ceremonies this weekend, awarding a total of 443 degrees. The 2019 graduating class will be the first to receive degrees from the institution since its transition to university in the fall.
The May 2019 commencement celebrations will be held across two days – Friday and Saturday – in the Connor Convocation Center on campus. An honorary doctoral degree, 104 master's degrees, 272 baccalaureate degrees, and 67 associate degrees are to be awarded by the University.
A total of 382 graduates will be acknowledged across the University's three colleges, which were installed on October 1 with the transition to university. Of this total, 49 percent of undergrad graduates are first-generation students,15 are military veterans – seven graduate, eight undergraduates, and 52 identify as current student-athletes. Two countries and eight states will be represented among the graduates.
Ceremonies include:
Friday, May 17:
Graduate Degree Commencement Ceremony; 5 p.m. in the Mary, Seat of Wisdom Chapel
Provost's Reception; immediately following the Graduate Commencement Ceremony in the Saints Center
Senior Awards Celebration; 7 p.m. in the Mary, Seat of Wisdom Chapel
Saturday, May 18:
Baccalaureate Mass; 9 a.m. in the Mary, Seat of Wisdom Chapel
Undergraduate Commencement Ceremony; 11 a.m. in the Connor Convocation Center
President's Reception, immediately following the Undergraduate Commencement Ceremony in the Saints Center
Student Speakers
This year's Presidential Service Award will be presented to Christopher Odongo for exemplifying commitment to campus ministry. Odongo graduates from TMU with a bachelor's degree in accountancy, a minor is business administration, and an associate degree in computer information systems. Odongo, an international student, came to TMU in August 2015 from the small village of Sega in western Kenya. He claims that his most memorable experience at TMU was when he was given the opportunity to teach his geography class about his home country. Odongo plans to join the risk assurance team of PricewaterhouseCoopers, LLP in Cincinnati in July as he also begins preparations for a certified public accounting certification.
This year's Outstanding Student Award will be presented to Taylor Anne Walz for demonstrating strong scholarship, leadership, service, and integrity during her time at TMU. Walz completes her undergraduate college career at TMU with a bachelor's degree in elementary education. She graduates cum laude and has been known for her leadership and involvement on campus. The northern Kentucky native came to the University for the close-knit community and family atmosphere, the faith-based curriculum, and the opportunity to help start the Dance Team. She plans to pursue a master's degree in ethical leadership at TMU while continuing her role as events manager for Institutional Advancement.
This year's Post-Traditional Adult Undergraduate Student recipient is Chandra Barnes. Barnes earned her associate degree of elected studies as a student in the Thomas More University Accelerated Program (TAP) in 2018 and will receive her bachelor's degree of elected studies in the summer of 2019. While at the University, she received the dean's list award for outstanding academic achievement in spring of 2018. She is currently employed by the United States Federal Government as an administrative support specialist and is passionate about their mission to support American workers and their safety.
This year's Outstanding Graduate Student recipient is Angela Albaugh. Albaugh is an experienced business professional having spent 15 years in human resources and project management at Johnson & Johnson (three years), Toyota Engineering & Manufacturing North America (10 years), and WILD Flavors, Inc. (two years). After this time in the business world, she made the decision to pursue a different career path in education and is finishing her second year teaching business classes at Pendleton County High School in Falmouth, Kentucky. Albaugh received her bachelor's degree in business administration from Xavier University and is now a proud graduate of the Master of Arts in Teaching program at TMU. While at TMU, Albaugh claims she was pushed to think more deeply about education, students, and the world.
Honorary Degrees
Gerald Dusing '71 will be awarded with an honorary Doctor of Law degree on Saturday. Dusing, a native of Union, Kentucky, graduated from TMU magna cum laude with a bachelor's degree in economics in 1971. Following his TMU education, Dusing attended the University of Kentucky College of Law where he earned his juris doctor degree in 1974, graduating in the top 10 percent of his class. Dusing is an experienced trial attorney and has represented an array of clients for more than 40 years in all areas of litigation. He is currently an attorney and counselor at law at Adams, Stepner, Woltermann & Dusing, PLLC, located in Covington, where he has served since 1974.
Dusing has been a top-rated attorney selected to Super Lawyers since 2007. He has held positions of chair of the Kentucky Legal Education Commission and chair of the Kentucky Board of Bar Examiners, and he has served on numerous civic and charitable boards, including St. Paul Parish Council in Florence. Dusing is also a former chairperson of the TMU Board of Trustees. He served a nine-year term on the Board, spearheading in the construction of Griffin Field and Mary, Seat of Wisdom Chapel.
The use of the hashtag #TMUGrad19 is encouraged for those posting about TMU Commencement on social media throughout the weekend.
For more information about the weekend's activities, please click here.
Thomas More University is the Catholic liberal arts university of the Diocese of Covington, Kentucky. At TMU, we challenge students of all faiths to examine the ultimate meaning of life, their place in the world, and their responsibility to others. Through our integrated and traditional undergraduate, graduate, and certificate programs, we are inspiring innovation for a better tomorrow. Learn more at thomasmore.edu.
###
MEDIA CONTACT: Rebecca Stratton, director of communications and PR, strattr@thomasmore.edu, 859.344.3309