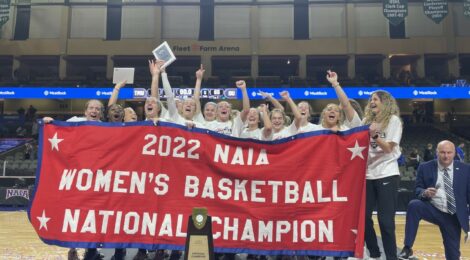 CRESTVIEW HILLS, Ky. (Mar. 23, 2022) — Basketball is alive and well in Kentucky with the Thomas More men's and women's basketball teams on fire in the month of March. The women's basketball team brought home the NAIA National Championship after both teams won their way into the "Fab Four" as a result of hotly contested games the previous Saturday. The Saints were the only program in the nation to put both their women's and men's teams into the NAIA semifinals, with the women being the first women's team from the Mid-South Conference (MSC) to ever win a NAIA National Championship.
"The Thomas More community has been rallying around the men's and women's basketball teams all season and especially during an exciting NAIA tournament appearance," says Thomas More University President, Joseph L. Chillo, LP.D. "The Saints have represented our University exceptionally through their unwavering efforts and dedication. We congratulate our men's team on an excellent season and their Fab Four appearance and the women's team on bringing home the National Championship victory."
Thomas More University women's basketball team defeated Dordt on Tuesday evening, March 22, for a 77-65 win, taking home their first NAIA National Championship title. This was the second year in a row that the Saints made an appearance in the championship game. Senior Taylor Clos explains, "We had business that we wanted to finish and go out on. We had all the tools and knew we were capable of doing something special at the NAIA level that Thomas More hadn't gotten to do before – it is really incredible." Graduate student athlete Alexah Chrisman secured the Tournament MVP award with an excellent performance on both the defensive and offensive (16 points) ends of the floor, and Chrisman and Clos were named to the NAIA All-Tournament Team, with Clos also named NAIA Honorable Mention All-America. Head Coach Jeff Hans had this to say about his team, "With being in the NAIA for just our third year and having two opportunities at the championship title, we wanted to be sure we could finish the job this time and be successful. We knew we are up against a really good team that had a lot of fan support and created a great atmosphere."
The women's team finished a remarkable season with an overall record of 32-4 and 19-2 in conference. The team earned the title of MSC Regular Season Champions. Head coach Jeff Hans was recognized as MSC Coach of the Year, while the women athletes saw major accomplishments with five players named MSC All-Conference, ten players earning MSC Academic All-Conference distinction, and junior Zoie Barth earning College Sports Information Directors of America (CoSIDA) Academic All-District.
The men's team eliminated top-seeded Oklahoma Wesleyan, 59-56, on Saturday to advance to Monday's semifinals matchup against Talladega. After battling back from a deficit to send the game to overtime, with Saints came up short in a heart breaking last second loss ending their season with a 77-78 score. The men still have a lot to celebrate this season, finishing with the best record in program history, earning the title of MSC Regular Season Champions for first time in program history, and being the first Saints men's basketball team to be nationally ranked in the top 5. In addition, five players made MSC All-Conference, three players made MSC Academic All-Conference, and red shirt junior Ryan Batte earned MSC player of the year, was named to the 2022 NAIA Men's Basketball National Championship All-Tournament Team, NAIA First Team All-America, and made the Bevo Francis Award Top 100 and Top 50 Watchlist. Batte was also named to the 2021-22 NABC NAIA All-America Team, an honor that only 12 players from across the nation were selected for. Team leadership garnered recognition with Thomas More head coach Justin Ray receiving MSC Coach of the Year and assistant coach Spencer Berlekamp receiving MSC Assistant Coach of the Year.
Congratulations Saints on a great year of hoops! #LetsGoSaints
For more information about Thomas More University Athletics, visit www.thomasmore.edu/athletics.
###
About Thomas More University
For 100 years, Thomas More has created a university for the student who wants to Be More, Do More, Seek More, Win More, Achieve More, and Create More. Since its founding in 1921, Thomas More has provided a mission-driven, liberal arts education that is based in the Catholic Intellectual Tradition. Students learn to harness the power of human reason to solve problems and discover truth, which allows them to begin the journey to become the person they were created to be. Entering into the second century, it's time for More. Serving more than 2,000 students, Thomas More aspires to be the premier Catholic university in the Cincinnati/Northern Kentucky region, to build upon the #1 ranking for long term gain in Kentucky (2019 Georgetown study) and share with this generation the transformative power of the Thomas More experience. To find out more, visit thomasmore.edu.
MEDIA CONTACT: Lyna Kelley, director of communications and PR, kelleyl@thomasmore.edu, 859.344.3309