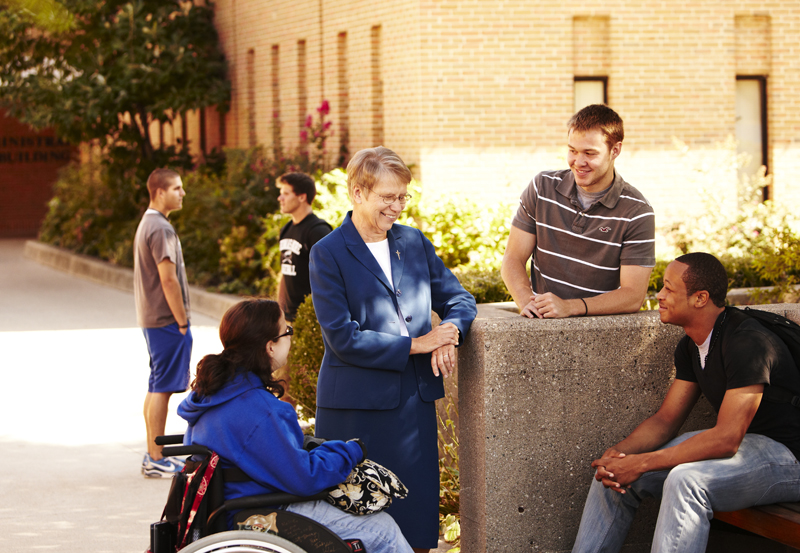 Thomas More College President Sr. Margaret Stallmeyer met with the College's board of trustees, faculty and staff Thursday morning, October 18, 2012 to inform them she will retire as president effective June 30, 2013. Stallmeyer has served as president of the Catholic diocesan college since June 1, 2004.  During the last eight years, the College has grown in the scope and scale of its academic offerings, including the addition of 10 new baccalaureate programs.  In addition, enrollment has increased by 20 percent since Stallmeyer became president.
Thomas More College Board Chair Jeanne-Marie Tapke , Ph.D., commented on Stallmeyer's accomplishments as president. "From the beginning, her strong administrative skills moved the college to a level of financial stability in a short period.  She moved on to formulate her vision of how the College could serve the needs of our students as well as our growing community.  She has the unique ability to not only build relationships with influential community leaders and donors, but also with students who appreciate the welcoming environment she has created at Thomas More and who have been challenged to understand the complexity of a globalized world through her leadership. As board chair, I've embraced her mission to keep the quality, Catholic, liberal arts education at Thomas More available to all motivated students who seek it. We are all better and smarter for having worked with her."
Thomas More College Dean and Vice President for Academic Affairs Bradley A. Bielski elaborated on Stallmeyer's vision for the College. "Academic program offerings at the baccalaureate level have increased by 42 percent, and the number of master's degree programs has tripled under Sister Margaret's guidance. Several of our newer programs, such as sports and entertainment marketing, healthcare management and forensic science, reflect Sister Margaret's vision of being responsive to the changing higher education environment. Others, such as humanities, Spanish and art history, stress her firm belief in the value of the liberal arts. As a career educator who has constantly reminded the campus community of its roots as a teacher's college, she championed two master's programs for educators, the Master of Arts in Teaching program and a newly approved Master of Education degree." Academically, Stallmeyer has also brought to fruition the College Gemini program, which has given several thousand students in both diocesan and public schools the opportunity to build college credit prior to admission.
"My years as president have been blessed in many ways, so this was not an easy decision" Stallmeyer explained. "It is one I have made after serious reflection and prayer during these last several months. Over the past years, I have been committed to creating stability, strengthening our Catholic identity and putting the College in front of the regional community.  Thomas More College is now positioned to meet the challenges facing private higher education in this 21st Century," Stallmeyer explained.
Stallmeyer's retirement comes on the heels of completion of the College's current five-year strategic plan. Her over-riding goal in all has been to keep Thomas More affordable for students in the region through a variety of initiatives, including the guarantee of fixed tuition increases, the parochial promise and availability of access grants. Throughout her tenure, Thomas More College has completed construction of The Bank of Kentucky Field, Griffin Plaza, a new education center and lodge at the Biology Field Station and the soon-to-be completed Mary, Seat of Wisdom Chapel. In addition, renovations of various labs and the library and expansion of the Center for Adult and Professional Education have been accomplished. While the College's value in facilities and offerings grew during her leadership, the long-term debt was reduced. In addition, the endowment has grown 33 percent despite the economic challenges of the recession.  In 2010, the College also accomplished a successful SACS (Southern Association of Colleges and Schools) 10-year re-accreditation. Bielski added, "The College and the community have greatly benefitted from Sister Margaret's commitment to academic excellence while being responsive to the needs of the community."
The Board of Trustees is expected to hire a search firm by the beginning of November to conduct an immediate search for Stallmeyer's replacement.