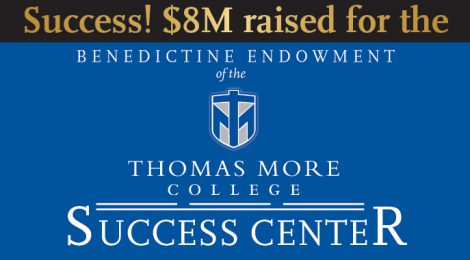 On March 1, 2018, President David A. Armstrong, J.D., announced that the College succeeded in hitting a major fundraising milestone, reaching a matching challenge goal that creates an $8M endowment for the College's Student Success Center. The matching challenge was created in the spring of 2014 by an anonymous benefactor who wished to create operational revenue for a new concept – the Thomas More College Success Center. The College had four years to raise $4M, which the donor agreed to match dollar for dollar. This $4M contribution is the single largest gift in TMC's history. "This benefactor has made a tremendous investment in our College and believes in a Thomas More College education," says President Armstrong. Along with the anonymous benefactor, other notable donors to the Success Center endowment were Dr. Anthony R. '65 and Geraldine '66 Zembrodt, the R.C. Durr Foundatin, Inc.,  Carol Ann & Ralph V. Haile, Jr. Foundation/U.S. Bank, Oakley and Eva Farris, BB&T, Republic Bank Foundation, Jerome '63 and Rita Hurm '63 Bahlmann, Wm. T. (Bill) III '67 and Joan '69 Robinson, and Dr. Judith Marlowe '69.
President Armstrong shared that the final $1M gift that completed the Challenge came from Frank and Paula Murphy, owners of University Housing Solutions (UHS). UHS is constructing Renaissance Hall, the newest residence hall slated to open in fall 2018 at TMC. The Murphys are noted philanthropists who have built similar Student Success Centers on other campuses, most recently at Tiffin University in Tiffin, Ohio. "Frank Murphy told me that he struggled as a student, and that the academic support services he received while in college were vital to his graduation
and eventual professional achievements," says Armstrong. "Frank and his wife, Paula, wanted to help insure that generations of Thomas More College students received similar support, so the Murphys not only gave the final $1M endowment gift we need for the challenge, they also committed to construct an addition on to the College's library that will eventually house the Success Center and all of its component institutions."
Construction begins in fall 2018, and the renovated facility will be known as the Benedictine Library and Academic Success Complex. This structure will house the Murphy Family Success Center and its component institutes: The Zembrodt Institute for Academic Excellence; The Institute for Students with Learning Differences; and the Institute for Career and Graduate School Planning. The Murphy Family Success Center and its components make a significant impact on students' academic success in the areas of retention, graduation and career placement.
The Zembrodt Institute for Academic Excellence offers services in tutoring, academic counseling, and persistence counseling, which includes intensive monitoring of at-risk students. The Institute for Students with Learning Differences includes a Federal Level II academic support program for students with documented learning differences. This program includes professional tutoring, individual mentoring/coaching, study skills support, quiet test taking areas and adaptive equipment. The Institute for Career and Graduate School Planning consists of career and graduate school advising. This includes professional skills development and relationship building with employers and graduate schools. Experiential Learning, which is a requirement for all students, is a part of this center.
With the Success Center to support them, students who choose to attend TMC (along with their parents), can be confident that they will succeed in college, graduate, and be able to get a job or attend graduate school. The Success Center initiative ensures the College is a leader in accomplishing students' educational goals. Overall, the gift impacts as many as 1,600 undergraduate students every year, plus recent graduates. "This gift allows us to invest in our students, our campus, and our future. It confirms to our region that Thomas More College is an investment worth making," Armstrong explains. "An initiative like this has an immediate positive impact on the lives of students and the bottom line of this institution. We are incredibly grateful for the generosity of these benefactors."
For the latest information on how the Success Center benefits students, visit https://tmcky.us/scpost