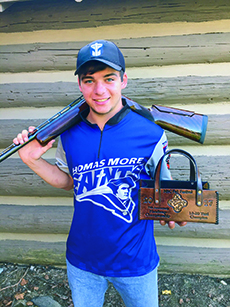 Sophomore biology major Brennan Kamer is among the top shooters in the state of Kentucky and is a proud Thomas More Saint. Throughout his high school career, Brennan spent his summers shooting on the Northern Kentucky Scholastic Trap competitive team, the "Top Guns." This competitive team participates in the Scholastic Clay Target Program (SCTP), a nationwide youth trap shooting program that is growing by leaps and bounds. Competing with the Top Guns, Brennan won multiple individual and team awards at the local, regional, and state levels in both Kentucky and Ohio. He also participated in the SCTP National Championships in July 2016 and came away the winner in the "Last Man Standing" event where he bested over 900 competitors.
During the college admissions process, Brennan shared his goal about shooting at the college level. Dean of Students Kevin Reynolds met with Brennan and the two began laying the groundwork for a program that would launch shooting sports at TMC. In his first year representing the College, Brennan shot in the 2016 SCTP Collegiate National Championships, where he competed against athletes from schools of all sizes including NCAA Division I teams. Brennan tied for tenth in trap singles and shot the highest score of any athlete from a Kentucky college or university. In July 2017, at the summer SCTP National Championship, he proudly represented TMC and took runner up in Last Man Standing at the collegiate level.
"I'm excited to be a part of something that allows me to shoot in college and that could attract other quality shotgun student athletes to Thomas More," Brennan says. "I'd love to see a full squad of Thomas More Saints on the trap shooting line," he adds.  It looks like that goal could soon become a reality as TMC has announced the formation of Thomas More Shooting Sports, a club activity that will involve the expansion of the trap shooting program, as well as the formation of an archery team.