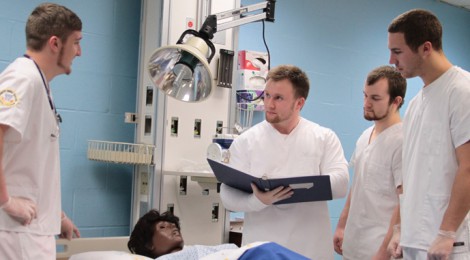 Immediately upon walking into the lab set up for the nursing division at Thomas More College, it was apparent that this photo shoot was not what I was expecting. Standing among the hospital beds, IV regulators, and wheelchairs were four young men; senior nursing students, ready to be the subjects of new photos for TMC advertising and web initiatives. Whoa! Four men? I was expecting to see several young women dressed in scrubs – this is nursing, right? I was suffering from the "nursing stereotype," still stuck in the mentality of thinking that nursing was a woman's career path.
TMC's 2016 graduating nursing class includes four men among the 18 students, equating to a whopping 22 percent. That seemed like a large percentage so my interest was piqued. Is TMC setting a trend or was this the norm on a national level? Performing a little research, I found that currently in the U.S., 9.1 percent of RNs and 7.6 percent of LPNs are men1, making the field predominantly female. Efforts are being taken to increase the number of men in the field; with the current shortage of nurses in the U.S., which by 2025 is estimated to grow to 260,000 persons2, a career in nursing is very lucrative whether you are a man or woman. The health care industry in general is growing by leaps and bounds and specifically nursing is the fastest-growing occupation in the U.S., expecting a 22 percent jump in jobs by 20183. That's good news for all TMC nursing students!
Back to the trend of men in nursing, I approached Lisa Torok, Ph.D., RN, current chairperson of the department of nursing, to get her spin on what seems like an anomaly with the current class at TMC. "These four young men started in the nursing program right from the beginning (not a change of majors) and the junior class also includes four men, plus there's another two in the sophomore class. That's exceptional. I like seeing more men in nursing, in my opinion we especially need them in the field of pediatric nursing where their interaction as caregivers and role models for adolescent boys would be particularly helpful. When I think back to the six years I spent in Children's NICU (Cincinnati Children's Hospital Medical Center – neonatal intensive-care unit), I can only recall one male nurse in the unit that entire time," says Torok. "You rarely see male nurses in OB or maternal care either, they tend towards Emergency Departments and Intensive Care Units where there is action and lots of bells and whistles."
Thomas More College's nursing program began as a direct result of the academic impact of AIDP (Advanced Institutional Development Program) and SDIP (Strengthening Developing Institutions Program) grants received by the college between 1978 and 1983. A Nursing Feasibility Committee commissioned by then Academic Dean James A. Ebben, M.A., in 1975 resulted in the recommendation that TMC initiate a Bachelor of Science in Nursing as soon as possible. Initial approval was received from the Kentucky Board of Nursing in 1978 and that fall 30 students were admitted to the newly formed BSN program. At the time TMC had the only four-year program in Northern Kentucky. Sixteen women graduated in the inaugural class of 1982; the first men graduated from the program in 1983. The goal of the current nursing program is to prepare students to be generalists with a foundation for graduate school and for serving the health care needs of the local community, if they so choose, immediately upon graduation. To date, 513 students have graduated from TMC's nursing program, 28 of those are men. That's a little below the national average as a percentage but for the next several years, watch out! TMC is bucking the trend.
______________________________
TMC BSN program 2016
First year students at TMC are considered pre-nursing students, taking primarily science and introductory nursing courses. Fall of the second (sophomore) year, is considered the first semester as an official nursing major. Courses include health assessment, nursing theories, and nursing skills. These courses prepare the students for clinical experiences that begin during the second semester and entail working with patients and families in a health care setting which can include a variety of environments such as schools or clinics. After completing two sophomore clinical rotations, many hospitals will hire these students as Student Nurse Assistants or Patient Care Assistants. In these positions, students work with nurses caring for patients. Many hospitals hire nursing students for these roles with the goal of grooming the students to step into registered nursing positions when they complete their academic program and pass the NCLEX.
(Provided by Department of Nursing Chairperson Lisa S. Torok, Ph.D., RN)
______________________________
Pathways to a career as a Registered Nurse (RN)*
Licensed Practical Nurse (LPN)/Licensed Vocational Nurse (LVN) – this certification can be earned from a practical or vocational school.
Associate's Degree in Nursing (ADN)/Associate of Science in Nursing (ASN) – earned from a community college, college, or university.
Bachelor of Science in Nursing (BSN) – earned from a four-year college or university. This degree prepares students for bedside and leadership roles. Once a BSN is earned, students can pursue more advanced degrees to take their nursing career to the next level.
All degrees require passing the National Council Licensure Examination for Registered Nurses (NCLEX–RN) in order to practice as a RN.
*source: www.discovernursing.com
______________________________
RN to BSN at TMC
The baccalaureate nurse is prepared to function independently in a variety of health care settings as well as interdependently with other members of a health care team. There is a continued need in the field of nursing to foster personal and professional growth for those nurses who do not hold a Bachelor of Science in Nursing but desire to continue their education to reach professional goals and take on leadership roles in the health care field. These individuals need look no further than TMC's accelerated RN-BSN degree program. This program allows students to balance work and home responsibilities while taking accelerated course sequences. It takes approximately 16 months to complete the program, which combines online and in class (once a week) studies concurrently. For additional information visit thomasmore.edu/rn2bsn or call 859-341-4554.
______________________________
1 Source: minoritynurse.com/nursing-statistics/#bygender
2 Source: 2009 article in Health Affairs
3 Source: discovernursing.com