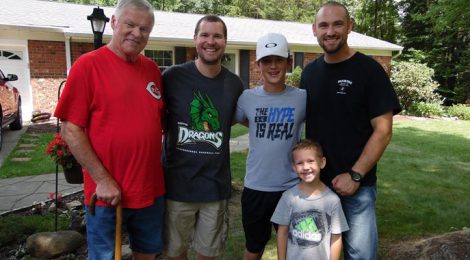 Scott Kube is passionate about service to his country and service to others. He is a 2017 graduate of TAP (Thomas More Accelerated Program), completing his Bachelor of Business Administration while working 50-60 hours a week in a full-time job. His original intent, when enrolling in TAP, was to further his career by opening doors to positions that required a bachelor's degree. Since earning the degree, his focus has shifted and he now utilizes what he learned in his classes to serve others through various causes and community events.
Growing up in Goshen, Ohio, with his parents and a brother, Scott attended Goshen Local Schools from kindergarten through high school. As he was growing up, Scott was surrounded by examples of service to country. His father spent eight years in the Air Force during the Vietnam War and both grandfathers served in the U.S. Army during World War II. "My Grandpa (mother's father) was my best friend and hero," Scott says. His grandfather served in Europe and the Pacific during the war and along with his parents instilled a deep love for God, flag, and country in Scott.
As a sophomore at Goshen High School, Scott participated with students from other schools in the Clermont County Gifted Program's Lessons Learned from Vietnam at Amelia High School. Many Vietnam veterans gave talks about their experiences. Throughout the program, Scott was most fascinated by the Marines, which inspired him to research more about this branch of the military. "The more I read, the more I loved it," he remembers. His football coach and principal were important role models for him, both having served in Vietnam. As a result, three days after he turned 18, Scott joined the Marines. It seemed only natural that he would become the third generation in his family to serve his country. He graduated high school in June, and on July 4, 2000, left for boot camp.
From June to October 2001, Scott served as student platoon leader in the General Calibration Maintenance School in Biloxi, Miss. He acknowledges the effect of 9/11 on his life. "Our world changed forever in ways that we are still fighting today. I served overseas from November 2001 to December 2002 as part of the 1st Marine Aircraft Wing – Marine Aviation Logistics Squadron 12 in Iwakuni, Japan." Upon returning to the U.S., he served in Yuma, Ariz., with Marine Aviation Logistics Squadron 13 and also served on a working party in San Diego, Calif., preparing the USS Bonhomme Richard for Marines deploying to support the invasion of Iraq. "I had the honor of serving with a lot of great people. Three Marines from our work center in Yuma went on to become Chief Warrant Officers," Scott says.
After his son's birth in 2004, Scott made the decision to leave the Marines. On July 4, 2005, he left active duty as a sergeant and was honorably discharged as a veteran of the Global War on Terrorism. Scott says, "Most of the guys I get to keep in touch with, thanks to social media, are doing great. I am thankful
for that." Today, Scott tries to stay active with Veteran Service Organizations. This helps fill the camaraderie void most veterans experience after leaving active duty. He explains, "These groups give me a renewed sense of purpose and service to others."
Between 2012 and 2015, Scott was compelled to make decisions that would shift his life's focus. After a series of spinal issues that resulted in several surgeries and a major health scare, he made the decision to focus on family and health as top priorities. He went into business for himself and stepped away from his high school circle of friends. He decided to "reboot a life of service in place of drinking and smoking without a purpose." Scott explains, "Before the last three years I did not lead a Christ-centered life. I want to set a better example for my sons. My walk has not been perfect and I have fallen down more than once, but I have taken to growing in my relationship with Jesus Christ to guide my steps and be my strength. Every day, I read the Bible and I have a strong network of close, Christian friends."
Scott is actively involved in community outreach, working with local youth and serving others. He is involved with several organizations and programs. One of his favorites is the Medal of Honor Character Development Program, the result of attending a training seminar at Kent State University and a perfect fit for Scott with his military background. The program is a resource [designed by teachers] which teaches children the values of courage, integrity, commitment, sacrifice, citizenship, and patriotism. Scott attended the training with his friend, Linda Griffin. Linda is a registered nurse and the youth director at Goshen United Methodist Church. Together they work with children ages kindergarten to sixth grade at Miss Pam's Child Care and Summer Camp. Scott and Linda also completed Ohio Certified Volunteer Naturalist training at Cincinnati Nature Center and work together on fundraising events for the Wounded Warrior Project and the Bruce Griffin Memorial Scholarship.*
In early 2018, Scott and Linda created a nonprofit organization called QTS Quality Training & Services. Scott says, "This organization is the product of our outreach and ministry work together over the last three years. Our mission is to provide high quality training and services through community outreach and peer support activities. We're using this new business to also help others achieve their education, employment, recreation, and wellness goals." As Scott continues his walk with Christ, he plans to continue working with local youth and hopes to serve and inspire others to have a daily relationship with Jesus. "I found Jesus later in life and I hope to inspire others to have a daily relationship with Him. Every day we have the opportunity to impact someone else's life: 'Each One, Reach One' is how I describe it."
To learn more about the Medal of Honor program, visit: TheMedalofHonor.com
For coverage of the Goshen Memorial, visit tmuky.us/kube.
______________________________________________________________
BRUCE GRIFFIN MEMORIAL SCHOLARSHIP 
Linda Griffin began this scholarship fund in 2010 in her brother Bruce's name. Bruce was an 18-year-old Marine and the first person from Clermont County killed in the Vietnam War. The Scholarship is awarded to Goshen High School seniors in memory of the six fallen Goshen High School Vietnam warriors. To date, over $50,000 in scholarships have been awarded. On August 18, 2018, a monument was dedicated at Goshen High School in memory of the six Goshen heroes killed in Vietnam. "Scott volunteered to help with my fundraising three years ago; he designed most of the monument. There is no way I could ever thank or compliment Scott enough for his help. Last year I gave, to his surprise, the 'Scott Kube Appreciation Scholarship' in gratitude for all he has done."