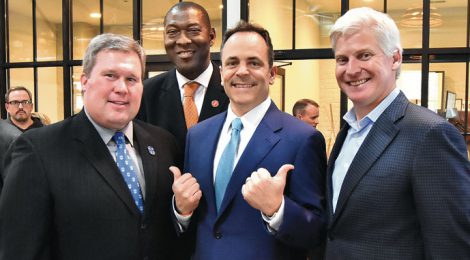 Kentucky Governor Matt Bevin was in Covington in mid-February to help launch an innovative new partnership between Thomas More College and Gravity Diagnostics Laboratories. The Thomas More College Work Ready Incubator is a ground-breaking program that will benefit students in their quest for real-world experiences, as well as businesses in their search for high-quality talent.
Conceptually, the Work Ready Incubator is a talent pipeline that allows an employer to directly recruit Thomas More College student interns to fill workforce needs. The interns will be housed in a dedicated work space within the company where they will work, enhance their skillsets, and reflect on their internship experience. The program will be monitored by a faculty mentor who acts as a liaison between the employer and the student. Thomas More College is the only college in Kentucky that requires its students to have one credit hour of experiential learning in order to graduate, and the Work Ready Incubator program advances that mandate.
Thomas More College President David A. Armstrong, J.D., believes the state's liberal arts colleges can play a unique role in responding to Governor Bevin's Work Ready Skills Initiative which is aimed at developing a highly trained, modernized workforce in the Commonwealth to meet employers' needs. "Small liberal arts colleges, like TMC, are already training our students with the essential skills—like the ability to communicate well and to think creatively and critically—that employers often cite among the top attributes they seek in employees," says President Armstrong.
President Armstrong added that the size of schools like TMC enable them to be nimble and provide swift, individualized responses to area workforce demands. "We can customize a tract within one of our existing academic offerings that meets a vital skill need of an employer, and we can also provide students to fill workforce gaps," says Armstrong. "It's a winning proposition for all involved—the employer gets to know our students and their skills, and our students get real-world work experience."
The Work Ready Incubator concept grew from President Armstrong's confidence in his institution and its students. Last summer, the president approached Gravity Diagnostics' CEO, Tony Remington, with the novel idea that the laboratory company could incubate Thomas More student talent on-site. Armstrong theorized that the company could evaluate students' skills and their fit in the company's culture, and the students could similarly gain invaluable exposure to careers that may be of interest to them. Remington's positive response to the concept helped birth the Work Ready Incubator program.
Gravity Diagnostics, a pharmacogenomic and toxicology laboratory that was established in 2016, conducts testing that serves as an effective medical monitoring program aimed at decreasing misuse, overdosing, and the illegal sale of opioids. The business rapidly expanded from four to over 60 employees in just over a year, and Remington notes the timely nature of the Work Ready Incubator, "We could not have asked for a better academic partnership to help us fulfill our current needs and create a direct pathway for continued, sustainable growth. We are honored to have the opportunity to work with an institution with such a distinguished faculty and student body."
Following the pilot program at Gravity Diagnostics, President Armstrong envisions increasing the scale of the initiative and establishing similar incubators in other area businesses and eventually at some of the state's largest employers.