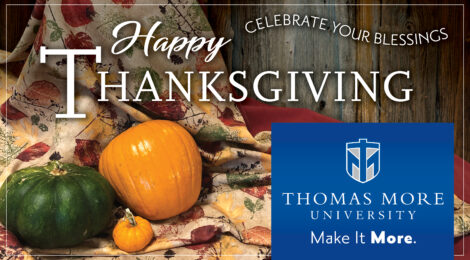 Dear Thomas More community,
During this season of thanksgiving, I'd like to express gratitude to each of you – our alumni, parents, students, employees, and friends. You have all contributed to the success of our University and mission during a year that has brought more uncertainty than expected. Your steadfast commitment, flexibility, and resiliency brings many, many blessings to Thomas More.
Thanksgiving presents a particularly special occasion for us to gather together in gratitude, and though this year our gatherings may look a little different, I hope we can each reflect on areas of our lives where we are able to give thanks. I also hope you will join me in prayer for those suffering and for those grieving the loss of loved ones. Please know I am praying for our entire Thomas More family during this challenging time.
Looking beyond our present circumstances, I am grateful for the upcoming opportunity to commemorate the institution's centennial year with each of you next fall. This major milestone is one worth significant celebration, and I'm thankful to be a part of the Thomas More community alongside each of you during such an important time in our history.
From my family to yours, happy Thanksgiving. I wish you all a blessed and healthy holiday.

Dr. Joseph L. Chillo
President