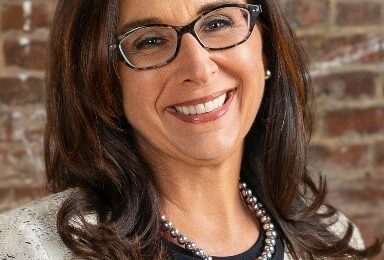 CRESTVIEW HILLS, Ky. (Jan. 18, 2022) — Kimberly Halbauer '00, Fifth Third Bank's Kentucky regional president, becomes the newest member of the Thomas More University Board of Trustees after being elected in December 2021. Halbauer is set to serve on the Finance, Business, & Capital Planning Committee of the Board and begins her work as a trustee effective June 1, 2022.
Halbauer is committed to serving the community both professionally and through civic engagement. She focuses on community impact throughout the region by directing Fifth Third Bank's Commercial, Wealth & Asset Management, and Consumer businesses. Her board memberships beyond Thomas More include: the Kentucky Chamber of Commerce, Kentucky Chamber of Commerce Foundation, OneWest, One Southern Indiana Chamber of Commerce, Greater Louisville Inc. – The Metro Chamber of Commerce, Leadership Louisville Center, and Fund for the Arts. "I'm excited about the opportunity to be a part of the continued success of Thomas More University," says Halbauer. "Thomas More plays a critical role in creating the workforce of tomorrow for Kentucky and the Greater Cincinnati region."
Halbauer's undergraduate work at Thomas More prepared her well to successfully continue her education and excel in the workforce. She earned a bachelor's degree magna cum laude in finance and business, before going on to complete Yale University's Executive Leadership program. She now serves as regional president of Fifth Third Bank, covering Kentucky and Southern Indiana. She has more than 30 years of experience in the financial industry.
"Having our alumna Kimberly Halbauer joining the Thomas More Board of Trustees will be a major asset for our University," says Thomas More University President Joseph L. Chillo, LP.D. "Not only does Kim have the professional and executive experiences through her work with Fifth Third Bank to see our Finance, Business & Capital Planning Committee thrive, her work is also a prime example of the power of a high-quality, Catholic Liberal Arts education and the amazing opportunities that lie ahead for our Thomas More University graduates."
For more information about Thomas More University, visit www.thomasmore.edu.
###
About Thomas More University
For 100 years, Thomas More has created a university for the student who wants to Be More, Do More, Seek More, Win More, Achieve More, and Create More. Since its founding in 1921, Thomas More has provided a mission-driven, liberal arts education that is based in the Catholic Intellectual Tradition. Students learn to harness the power of human reason to solve problems and discover truth, which allows them to begin the journey to become the person they were created to be. Entering into the second century, it's time for More. Serving more than 2,000 students, Thomas More aspires to be the premier Catholic university in the Cincinnati/Northern Kentucky region, to build upon the #1 ranking for long term gain in Kentucky (2019 Georgetown study) and share with this generation the transformative power of the Thomas More experience. To find out more, visit thomasmore.edu.
MEDIA CONTACT: Lyna Kelley, director of communications and PR, kelleyl@thomasmore.edu, 859.344.3309