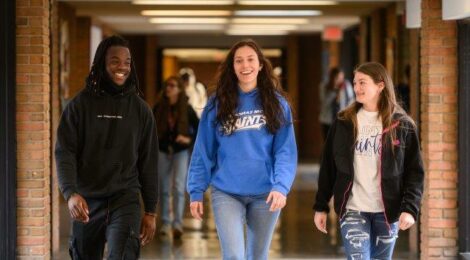 CRESTVIEW HILLS, Ky. (Mar. 30, 2023) — Just three months after welcoming inaugural director Jeni Al Bahrani '05, Thomas More University's Dr. Anthony '65 & Geraldine '66 Zembrodt Center for Entrepreneurship and Innovation launches various initiatives to prepare students for successful futures. Established to foster academic excellence and innovation, the Center sprang from a goal set forth in Thomas More's five-year Strategic Plan: Lighting the Way. New initiatives increase the potential for entrepreneurialism relating to student success both in the classroom and post-graduation from Thomas More University.
Fostering community partnerships, the Center welcomes alumni and community leaders to engage with current students, providing them with real-world experience. In March 2023, a group of students visited the Urbana Café in Cincinnati, Ohio, to hear from founder and Thomas More alum Daniel Noguera '06/'09. Noguera took time to share his start-up story and answer questions about student entrepreneurial ideas. Another opportunity for students to engage with community business leaders comes in April 2023, when David Knox, executive director of Blue North, visits campus to share information about the entrepreneurship support system in Northern Kentucky.
Ensuring Thomas More's position as the innovation destination for young entrepreneurs, the Center gains future participants through scholarships offered to high school students in Square1's Next program. On Thursday, March 23, 2023, Square1 held its annual NEXT High School Final Pitch Event on campus. Earning first place was team BLK Beauty from Walnut Hills High School, consisting of students Cydney Emery, Hannah Ware, Jada Scott, Sidney Brown, and Bene Gyan. All receive full-tuition scholarships to Thomas More University with their pitch detailing an innovative hair company design.
In a pitch event geared toward Thomas More students, the Center is set to host the 2023 Roebling Capital Saints Shark Challenge at Thomas More on Wednesday, May 3. 2023. This pitch competition aims to promote entrepreneurship among college students providing them with a platform to showcase their innovative business ideas. It is the result of a semester long entrepreneurship class taught by local entrepreneur and Thomas More alumnus John Cioffi III '96. Students from across the University compete for cash prizes being judged by a panel of experienced entrepreneurs and business leaders. "We are excited to host the 2023 Roebling Capital Saints Shark Challenge and give our students an opportunity to share their entrepreneurial ideas with industry experts," says Al Bahrani. "We hope this competition encourages and inspires students to pursue entrepreneurship and helps to build a strong culture of innovation in our community."
The University's Business Society also recently shifted to be housed under the Dr. Anthony '65 & Geraldine '66 Zembrodt Center for Entrepreneurship and Innovation, with Al Bahrani serving as advisor. The society, now named the Business Innovation Society, serves all Thomas More students to cultivate and elevate the business and entrepreneurship experiences on campus and in the community. Al Bahrani also created a new entrepreneurship class, Entrepreneurial Mindset, teaching students from all majors how to view problems as opportunities and create innovative solutions. That course launches in fall 2023. "We are developing many opportunities for students to open their minds, challenge them to think creatively, and motivate them to work on real-world problems along with businesses ranging from small start-ups to Fortune 500 companies," says Bruce Rosenthal, Ph.D., dean of Thomas More's Robert W. Plaster College of Business. "Programming through the Dr. Anthony '65 & Geraldine '66 Zembrodt Center for Entrepreneurship and Innovation will inspire students to find their passion, hone their strategic skills, and Be More!"
For more information on the Dr. Anthony '65 & Geraldine '66 Zembrodt Center for Entrepreneurship and Innovation, visit thomasmore.edu/zembrodt-center/.
For more information about Thomas More University, visit thomasmore.edu.
###
About Thomas More University
For 100 years, Thomas More has created a university for the student who wants to Be More, Do More, Seek More, Win More, Achieve More, and Create More. Since its founding in 1921, Thomas More has provided a mission-driven, liberal arts education that is based in the Catholic Intellectual Tradition. Students learn to harness the power of human reason to solve problems and discover truth, which allows them to begin the journey to become the person they were created to be. Entering into the second century, it's time for More. Serving more than 2,000 students, Thomas More aspires to be the premier Catholic university in the Cincinnati/Northern Kentucky region, build upon its excellent return on investment (ranked #1 among private universities/colleges in Kentucky by MSN Money in 2021 and ranked #2 for long term gain in Kentucky by a 2022 Georgetown University study) and share with this generation the transformative power of the Thomas More experience. To find out more, visit thomasmore.edu.
MEDIA CONTACT: Lyna Kelley, director of communications and PR, kelleyl@thomasmore.edu, 859.344.3309