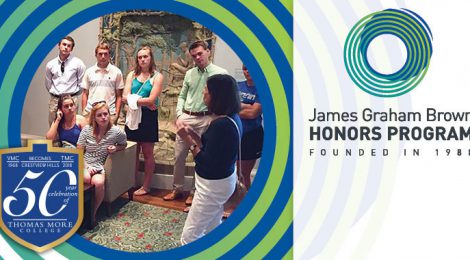 Thirty years ago, Thomas More College received a generous gift from the Louisville-based James Graham Brown Foundation. This gift allowed the College to form what is now known as the James Graham Brown Honors (JGBH) Program, which is dedicated to the advancement of high achieving students. Since then, the Program has evolved to offer a host of activities including community service, involvement in the creative and performing arts, seminars, and research projects (Fellowships) that are all meant to challenge and broaden the horizons for these already-accomplished scholars. The mission encompassing all of this is straightforward: individuals in the JGBH Program are virtuous scholars who, over the course of a lifetime, uphold honorable traditions and habits as well-rounded leaders, thinkers, and citizens.
When JGBH began with Professor Bryant Card as director, the Program was purely academic in nature. Under Dr. Raymond G. Hebert's leadership (1998-2010), the Program evolved into a multi-dimensional academic and leadership experience. Dr. Catherine Sherron took over the helm in 2011, and she continues to find creative ways to supplement the Program experience. Over 200 TMC students have participated since its inception, and many credit the Program with having a lasting influence on their lives and work.
Danielle (Waymeyer) Eisenhauer '09 is one example of the many alumni from diverse backgrounds who have participated in the Honors Program. Danielle graduated from TMC with a degree in biology and went on to study at the University of Kentucky (UK) College of Pharmacy. After finishing graduate school, she went to work in rural eastern Kentucky. For Danielle community service — a virtue that was instilled in her through the JGBH Program — is at the forefront of her mind. Today, she plans to start her own company in Memphis, Tenn., that is focused on conservation. She credits her interest in conservation to her time at TMC. "Being involved in the (JGB) Honors Program introduced me to the summer field work programs. I've actually dedicated 18 acres to conservation at my house. I planted over 4,400 trees and saplings last year," she says, noting: "That's something that's carried over into my life now ‒ how important conservation is, how important resource preservation is. I'm making a real effort to bring habitats back to this area (Tennesee)."
The JGBH Program has produced many extraordinary graduates, like Danielle, that exemplify its mission. These graduates have expanded the Honors family across the United States, and even internationally, as they carry their passion for community and continued learning. They span across all walks of life and disciplines, from biology to theatre and constitute the heartbeat of the living, breathing experience that is the JGBH Program.
While talking about a federal grant she received for her conservation effort, Danielle mentioned the impact that the various seminars, offered as a part of JGBH, had on her abilities, "I wouldn't have been able to write that grant (request) without my skills from English courses. I wouldn't have known what to put in it, if it hadn't been for the biology classes that I took, and I wouldn't have known how to diplomatically talk to my extension agent." In addition to influencing her local conservation efforts, Danielle cites the JGBH Program as one of the reasons she was accepted into the highly competitive pharmacy program at UK. The JGBH Program, along with the support and recommendations of faculty, helped her "become a more well-rounded, mature individual who was prepared for the demands of a medical career." In an indirect way, Danielle also credits JGBH with helping her meet her husband. As part of the UK pharmacy program, she chose to attend a six-week rotation on stem cell research at the University of Louisville where the two met for the first time. Career, conservation, and even romance, all resulted from Danielle's involvement in the James Graham Brown Honors Program!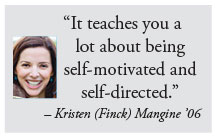 Danielle isn't the only alumna who attributes her success after graduation to JGBH. "A lot of what I do in marketing now is what you would do in the fellowship project: the research, forming your point of view, and the recommended actions I have for people. It was very easy to transition from that into the job I have now," says Kristen (Finck) Mangine '06. Kristen graduated with a business degree and currently works as a consumer and market knowledge manager at Procter & Gamble. Kristen stressed that the projects she undertook through JGBH prepared her for the career she has now, especially the fellowship project the Program encourages its scholars to pursue. This year-long project compels students to choose their own topic and pursue that topic in depth.
Kristen focused her fellowship on women in the workplace and asked, "Is there really a glass ceiling?" The influence of such a project, and the freedom that came with it, is something she found to be unique to JGBH. She was expected to come up with her own ideas, keep her own schedule, find her own research, and then present that information in a compelling way. "One of the big, foundational premises about that whole senior fellowship is that it's self-guided," she says of the experience. "It teaches you a lot about being self-motivated and self-directed, that's pretty much what work is like. I think that's one of the major transitions that the Honors Program does well versus just going to college."
In addition to her work in the professional world, Kristen talks about the influence of JGBH on her character. Not only is her work important to her, but she agrees with Danielle about the impact of the focus on service, "They placed a lot of emphasis on giving back, which I think does inspire you to keep doing that." Kristen volunteers at her children's school and takes time, through her work, to organize charity events. JGBH was the primary focus of her college experience and pushed her to achieve in almost every area.
Matthew Hollstegge '02 says much the same about his experience, "The whole premise of the Program is that it's very well-rounded." He jokes, "The (JGB) Honors Program was my minor." Matt says JGBH made him a "jack of all trades" which serves him well in his career as production manager and master electrician at Ensemble Theatre Cincinnati. He found the challenges of the JGBH seminars to be refreshing, encountering subjects he would not have pursued on his own, and opening up discussions with students who had a a diverse range of interests. He was educated well beyond his major in theatre.
"I think it pushes you outside of your comfort zone, being forced to take classes with professors with whom you would not have otherwise taken a class. That is hugely important because I think most of us… test out of requirements," he says of the JGBH seminars. "Some of the most interesting classes were the seminars. They were different, they were unique, and they challenged us. It was nice to be challenged." He still recalls the trip he took to New York through the seminar wherein he actually saw the art he had learned about in the class; art that he might not have found on his own. He admits he still keeps the book from that seminar on his bookshelf. Matt says of the Program today, "I hope it keeps challenging students to think outside the box; to question everything; to instill a drive for knowledge."
Some graduates have taken their JGBH experiences around the globe. Julie Geiger '13*, Paul Hardy '04, and Jeremy Knapp '04 have worked or are now working internationally.
Julie currently attends graduate school in Washington, D.C., studying international economics after taking time to work with the Peace Corps in Benin, Africa. "Service instilled that 'want' to give back, to reach out to my community. I still have cards from those kids," she says talking about her experiences volunteering at a local elementary school through JGBH. Teaching those children prepared her for working with African children as part of her time with the Peace Corps.
JGBH also encouraged dialogue and debate. She references the camaraderie of the cohort she was in and how it encouraged students to "grow together," "reach higher," and "become better." Members of the cohort presented ideas from diverse backgrounds that she says she still thinks about to this day. In general, Julie says, "The Honors Program expanded my mind."*
Paul Hardy spent time in China before attending TMC. He was always good at school and never struggled academically, but the JGBH Program added a new layer to his learning experience and taught him to challenge himself. The relationships Paul formed with the faculty had a direct impact on his taking responsibility for his academic performance. "The Program planted that seed of motivation. I wanted to do something impactful; my experiences really shaped that," he says. "I started to ask myself: how do I want to be perceived?"
Since his graduation with a business degree, Paul has worked as Director of Emerging Markets at ConAgra Foods, and now occupies a similar position for Rembrandt Chicken Farms. In both positions, he works internationally. He thanks the Program for not only encouraging his passion, but also teaching him "when to be flexible." Like the other JGBH alums, Paul also continues to be involved in service in his community. He cites the Court Appointed Special Advocates (CASA) volunteer work he did through the JGBH Program as spurring his continued involvement in giving back to the community.
Jeremy Knapp '04 graduated with degrees in both English and philosophy and went on to school at the University of Iowa, where he earned a master's degree. He worked with two non-profits and took a sabbatical year to study in the Middle East. Today, he works in South Korea as a Visiting Assistant Professor at Handong Global University teaching rhetoric, writing, and literature. Of his experiences while a part of  JGBH, he says, "Everything we did contributes to my present work, more than you might expect." He recalls participating in the same trip to New York as Matthew and describes how he still uses visual arts to help his students better understand in the classes he teaches now, "Because of my training through the Program and the service experiences, my basic obligations towards other people were adjusted for me, so to speak." He continues, "My education at Thomas More caused me to be very serious about the values that I pursue in the world." Jeremy now speaks three languages and is working to learn Korean.
These are just a few of the graduates of the James Graham Brown Honors Program. They are leaders, scholars, and citizens and they are leading the way for today's students. It is because of their input that JGBH continues to grow, change, and improve for future students. "The service learning and humanistic elements of the Program are vital for allowing students to really explore the world creatively and independently," Jeremy concludes. Danielle mirrors that sentiment, "Pushing on your character, causes your character to be better."
For more information on the James Graham Brown Foundation, visit www.jgbf.org
Julie Geiger was featured in the 2012 fall Moreover as a study abroad student. To read that story, visit tmcky.us/geiger
---
Honor Societies at TMC
An honors program is different than an honor society but both can work hand in hand to encourage academic success. Performing well academically in college is a great achievement. Maintaining a high GPA while keeping up with the fast pace and amount of material covered in each class takes dedication and self-discipline. For students who achieve this accomplishment, TMC has several campus-based honor societies. Being a member provides opportunities to meet new people and network with leaders/other members, build your resume, receive members-only benefits, and celebrate accomplishments. Honor societies at TMC include:
Alpha Lambda Delta
First-year Students
Advisors: Dr. John Ernst and Dr. Harold Smith
Delta Epsilon sigma (Delta Upsilon Chapter)
Scholastic/Academic Service
Advisor: Dr. Chris Lorentz
(For a photo gallery of the 2018 induction, click here)
Delta Mu Delta
Business
Advisor: Dr. Larry Byerly
Kappa Delta Pi (Psi Omega Chapter)
Education
Advisor: Dr. Barb Zahler
Lambda Pi Eta
Communications
Advisor: Dr. Michele Geiger
Phi Alpha Theta
History
Advisors: Dr. Jodie Mader and Professor Patrick Eagan
Pi Sigma Alpha (Alpha Zeta Theta Chapter)
Political Science
Advisor: Dr. J.T. Spence
Psi Chi international (Thomas More Chapter)
Psychology
Advisor: Dr. Maria McLean
Sigma Tau Delta (Omega Nu Chapter)
English
Advisor: Professor Jim Schuttemeyer
Tri Beta (Rho Theta Chapter)
Biology
Advisor: Dr. John Hageman
---
Photos from the 2018 JGBH program Senior Sendoff held April 22, 2018: