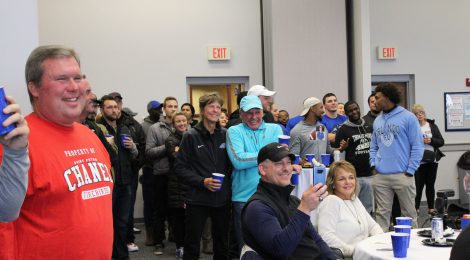 November 4, 2017 was the final home game of the Saints football season and the final game for Head Coach Regis Scafe. Coach Scafe retired after a 45-year career in football handing the head coaching duties for the Saints over to Coach Trevor Stallman '16. The Saints dispatched the Thiel College Tomcats easily, winning 56-7. On-field honors for Coach Scafe's former players, coaching staff, and family took place during the game and afterward those in attendance headed to Steigerwald Hall for a farewell celebration. Congratulations to Coach Scafe and best of luck in your future endeavors!
One of Our Own
Trevor Stellman '16 was named Head Football Coach beginning with the 2018 season. In addition to being an excellent coach, Trevor is also the first TMC alumnus to be named Head Coach of the Saints. Stellman earned undergraduate degrees in biology and business administration in 2010 and completed his Master in Business Administration from TMC's TAP program in 2016. "Trevor Stellman is a product of Thomas More, and he is ready to take our program to the next level," says President David A. Armstrong, J.D. "He understands the importance of taking excellence in the classroom to excellence on the field." Trevor has been on the Saints coaching staff for eight years, serving as Offensive Coordinator the previous six seasons. 
Terry Connor, Director of Athletics says, "I am very excited to have Trevor as our Head Coach. Trevor was an outstanding student and athlete, and has been a valuable part of our staff. Trevor led one of the top offenses in the country. I look forward to watching how he will lead our football program into the future." 
Stellman conveyed his excitement about the position, noting "It is an honor and privilege to represent all of the Blue Rebels and Saints as the first alumnus to be head coach. I can't wait to continue our work building a nationally-recognized and respected program." The 2018 season opens on Sept. 1, 2018, with the Saints vs. North Carolina Wesleyan in Rocky Mount, N.C.