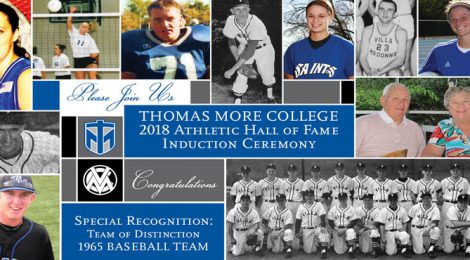 The 2018 Thomas More University Athletic Hall of Fame Induction Ceremony took place on Saturday, October 13 in Steigerwald Hall following the Homecoming celebration. The Athletic Hall of Fame honors former student-athletes, coaches, and others closely associated with the University's athletic programs. The inductees have shown distinctive, unique, or exceptional athletic ability, or have made positive contributions to the athletic programs of Thomas More University. This year's honorees included:
Abby (Gindling) Asman '13 – Soccer
3x 1st Team All-PAC
3x NSCAA All-Great Lakes Region
2012: PAC POY, D3soccer 3rd Team All-American, NSCAA 2nd Team All-American
Matt Atkins '05 – Football
2002 All-American
Four-year Starter
Captain in Senior season
2001 Undefeated team
Blocked for 9,935 rushing yards
Dr. Dana Bors '11 – Softball
Two-Sport Athlete (Softball/Basketball)
2008: All-Conference
Selected to the PAC 60th Anniversary Team
2009: 2nd Team All-Region, Conf. POY, 1st Team All-Conference
2010: 3rd Team All-Region, 1st Team All-Conference
PAC Champs in 2009 & 2010
45 Career Wins (3rd)
470 Strikeouts (1st)
453 Innings Pitched (3rd)
92 ERA
Forensic Science Major, Ph.D. in Analytical Chemistry from IUPUI
John M. Griffin '66 – Baseball/Basketball/Cross Country
Three-sport athlete (baseball, basketball, cross country)
10 total letters
Captain of the 1st KIAC Championship team in '65
1964: .378 BA, 8 Stolen Bases
4-year Starter, 2x Captain
MVP of the basketball team in junior year
Brienich Award winner
Listed in 1964 Who's Who in America
Chris Fishburn '10 – Baseball
4x All PAC Honor Roll/2x CoSIDA Academic All-American
Selected to the PAC 60th Anniversary Team
NCAA Postgraduate Scholarship Award Winner
1st Team All-PAC/2nd Team ABCA All-Mideast Region in 2010
All-PAC 2nd Team in 2007 & 2009
603 At-Bats (3rd)/162 Runs Scored (2nd)/215 Hits (2nd)/23 Sacrifices (7th)/155 GP (10th)
Team captain on school-record 33-win 2010 team/NCAA Semi-Final Appearance
Jody (Harris) Kirch '02 – Volleyball
Games played 500 (5th)
1,400 kills (4th)
4,160 attacks (3rd)
1,828 digs (4th)
Mike McPherson '66 – Baseball
Pitched in '64, '65 & '66
Single season ERA of 1.17 (3rd)
Career ERA of 2.72 (4th)
Struck out 60 in '64 (9th)
Three conference championships
Holly Roberts '03 – Basketball
1,219 career points (7th)
1,035 FGA (9th)
374 FTA (5th), 285 FTM (5th)
410 3pt FGA (5th), 128 3pt FGM (6th)
473 single season points (8th)
129 single season FTM (3rd)
58 single season 3pt FGM (10th)
Joe Roesel '65 – Basketball
1963: Led team in FGM (49%) & FTM (78%)
Winner of "Zip Award" from WZIP
1964: Captain, 2nd leading scorer, Co-MVP
Winner of 1964 Bob Breinich Award
Tennis fill in player and ran cross country his first two years at VMC
Student Council president
Anita '57 & Don Schneider – Booster Club
Instrumental in starting Booster Club in 1979 with Coach Jim Connor
Helped start BINGO; groundwork for financing Connor Convocation Center
Worked BINGO many years after son, Jeff, graduated in 1982
And Special Recognition Team of Distinction
The 1965 Baseball Team – First team in school history to win an outright conference championship locking up the Kentucky Intercollegiate Athletic Conference when winning both games of a doubleheader against Transylvania.
Congratulations to all!