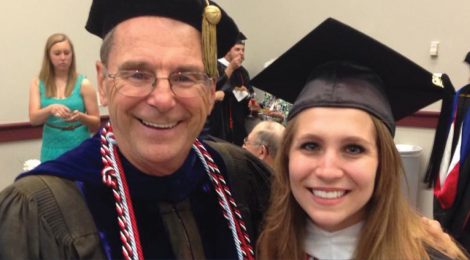 Submitted by Kelsey (Hinken) Otten '15
Hi fellow Historians! My name is Kelsey (Hinken) Otten, and I graduated with bachelor's degrees in English-literary studies and history, as well as an associate degree in psychology. After Thomas More, I went on to complete my Master of Public Health at Western Kentucky University. I currently live in the very sunny Mesa, Arizona, where I work as project management associate for Vitalyst Health Foundation.
The experiences I had and relationships I developed during my time at Thomas More were integral in shaping who I am today. I will candidly say that my academic path was not straight. I had a few detours along the way, changing my major multiple times in my quest to figure out what I wanted to do with my life. While those decisions were never easy, I will always remember the incredible support I received from staff members, particularly Dr. Hebert. I can so clearly recall the day I walked into his office, fall semester of my senior year when I should have been applying to history graduate programs as planned, and told him that I wanted to shift directions and pursue a graduate degree in public health instead. He gave his unconditional support to me in that decision, and then walked me down to the Psychology Department to introduce me personally to Dr. McLean. He, and the rest of the history staff, continued to support me in my personal and professional pursuits as I stayed on an extra year to complete my minor in psychology.
I highlight that experience for two reasons: first, despite the indirect path to finishing my degrees and then ultimately going into a career unrelated to both majors, I wouldn't change any of it for the world. I majored in English and history because I love both subjects dearly. I pursued my passions, and as a result, I spent four years truly enjoying my classes, which is something I cherish. I will also let you in on a little secret: the skills learned through the history curriculum will set you up for any career path. Writing, critical thinking skills, research, public speaking, this skillset is highly coveted in the job market and will be beneficial in any role you have in the future. Second, and perhaps most importantly, I share that story from my senior year as a way to highlight the incredible relationships that are developed at Thomas More. That is what I'll remember most from my time there and I'm so fortunate to still be connected with so many wonderful alums and professors.
True to form, the path I took post-graduation was just as twisty as my time at Thomas More, filled with just as many interesting and valuable experiences. I started my Master of Public Health (MPH) program at the University of Kentucky, taking a graduate assistant position in the Office of Wellness Initiatives for Student Empowerment. As you are looking for ways to get graduate school paid for, I'd encourage you to check out graduate assistant positions outside of your area of study. My position was housed in the Student Life Department, and this provided a much different experience than other colleagues in my MPH cohort who had research or teaching assistantships. I had the opportunity to meet new people and make connections beyond my college, which served me well throughout my time at UK. Six months into my GA position, I was offered a full-time role as prevention coordinator, focusing on alcohol and drug prevention, intervention, and recovery. This was perfectly aligned with my public health interests, so I took the job and went part-time for my schooling. This was a tough decision, knowing that it would set back my graduation date, but the opportunity for full-time employment (that would continue paying for my education as a university employee) was too good to pass up.
In late 2017, with about a third of my degree left to finish, I made the decision to move back to the Cincinnati area with my husband. We were expecting our daughter and wanted to be closer to family, and I was fortunate enough to find a way to finish my masters online through Western Kentucky University. After moving back to Cincinnati, I began working at BrightView, an opioid treatment program, which aligned with my passion in substance use disorder treatment. I finished my MPH in December 2018, and the following year moved across the country with my husband and our daughter to Arizona, where I began working in philanthropy for a health foundation. My role is now in project management, working for an organization focused on bringing systems-level change to the broadly-defined health field. I'm lucky to say that I truly enjoy what I do.
My best advice for current students is this: say yes to what brings you joy. There are so many incredible opportunities available to you at Thomas More. Take advantage of everything you're passionate about. During my time there, I was able to participate in athletics on the cross-country team, attend and present research at various conferences, and travel internationally, both to Ireland for study abroad and Guatemala for service learning. Each of these opportunities helped shaped me, personally and professionally. I think if I could emphasize anything outside of academics it would be: should the opportunity present itself for you to travel abroad, do it. Traveling really has a way of broadening one's worldview and perspective.
Like most great things in life, you will get out of your time in college what you put into it. My professional path was paved by following my passions, saying yes to new experiences, and developing incredible relationships. Thomas More does a wonderful job setting students up for success, and I wish you all the best on your endeavors.