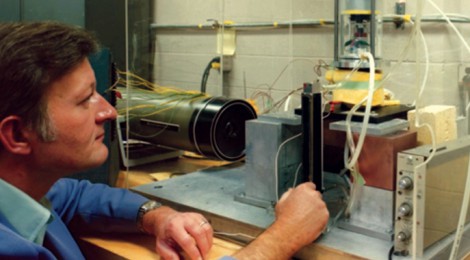 To say that alumnus Ken Billman, Ph.D., has set—and accomplished—goals that are out of this world isn't an exaggeration. The 1955 graduate of Villa Madonna College has been instrumental in pioneering the field of laser technology; he led the design of the first laser which demonstrated continuous operation in space and the design of a space-based system of reflectors that opened the doors to new ways of collecting solar energy on Earth. These are just a small sample of his accomplishments.
"Having been taught to be inquisitive and keep learning in my early years, I developed a strong desire not to leave any stone unturned."
Billman's long resume includes impressive assignments at the National Aeronautics and Space Administration (NASA) and Massachusetts Institute of Technology (MIT), among others. With his roots firmly planted in the Northern Kentucky/Cincinnati area, Billman's career blossomed early in life, taking him all over the country. His sense of discovery isn't showing signs of slowing down anytime soon. With each new innovation, he has propelled American technology forward, achieving advances that many of us could only have imagined.
Born in the middle of the Great Depression, Billman said his parents, Robert Francis and Catherine Ann Billman, encouraged a tenacious work ethic and curious spirit that have propelled him throughout his career. "When I was six years old, my parents told me to go to the local druggist and tell him I would work for nothing, just for experience. Soon thereafter, during the druggist shortage of World War II, I was helping fill prescriptions. I learned at an early age how to read scribbled doctor writing. That came in handy when I was teaching and grading papers later at Villa and then MIT," he said laughing.
"Life is filled with ups and downs, like the stock market. Every so often you have your feet ripped out from under you."
Hearing him recall his childhood, it's obvious that, despite the international recognition he's received for his achievements, Billman attributes much of his success to his humble start in life. "My parents encouraged me. Both of them suffered through the Depression. I was born right in the middle of it, in 1933. They had lived on farms and moved to Cincinnati so my father could become a roofer, working on slate roofs. My mother was a nanny for wealthy families. They both knew that if you didn't work hard, you could starve."
Billman speaks with great respect and pride of his two sisters, Esther (Billman) Tombragel and Evelyn (Billman) Ludwig '59. All three went on to shoot for the stars in their own fields, advanced technology, medical research and teaching, respectively.
Billman reflected on his time as a student at Villa Madonna College, "The interesting part about going to Villa at that time was that a lot of teachers there had their Ph.D.s."  Two professors, in particular, stood out in Billman's memory: Fr. John F. Schuler and Sr. Mary Casimira. Originally, his interest leaned toward chemistry until a physics course lured him toward a field of study where he knew he could anticipate the outcomes.
"Fr. Schuler was a remarkable person. We all had a love/hate relationship with him because of the homework. We would spend every weekend working on problems he assigned. At the end of the first semester, he told our class that he recommended that one third of us should stay and the others should pursue another field. I made the cut and continued on to a physics career.
My experiences at Villa were happy ones. It was a heck of a lot of hard work. When I went on to UC and pursued advanced degrees, I was far ahead of my classmates there," he recalled. While in graduate school at the University of Cincinnati, Billman also taught math courses at Villa Madonna College.
Even Those Who Love Predictability Have to Be Flexible
For Billman, resilience and flexibility have been traits he's had to rely on frequently as his work often has relied on government or sponsor support. "Life is filled with ups and downs, like the stock market. Every so often you have your feet ripped out from under you," he explained. Billman said he developed those traits at an early age. In high school he served as captain of his football team.
"Early on, I learned the importance of getting along with all types of people and how to interact with and learn from them. I also learned how to lose. Our team did a lot of losing, and we had to pick ourselves up the next day and start practicing again."
Billman credits his family for supporting his journey of discovery. He met his wife, Phyllis, when he was in a play at Newport Catholic High School. They married while he was in college in 1953. They have three sons and one daughter: Gregory Alan, Craig William, Kenneth Joseph, and Karen Ann. Billman said that he's never at a loss for projects, neither at work nor at home. "My wife and daughter seem to always have little things for me to do," he joked.
Billman's child-like zest for wanting to know how and why things work has served him well throughout his career. "Having been taught to be inquisitive and keep learning in my early years, I developed a strong desire not to leave any stone unturned," he explained. Billman said he is inspired to keep learning and teaching others because of a desire to "accomplish new things for humanity."
And that he has certainly done. "Every day is a new day. It's unbelievable how many new developments there are coming along," he added, with the same youthful wonder of a six-year-old boy in Cincinnati who was challenged to explore opportunities for a very bright future.
________________________________________
Billman's Journey
Billman graduated from Villa Madonna College in 1955 with a degree in physics and chemistry. He obtained his master's degree and then his doctorate degree in physics and math from the University of Cincinnati. During two summers, he worked as an engineer for the GE Evendale Plant, first in the Aircraft Nuclear Propulsion Department and then in the Mathematics Department. As part of his work, Billman set up a novel analog computer system which helped garner GE dominance in the turbine engine field. Billman and his wife, Phyllis, had two children by then and during the school year he supported his family by teaching two math courses at VMC: Introduction to Calculus and Ordinary Differential Equations.
In 1959, the family moved to Cambridge, Mass., where Billman served as assistant professor at MIT. He was a member of the Physics Department which was ranked in the top five in the U.S., and staffed with 75 faculty members. As an experimentalist, Billman was appointed to direct the 35-graduate assistant member Undergraduate Physics Laboratory, a requirement for MIT students. He was honored by the American Physical Society for development of important undergraduate laboratory experiments during his time at MIT. He also directed undergraduate and graduate thesis students, one who, after leaving MIT, was a co-inventor of X-ray tomography. Billman's personal research included solid state physics, very low energy electron beams, and extremely sensitive experiments to determine if the proton and electron had a small difference in charge magnitude which would explain why the universe is expanding.
Billman moved on from MIT in 1967 to a non-teaching life, filled with developing science and advanced technology. He was focusing on laser technology at NASA, on the cusp of some of the most exciting times for the field. Billman said that in his early days at NASA, nearly everything his team did was innovative. "It was very exciting at that point."
At the Electronics Research Center (ERC), he led a group to explore possible NASA uses for the new evolving laser technology. According to Billman, his single nanosecond pulse selection system, which he and a colleague developed at that time, is still in use today by the Department of Energy in its laser fusion systems. Interestingly, his white light laser, also developed then (and has been used in light shows and large-screen full color projection) was the first laser system that sent out multiple laser's wavelengths on a single beam. Today, that is being done with the latest developments in fiber laser systems, which he has more recently assisted in developing.
In 1969, Billman acquired and modified a laser which, for a short period, was the highest brightness laser system in the U.S. He also conducted laser-matter interaction studies, resulting in the earliest demonstrations of laser beam manipulations and later, after moving to the NASA Ames Research Center (ARC), demonstrated laser selective excitations of atoms and molecules. In 1977, the published molecular excitation work was the highest cited by other publications in the world in the field of atomic and molecular physics.
When the ERC closed in 1970, Billman joined former MIT colleague Hans Mark, Ph.D., the new director at ARC, in California, to become chief of the Laser and Gasdynamics branch. "We were allowed to bring out laser gear if we went to work for another government agency," he explained. Billman led the NASA programs to explore laser power transmission and to convert it at reception to electricity, propulsion, chemistry or work. It was there that he developed his SOLARES concept, a space-based system of reflectors that could reflect continuous solar energy to selected solar conversion farms operating 24/7 on the Earth. He briefed the NASA Council on this new "green" method of solar energy supply for the planet, which received worldwide attention. Unfortunately this program was ended by a presidential economic order.
In the early 1980's, Billman went to work for the Electric Power Research Institute in Palo Alto, Calif. There he managed the Inertial Fusion Program and its many system design projects within the Renewable Resources Department. In 1984, he accepted the position of Manager of Titan Systems in the San Francisco Bay area. There he led many programs for the DoE, DARPA, and NASA. For NASA Langley Research Center, Billman designed and led a program that later demonstrated the first operational laser in space. The launch of the laser system was delayed due to the Space Shuttle Challenger accident and did not take place until Billman was chief scientist at Lockheed Martin in nearby Sunnyvale, Calif. His 25-year career at Lockheed produced incredible advances, specifically in airborne laser technology, laser defense weapon systems, and advanced adaptive optical beam control systems.
"Many of the techniques we worked on in the airborne laser program were later used in astronomy and in more recent laser defensive weapon systems. There were many success stories," he said. "Our successful first ever 2010 demonstration of shooting down a fast moving, very distant, slender, boosting missile with a megawatt-class laser beam settles the arguments we had heard for years by proving it could be done!"
After Lockheed in 2013, Billman worked as a consultant before starting his own company, Ken Billman Energy & Photon Systems in Mountain View, Calif. Presently, he's marketing a new patent that addresses novel methods to fight forest fires.
________________________________________
Billman has more than 100 publications and seven patents awarded to his name. 
Patents
Weapon system and method for beam containment and beamwalk, US Pat. 8,023,536, 20 Sep 2011
Automatic control and system for electron bombarded charge coupled device sensor, US Pat. 7,283,166, 16 Oct 2007
Method and system for wavefront compensation, US Pat. 7,002,127, 21 Feb 2006
Multi-beam illuminator laser, US Pat. 5,734,504, 5 Dec 1996
Infrared tunable laser, US Pat. 3,753,148, 6 Apr 1972
Measurement of plasma temperature, US Pat. 3,817,622, 26 Dec 1972
Alignment apparatus using a laser having a gravitationally sensitive cavity reflector, US Pat. 3,764,220, 30 July 1971