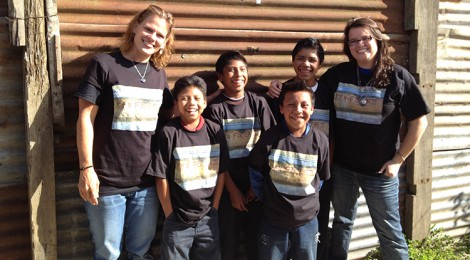 In the short time that I have been a member of the TMC community, I have been so impressed with the amount of thoughtful commitment and service that goes on within the many groups that make up this family. There is the sense that just the smallest connection sends ripples that affect people, and the world, in the most positive way. I was surprised to receive this email from recent graduate Courtney Smalley '14 and am excited to see what she posts on her blog as the next three months unfold, about her experiences in Guatemala volunteering in the service of TEN FE. Reading her comments reminded me of the spring 2013 article written by Stacy Rogers, which introduced Julie Luebber's non-profit organization, which is making a difference in the lives of at-risk children in Guatemala. Read and enjoy! – Judy Crist, Art Director, Institutional Advancement
"Hello, everyone!
This is Courtney Smalley, a recent alumna of TMC. I just wanted to send a short e-mail to let some of my favorite faculty and staff, know what I'm up to!
On September 10, I will be travelling to Guatemala, where I plan to stay for three months to volunteer for TEN FE, the non-profit organization founded by our own Spanish professor – Julie Luebbers – back in 2012. As I was a Creative Writing/Spanish double major who also had the opportunity to take a few photography classes at NKU, one of my main goals for this trip is to thoroughly document, through writing and photography, the work TEN FE is doing as well as why it is so needed. To that effect I have started a blog here: http://tenfeinguate.wordpress.com/.
One of the reasons I love Thomas More so much is the community that exists among its members.  I'm really excited about TEN FE and think that we, the TMC community, could serve as an important support system for Julie and all that she is trying to do. We just have to get the word out. Julie is so humble that even after two years most people at Thomas More don't know what she is doing. If you feel inclined to help me change that by checking out my blog and/or the TEN FE website (http://www.tenfe-guatemala.com/) and telling someone else about it, I would be so glad!
Have a wonderful first day of school. I'll be missing you. – Courtney"
Article from Moreover spring 2013 by Stacy Smith Rogers:
Led by Faith & Determination
TMC Spanish Professor Strives to Make a Difference by Forming Non-Profit Organization TEN FE (The Endeavor for New Futures through Education)
When Assistant Professor of Spanish Dr. Julie Luebbers traveled to Santiago, Guatemala in 2011, she came away with more than just souvenirs. Beyond the satisfaction of leading her students on a cultural expedition, she came away with a nagging urge to make a difference in the lives of the children she met there.
She and one of her students (at the time) Danielle Weaver '11, met two orphaned brothers who, instead of attending school, were working in the plaza shining shoes, earning money to buy food.  Julie and Danielle later learned that Wilver and Irineo had also been sleeping in the hallway of a church until a pastor found them one night. The pastor did not have room in his house for them, so he rented them a small room in town.  Because the room didn't have electricity or running water, the boys would often go to the pastor's house to eat dinner after shining shoes all day.
"As an educator and a mom, seeing these kids really motivated me. It was hard to know where to begin, but it's been very rewarding. My hope is that their future will be better."
Struck by their smiles and their touching story, and knowing that there could be a better future for the boys if only someone helped to provide the resources, Julie and Danielle made a proposition in December of 2011. They offered to pay for the boys' education and living expenses if the pastor enrolled them in school. They eagerly agreed. And, the idea for TEN FE was born.
With Danielle's help, Julie established The Endeavor for New Futures through Education (TEN FE), a non-profit organization on a mission to help poor and underprivileged children attend school.  'Ten Fe' in Spanish means 'have faith' in English.  "We believe that if these children see that other people not only support, but value their lives, their education and their futures, that they too will begin to have faith and believe in themselves." Julie explained.
Shortly after graduating from TMC, Danielle moved to Guatemala. She worked as a teacher in one of the wealthy sections of the city, where she taught third and fourth graders who were bilingual. While she spent her weekdays teaching privileged children, she voluntarily spent her weekends overseeing Wilver and Irineo and several more orphans who would come to benefit from TEN FE. "This was an amazing experience for me. Being able to help these kids and be the one who took them to buy school supplies and clothes was so rewarding. This changed my perspective on everything," Danielle said. Santiago is approximately 45 minutes outside of Guatemala and Danielle often took the children to the "big city." She said they were awestruck by the adventures and even the simplest outings, such as going to McDonald's for lunch.
TEN FE's purpose is to provide funding to poor children so they can go to school, and help pay for their supplies, clothing, food and other needs so they can stay in school instead of working on the streets just to survive. The objective is for these children to not only have a better life, but for them to make a positive impact on their communities and on future generations to come. Without an education, children in Santiago have little chance of escaping poverty. However, it costs money to attend schools – uniforms are required at the primary level, and tuition is charged for middle and high school.
At present, Julie said there are approximately 13 kids who are being sponsored through TEN FE in Santiago. Nine of those children are orphans. Moving forward, Julie's goal is to also help build a community center that offers after-school programs and activities to keep them engaged and safe at night.
"It's easy to just turnaround and live your life. But, I had trouble doing that," Julie said. "As an educator and a mom, seeing these kids really motivated me. It was hard to know where to begin, but it's been very rewarding. My hope is that their future will be better." In Guatemala, education is the key to success and it is considered not only a privilege, but an honor.  Julie said that many Guatemalans know education is their only chance for a better life for their children, but so few can afford it.  Through TEN FE, she's hoping to change that. For more information about TEN FE, visit tenfe-guatemala.org.
MBA Students Assist TEN FE through Capstone Project Three MBA students in Dr. Kathy Dye's Master's Project, Amy Ernst, Carina Yagodzinski and Miyako Usami, class helped Julie fine tune her business model for TEN FE by devising spreadsheets that would better track donations and expenses for the organization. In addition, they offered suggestions for fundraising, guidance on the governance structure for her board of directors and gave her the start-up tools she needed to more formally organize as a working non-profit. Each of the students requested to do their "capstone project" with a non-profit that helps children, so the match-up with TEN FE was ideal. "With my oldest son helping kids in Kenya and my other son helping kids in Haiti through a project at his school, I felt like this was a natural fit for our family," said Amy. "Julie was a great person to work with and I was thrilled to be a part of her effort to help children get out of poverty in Guatemala." Carina echoed Amy's enthusiasm, "Julie has a huge heart. It's nice to know that someone can act on their impulse to help others. She followed her heart, with mostly family and friends supporting it." Carina's passion for TEN FE extended to other members in her family as well. "My mother was so inspired, that she ended up donating to the organization." Miyako described her experience, "This was a great opportunity to work with a very energetic individual. I was very happy to play a part in helping Julie's organization grow." Each of the students has offered her help to Julie as TEN FE needs it in the future.