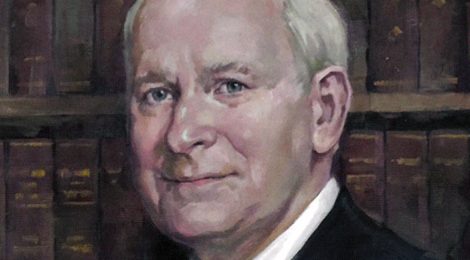 Thoughts submitted by Donna Bloemer '91, Attorney at Law
The Thomas More community has sadly lost one of its own. Justice Donald C. Wintersheimer (1931- 2021) received his bachelor's degree from Villa Madonna College (now Thomas More University), his master's degree from Xavier University, and his juris doctor from the University of Cincinnati. He was in private practice and served for 14 years as city solicitor for the city of Covington until his election to the Kentucky Court of Appeals in 1976. In 1982, he was elected to the Kentucky Supreme Court, was re-elected in 1990, and again in 1998.
Like many alums, I was privileged to have taken Justice Wintersheimer's state constitutional class. He was a challenging professor who would weave into every class his vast knowledge of the law as well as his wonderful sense of humor.
When I finished law school and began applying for jobs, there was some skepticism that Justice Wintersheimer would hire me. I am forever blessed that Judge did give me the opportunity to work for him. Not everyone realized that we shared the same alma mater, even though he would point out that he graduated from Villa Madonna while I graduated from Thomas More. He and his gracious wife Alice, a 1956 alumna, never missed a Lawyers' Lunch.
The years that I spent working for Judge, as he was always affectionately known to his staff attorneys, were the best of my legal career. He was an incredible public servant and a prolific writer but at the same time, no one could ever meet a more down-to-earth gentleman. Judge taught me a lot about the practice of law but even more about faith and family. Judge was a devout Catholic and was infinitely proud of his children, grandchildren and great-grandchild.
I am so fortunate to have known Justice Wintersheimer as a professor, a jurist, and a mentor. He will be greatly missed.