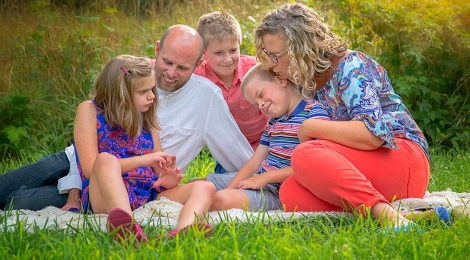 As a young child, I loved to pretend I was the owner of "Sarah's Store" with a plastic Fisher-Price cash register, my dad's old credit cards, and a calculator. Fast forward 30+ years and I have realized my dream of owning a small business with the fall 2017 opening of my online store, Too Qute Boutique. The boutique has many purposes –  it enables me to utilize my personal passion, create my own schedule around the needs of my family, and most importantly, it gives me the opportunity to teach my daughter with developmental disabilities (Madeline) job skills in an environment that she enjoys.
Madeline was born with a rare chromosomal deletion called 2q23.1 MDS and has a variety of special needs which include but are not limited to epilepsy, apraxia of speech (she is nonverbal), gait disturbances, and coordination issues. Within the 2q network, individuals are lovingly referred to as "2qties", hence the name of the boutique "Too Qute."  My mission is to create a future job for Madeline, who is now 14 years old and loves all things fashion related!
When Madeline reaches the age of 21 and is no longer eligible for special education services, my hope is that she will help run the boutique. If the business grows sufficiently, an added bonus would be to employ other individuals with developmental disabilities. In the short term, by helping with the boutique, Madeline gets physical and occupational therapy that is far more enjoyable than the usual outpatient-based programs she has participated in since infancy. Opening boxes, unwrapping items, packaging orders, and stamping thank you notes provide the opportunity to practice occupational therapy skills; physical therapy skills are gained by carrying boxes into the boutique among other duties. Since Madeline is nonverbal, helping in the boutique also provides an opportunity to use her communication device, mainly as a way to tell me "yes" or "no" when she does or doesn't like a fashion item I have ordered! Make no mistake – non-verbal individuals most definitely have thoughts and opinions of their own!
An essential element of the boutique's mission is to give back to the community. I feel strongly that it is important to find ways to give back to others, having been helped by the kind gestures of so many people in a wide variety of ways throughout Madeline's childhood thus far. Too Qute is about much more than fashion – it is driven by love and a passion to build a meaningful life for Madeline and others with developmental disabilities. As a result of our desire to give back, I have used the boutique as a platform to raise money for non-profit organizations such as the Down Syndrome Association of Greater Cincinnati, Challenger League (adaptive baseball), Mason Schools Foundation, and our local food pantry. Most recently, Too Qute donated 100 percent of the profits from the sale of "Kind People are my Kinda People" shirts to the Mason Schools Foundation, earmarked for teacher grants benefiting students with special needs. This fundraiser is ongoing as well as one donating 100 percent of the profits from sales of cozy socks to the Mason Food Pantry.
Shopping at Too Qute is meant to be an enjoyable, personal experience and I am always available to help customers in any variety of ways with finding sizes, picking out gifts, etc. I take pride in our customer service and the personalized attention we consistently provide our patrons. Services include free gift wrap, a shopping rewards program, referral rewards, and coupons for customers. And, as always, Madeline is here to assist as our resident fashionista! She is known to greet customers with a smile and a squeal, as she gets great enjoyment from her role in the boutique.
Visit Too Qute Boutique at www.tooquteboutique.com or contact Fister-Brewer at tooquteboutique@hotmail.com or 513-284-7982. Connect on social media on Facebook (Too Qute Boutique) and Instagram (@tooquteboutique)