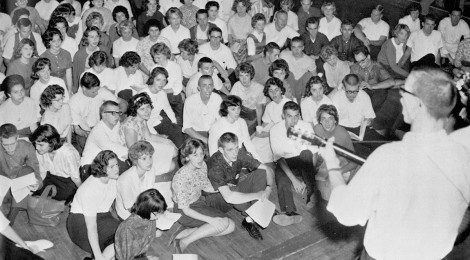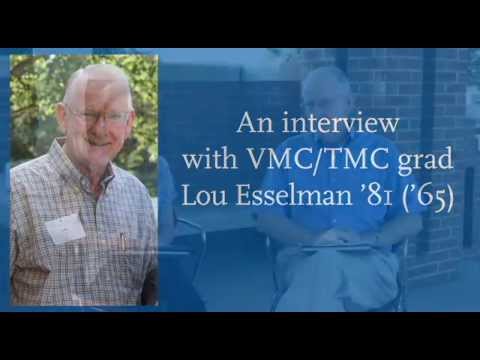 Don't let that graduation year fool you! Lou Esselman earned the majority of his undergraduate credits in the halls of VMC in Covington from 1961 until 1964. Then, due to life's circumstances, he switched to the nighttime program from 1964 to 1966. With still a handful of hours to go, he returned in the early '80s and finished his degree in English, just a few years before his daughter Michelle '87, became a student at TMC (son Mike '91 also followed). It was important. An education from VMC/TMC is a hallmark of excellence in learning, and the commitment Lou has to the TMC community still rings true today.
On a beautiful September day, Lou joined current nursing student Lexi (Alexis) Bosley and myself to talk about his college experience. When prompted as to why he chose to attend Villa Madonna College, Lou immediately replied, "Money." It seems even back in the '60s the cost of a college education was on students' minds. The cost per credit hour at VMC (we're counting on Lou's memory for this figure) was $12; the cost at Xavier was $15. VMC had a $150 maximum dollar-figure cap so 15 credit hours equated to $10 per hour, and for those that took 18 hours (the cap for credit hours) it was a bargain! Lou was paying for his own education, so keeping the cost affordable was paramount.
Lou also chose VMC because of the people. Lou had eight friends that came to VMC who had attended grade school and high school together. He still continues relationships with these very good friends to this day and saw many over the 2015 Homecoming Weekend as the Class of 1965 celebrated their 50-year reunion (click here for a photo gallery). Villa Madonna College was a commuter college, so the majority of students were from the Northern Kentucky/Cincinnati area, at the time there were no dorms to support students from other locations. Lou remembers quite well running out between classes to remove the policeman's chalk from the tires or switch parking spots with other students to keep from getting a parking ticket.
The classes were the fun part. Lou remembers, "You'd only have 12 to 15 kids in class. I had classes as small as three and four (students); I can't imagine any other place where you could have a class that small. If you were at Xavier they'd cancel the class, if you were at UC they wouldn't even think about it." The campus was unusual and fun with former houses, and even a bar, converted to classroom use. Many of the buildings have since been removed to make way for the current Covington Latin campus and other downtown Covington initiatives. Lou recalled having history class with Fr. Tony Deye in one of these building interrupted because of swarming termites and Ken Toby's English class relocating to shady outdoor areas during sweltering days in late spring/early fall, well before the widespread use of central air conditioning.
Even though Lou was a commuting student who balanced full-time work with full-time school, he found time to attend basketball games, dances, and hootenannies. He thrived on the close-knit atmosphere of VMC and recalls taking the bus with other classmates to watch the Rebels (athletic mascot at that time) play Union, Berea, and Bellarmine. The ease of getting help with academics, when necessary, also helped Lou thrive. He remembers well Sr. M. Elizabeth Frisch, O.S.B.'s early morning Algebra and Trigonometry classes, 8 a.m. sharp, four days a week – Lou is the first to admit he had a tough time with some classes and attributes the small class sizes and the willingness of his instructors: Sr. Elizabeth, Sr. Loretto Marie Driscoll, C.D.P., Sr. Agnes Margaret, C.D.P., to give assistance when asked, with his success in the classroom.
There were many instructors that stood out as exceptional. In addition to the sisters, Lou named Rev. Richard McGrath, Rev. Charles Garvey, Rev. Lawrence Keller, Rev. Charles Rooks, and Rev. Louis Brinker (Dean of Students at the time) as making lasting impressions on his life. Rev. McGrath's Sacred Scripture class opened up to Lou new ways to view Bible stories and the events that were relayed by the original authors in the context of today's science and knowledge. Many of these relationships continued outside of the classroom to become friendships that lasted many years. This blurring of the lines between education, friendship, and family are what made Lou's experience at VMC/TMC outstanding.
Thomas More College is family for Lou. He is still very involved today and takes great pride in his alma mater. "You look at some of the people in Northern Kentucky, the movers and shakers, they're from Villa Madonna College/Thomas More College. Presidents and CEOs of organizations and businesses around here, volunteer and business, they're Thomas More grads so I think that says a lot about what we produce here."
Lou wanted to share some photos from the 25 year reunion of the Class of 1965.
The gallery group LouEsselman25yearTMCpics is no longer available , Please reconfigure your widget/shortcode/phpcode which displays this slideshow