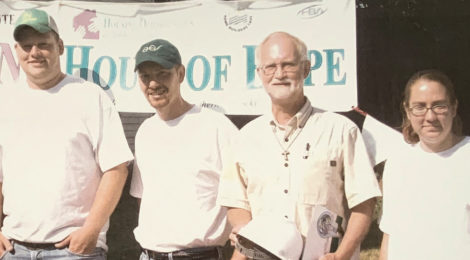 Citizenship Award winner Steve Lutkinhoff '71 demonstrated continued dedication to underserved families in the community.
Submitted by Samantha Kleier '22 and Judy Crist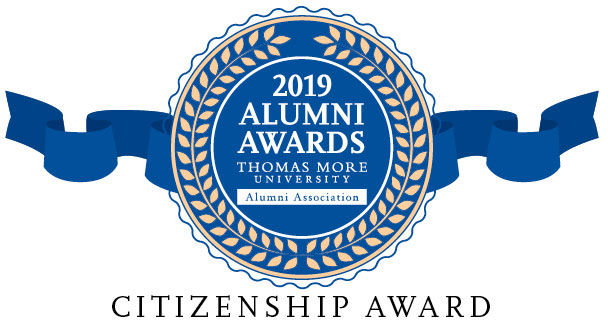 In fall 2019, Steve Lutkenhoff '71 was awarded the Citizenship Award from the Thomas More Alumni Association. Steve received this award for his dedication first as a volunteer and then a leader with the Housing Opportunities of Northern Kentucky (HONK), a nonprofit Community Housing Development Organization making affordable housing available to low income families. We caught up with Steve on a Tuesday afternoon to find out a little bit more about his time at Thomas More and with HONK.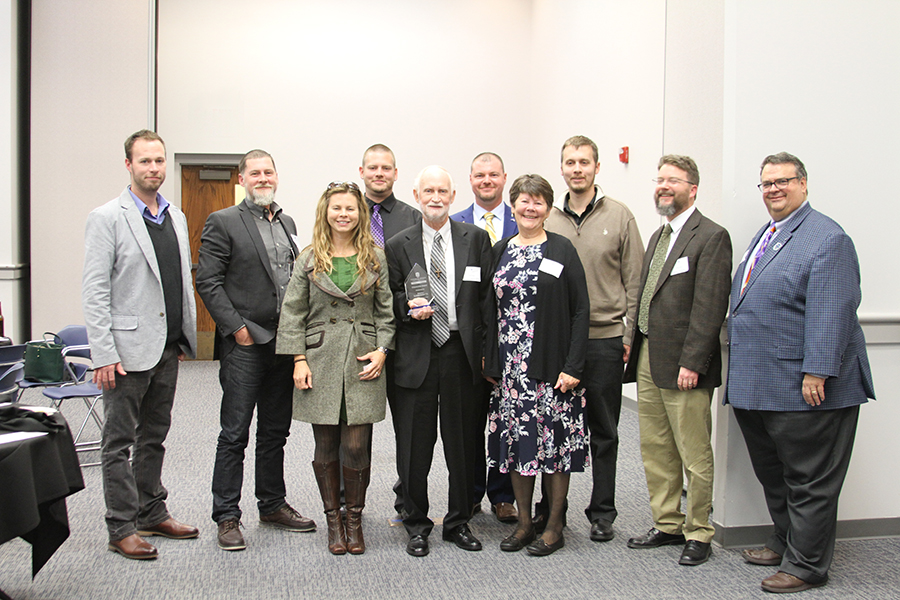 Steve graduated from Thomas More in 1971, after the campus in Crestview Hills was opened, but most of his college years were spent in Covington in the old Villa Madonna College buildings. Steve said, "We never did get out to the campus (in Crestview Hills) full time because I was a biology major and the labs weren't ready yet. All the sciences were downtown. For the first two years, I was in multiple buildings; for example, chemistry was over the firehouse and I remember taking an English class over the funeral parlor." He would have preferred to pursue a career in carpentry, like his father and grandfather, but his parents (in particular his mother) influenced him to get involved in the sciences. Starting when he was 15, Steve went to work in hospitals and attended Thomas More with the intention of going to medical school. He kept busy throughout college, working the night call in the hospital as a lab tech, doing most of his studying there. Steve was one of the original students who worked at the Biology Field Station and remembers being greatly influenced by Sister Mary Lawrence, whom he spent most of his time with at the Station. "She gave me a hard time and for that I am now thankful. I was surprised at how much attention I got from her. Maybe she gave it to everybody, but I do remember her pushing me; giving me direction," he explained.
Because of his busy work and school schedule, social life was not a priority, although Steve did find time to be president of his fraternity in 1970 and made the Dean's List in 1971. In December of his senior year, Steve married Marlene and became busy with family life. She quickly became his most supportive advocate during their 50 years of marraige. Choosing not to go to medical school, he continued to work in the hospital until two years after graduation when Steve took a job at the Environment Protection Agency (EPA). He had a very successful career with the EPA, retiring in 2004 at the age of 55.
While pursuing his professional career and an active family life, Steve volunteered. "I worked for Habitat for Humanity before HONK, as a volunteer one Saturday a month for a couple years. Father (Jack) Goeke (he was our parish priest at St. Catherine's a little while) asked if me, and if I could find somebody else, would help do some work for a family. This was before HONK. We did odd jobs, little repairs, for about a year before HONK was formed." In addition to his wifw, parents, and Sister Laurence, Steve gives Fathers John (Jack) Goeke and Herman Kamlage credit for the significant influence they had on him while volunteering and working at HONK. "Many people touched my life. One person is not with us anymore, that is Fr. Herman Kamlage. He was a retired diocesan priest that cooked at HONK every Wednesday. Looking back at the time I spent with him, it was so indirect – I didn't even know I was being mentored. And then Fr. Jack Goeke, I don't have enough words to say about him. I would attribute where I am today and how I feel today about life and faith to Fr. Goeke."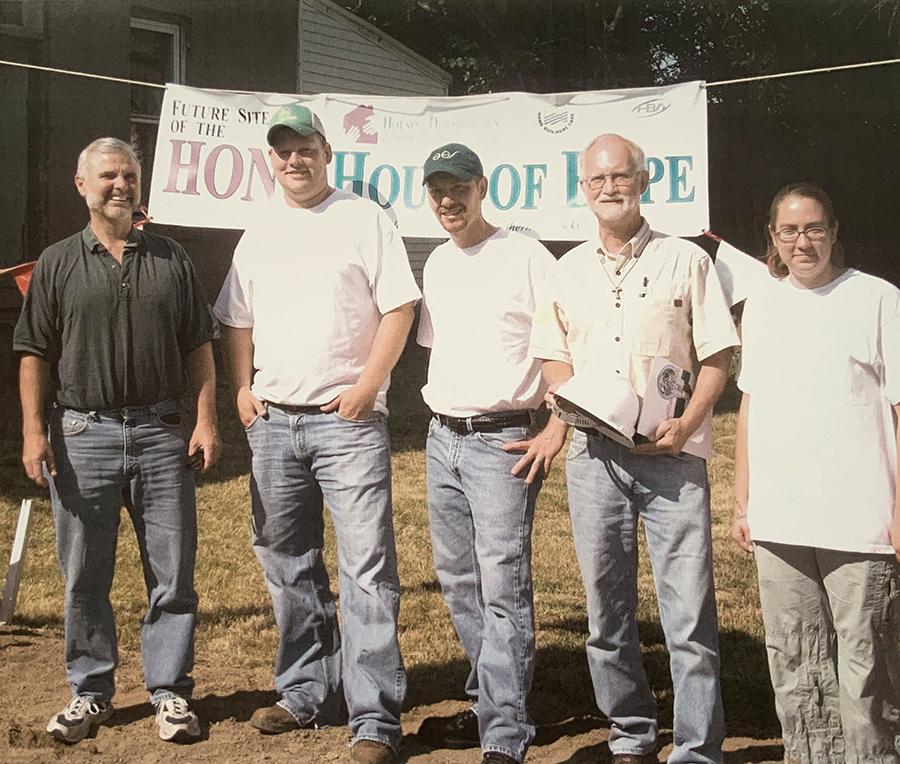 Steve first volunteered at HONK because of his love for carpentry and Fr. Goeke's encouragement and influence. The physical labor was worth the time commitment because of the impact it had on him, the result of helping others, his love for building, and his desire to support Fr. Goeke. Steve soon realized what an important part of his life HONK had become. "I'd been there as a volunteer for a number of years when I began to realize that this was a ministry for me. I really felt close to Jesus when I was working, and I knew we were doing the right thing by helping people out. It was very, very special. I guess I was called to do it. I had carpentry in my blood; I had a talent that I didn't have to study for, and it was having an impact." There was also the joy he received from meeting and working with other volunteers. "The camaraderie was one of my favorite things. We had probably 30 different volunteers each week and volunteer groups on Saturdays. Different parishes would send people; Thomas More Biology Club came for a number of years; Bishop Brossart probably came for eight to 10 years every first Saturday of the month. Groups would come and even when you had problems and were working things out, it was still a challenge that I enjoyed."
"I began to realize that this was a ministry for me. I really felt close to Jesus when I was working, and I knew we were doing the right thing by helping people out."
– Steve Lutkenhoff '71
Steve also loved getting to know the families while helping repair, renovate, or build their new home. "The joys have been many. It's the feeling that you get when you open that door and a new family walks in. To give you an example, to commemorate 25 years of community service and in tribute to Fr. Goeke, we built the Legacy House with as much volunteer help and donated materials as we possibly could. It went to a family that had three kids with a little boy – I guess maybe eight or nine years old. He came walking up the steps into the door and said, 'This is the greatest day of my life!'"
Early on, Fr. Goeke had bigger plans for Steve's role at HONK. It was his desire that Steve come to work at HONK and Fr. Goeke actively recruited him to be involved in a full time capacity. "I knew it was going to happen. When he (Fr. Goeke) first started (recruiting me), I wasn't thinking about retiring. I would tell Father, 'I can't retire' but it became obvious that when I did retire, I was going to work at HONK. The opportunity for early retirement (from the EPA) came up and I applied." That's when Steve became more involved in the administrative side of HONK. Just one year later, Fr. Goeke gave Steve his greatest challenge yet when he retired from HONK. "One big reason for being at HONK was to be there with him (Goeke) and help him; to support him. It was quite an adjustment when I wasn't taking direction from him anymore." In short order, Steve served as acting director until a new director was hired, and for the next 15 years he worked full time as construction manager at HONK.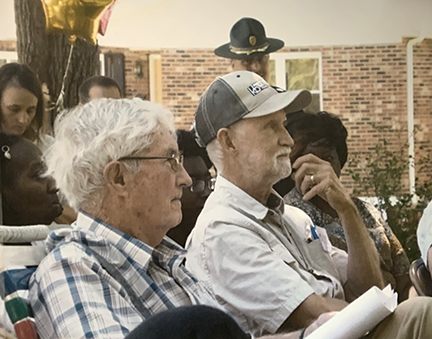 When asked if his faith led him to HONK, Steve said, "Honk made me more aware of my faith. It bolstered my faith and my commitment to God. I went to church on Sundays and holy days and belonged to Holy Name when we were raising our five kids, but HONK had a dynamic effect on my service to God, my dependence on the Lord." Based on that insight, I asked what advice he might have for today's students. Steve responded, "Find what you enjoy and find a way to be involved. It doesn't have to be housing like I did. Once you get involved and feel comfortable, you're going to feel the reward that comes with it. And make sure that you have time for God, family, and self. How could things not work out?"
To read the press release and view a photo gallery from the Alumni Awards, visit tmuky.us/2019awards.