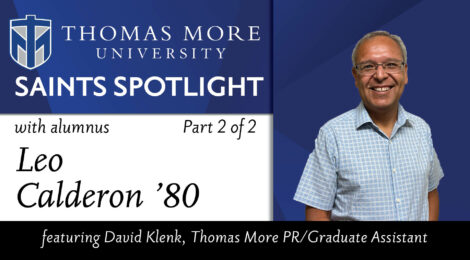 Submitted by David Klenk Graduate Assistant to Communications and PR
In this part 2 of 2 episode of Saints Spotlight, we speak with Leo Calderon '80. Leo discusses his time as a student at Thomas More and his impact on the Hispanic community in the region.
(Written interview compiled from in person and Q&A responses)
David Klenk: Thank you for joining us for another edition of Saints Spotlight. Today we are joined by Leo Calderon from the Thomas More class of 1980. It was recently announced at the Northern Kentucky Chamber that Mr. Calderon is the recipient of the 2022 Horizon Award as a result of his dedication, integrity, and honorable service in the Northern Kentucky region through his extraordinary community leadership. Thank you very much for joining us today.
Leo Calderon: Thank you, David, for the invitation.
DK: What was it like to come to the U.S. from Mexico and then make a home in Northern Kentucky?
LC: I arrived in the U.S. in 1968, and am now a product of public schools. I went to grade school in the South Side of Chicago, and also high school. In 1976, thanks to the leadership of Thomas More President, back then, Dr. DeGraaff, he was able to go ahead and send an admission counselor to the neighborhood where I grew up, and I was one of those lucky ones that decided to come to Thomas More University. I was lucky to receive a scholarship and that's how I came to Northern Kentucky. The good thing about the South Side of Chicago where I grew up with the grade school that I went to, is that they had bilingual ELL, English Language Learning, teachers that helped with that transition. I know with the influx of immigrants in the Northern Kentucky community, some of those communities have experienced some difficulties but they have been able to adjust to the needs of the students by having more bilingual teachers, or should I say English Language Learning teachers.
DK: As a student, how was your experience at Thomas More?
LC: Oh, I have some very fond memories of Thomas More College back then, University now. One of the things that I found is so appealing, was the genuine hospitality from the faculty and staff. I happen to live in the dorms the first year, and I still remember the lady who ran the dorms, Ms. McClure. She was like a grandma to all of us, just very kind and it was back then that I also met my wife Kathy. She happened to come from Louisville. We got married as matter of fact, in our second year and had a baby, Sarah. However, we stayed on course to graduate in four years. We even were on food stamps, thanks to, I think it was, the Clinton administration back then that allowed people like me to receive food stamps. Thanks to that support, we were able to continue our education and provide food for our daughter. But also Thomas More played a critical role in giving me, for instance, the opportunity to work particularly during the winter, when we were off. I even helped paint the dorms and that's how I was able to go and receive a little bit of money to continue our education. But again, the diversity of the students, we had some international students, just a variety of students. Back then, I believe there were over 400 students living in the dorms and the total enrollment population I would imagine, back then, was about 1,200. That's a significant number of students living in the dorms and it was just great moments in my life.
DK: Have you been able to stay in contact with any of your former classmates or professors?
LC: Oh, absolutely. Dr. Ray Hebert is one of them. One thing that I did was, even though I graduated from Thomas More University, I didn't have much of a background in Latin America. I went to Dr. Ray Hebert's class, which he taught European history and I got stuck there to be honest with you. I began taking classes from him and he was such a wonderful, talented faculty that you tell me about the Enlightenment Revolution, about Voltaire, I could go and tell you a little bit about that. I had to go and learn about my own history later on. In terms of other faculty, Paul Tenkotte (Thomas More graduate) is faculty at Northern Kentucky University. I see him from time to time. Rob Nader, he's the police chief at the Covington Police Department. He's a dear friend. Joe Meyer, who is also a graduate of Thomas More, as well as Chuck Scheper. My dear friend, who was my best friend in college, Tom Hamm. You know, some of us stick around and Tom is one of them, as well as people like Mark Hausfeld that basically we began coaching soccer. It's a thriving community and you get a good education at Thomas More. You spend, you know, some of your time investing in the community and helping the community and that's what's so wonderful about it.
DK: And you mentioned that you found your wife here.
LC: Yes! My wife, Kathy. Now, we have a total of three kids and now we have five grandchildren. They're doing well in Greater Cincinnati. It's been good.
DK: Can you give us a glimpse of any of your future plans, post retirement and on to the future?
LC: Yes. I'd like to invite the audience to our Gala. We're going to have our second Gala, I believe it is Friday, Dec. 2, and this will be our gala to help fund Esperanza. Last year we initiated our capital campaign of a half a million dollars to purchase the existing building in which we're located. So that's our goal. We also happened to receive a scholarship from the Mexican Consulate out of Indianapolis. We're also going to be giving out scholarships. Six scholarships to six students. Six $1,000 scholarships, and we're going to give out two scholarships to Thomas More, two to NKU, and two to Gateway. That's the plan. Our president here at Thomas More is already on board and we're starting to approach the other two institutions. It's exciting! Like I said, we have to pay attention to our Latino community. It is such a marginalized community, very vulnerable, that oftentimes I think what we need to do and provide them with the necessary information. I don't know if you are aware of this, but the national Latino population is 18% of the U.S.; almost one out of five and if you look at the students who are attending public schools, kindergarten to high school, one out of four students are Latinos. So, the question is what are we doing to encourage them to go to college, and so forth?
DK: Well, it has been great talking to you and thank you so much for being our Spotlight today.
LC: Thank you, gracias.