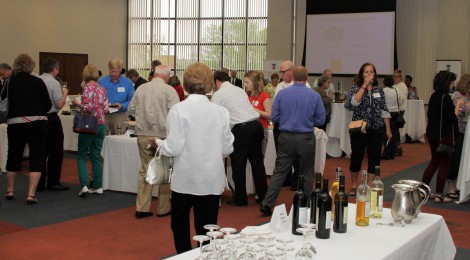 More than 100 alumni and friends of the College gathered in Steigerwald Hall on the TMC Crestview Hills campus on Friday, April 29, for the annual Alumni Wine Tasting. The featured white and red wines from local wineries were paired with hors d'oeuvres that complemented the flavors, notes, and characteristics of the specific wine. Wines featured included:
Atwood Reserve (Atwood Hill Winery) – This dry white wine has a style of its own. Best paired with tuna, pasta, and some hearty cheeses.
Vidal Blanc (Seven Wells Winery) – A semi-sweet and fruity white wine with tones of apple and citrus. Best paired with shrimp, asparagus, fruits, and light cheeses.
Cabernet Sauvignon (Atwood Hills Winery) – A medium-bodied red wine with a smooth, rich finish. Best paired with meatballs, pork, and hearty cheeses.
Chambourcin (Seven Wells Winery) – Medium bodied, semi-sweet red wine – lightly oaked with hints of black cherry. Best paired with asiago cheese, pizza, and pasta with tomato sauce.
Thank you to all that attended. Congratulations to the winners of the gift cards to local restaurants and to Terri (Hanly) Thelen '88 who won the grand prize of a weekend at the PineCrest Bed & Breakfast in Gorham, Maine!
For more information about the PineCrest
click here
.