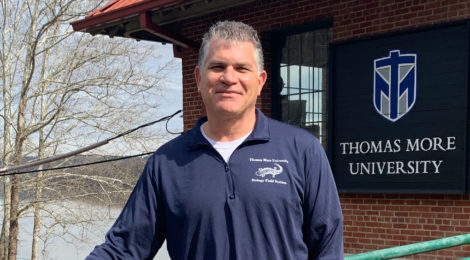 Submitted by Rebecca Stratton,Director of Communcation and Public Relations

When did you begin working with the Biology Field Station and what were some of the obstacles you faced early on in this role?
CL: From securing adequate funding, to hiring staff and keeping up with the facilities, there were certainly obstacles facing our station early on and at the time I arrived in 1994. But, these were not unlike the challenges facing most field stations around the country. Through the efforts of the Department of Biological Sciences, beginning with Sister Mary Laurence, later John Ferner, John Hageman, and other faculty, the field station was offering strong programs, including undergraduate research on the river and was well positioned for a growth in both programming and facilities when I arrived.
How has the field station changed and grown since you arrived?
CL: Over the past 25 years, many changes have occurred, but the major ones have been in facilities and programming. Since the '90s, we have gone from a seasonal operation with limited facilities to a full-fledged, year-round field station that includes state-of-the-art laboratories, a STEM outreach center, a conference center, and four residences for students and staff. We have gone from one boat to a fleet of five and from two acres of usable grounds to over 20, including an outdoor classroom and interpretive nature trail.
In a parallel fashion, the research and outreach programs have increased accordingly. We have continued the fish surveys on the river, while developing new lab research in the areas of aquaculture and mussel conservation, among others and have expanded the fieldwork to include stream and other ecosystem assessments. On the education side, we have expanded the outreach programs from daylong field trips to include weeklong summer camps, workshops, and graduate courses for students and teachers. And we have developed a wide array programs for the general public, such as the summer seminar series. We have diversified our revenue sources and established formal collaborations with the United States Fish & Wildlife Services, the U.S. Environmental Protection Agency, and Sanitation District No. 1.
Lastly, with the conference center (i.e. the lodge), new audiences from writers to student clubs and from local church groups to university classes throughout the Midwest are utilizing the field station in a variety of ways — beyond the science and education.
What would you say is the station's greatest accomplishment?
CL: I would rank the unique, experiential learning opportunities that the station can provide to students as its greatest accomplishment coupled with the success of our interns in graduate school and the professional fields. Through our undergraduate research program, student interns have reported an increased understanding of and proficiency with research practices and processes, an increased understanding of discipline-specific concepts and content, stronger skills in discipline-specific methods and procedures, expanded professional networks, and a greater sense of belonging in the scientific community, among other benefits. Further, through our K-12 STEM outreach programs, we have increased the number of students interested in the STEM fields, particularly those students currently underrepresented in these fields: females, minorities, and those from lower socioeconomic classes. The high school students who have attended our summer camps reported an increased interest in a career in general STEM field, increased interest in a career in field-based science, more refined career goals, and stronger professional skills.
Like the University, as a whole, the field station is student centered and offers an immersive, interactive, and innovative environment that achieves a high degree of success in learning and in the development of STEM professionals. I am most proud of the interns who have gone through our programs and who are now working in academia, consulting, governmental agencies, and nonprofits in the ecological and environmental fields.
What is some of the research you and your students have been working on recently?
CL: Two new research projects for us are in the area of conservation of endangered and threatened aquatic species. In particular, we are working with threatened species of freshwater mussels, including a species on the federal endangered species list, to better understand their life cycles, increase their reproductive success, and ultimately restore their populations in the wild. Secondly, we have recently started working with "hellbenders," North America's largest salamander that is very rare throughout its range. We are hoping to establish a head start program where we take in eggs and larvae, rear them to juvenile or adult stage, and then return them to the wild with a better chance of survival and reproduction. It is innovative and exciting work that has both a positive impact on species and aquatic ecosystems.
What is your vision for the future of the Field Station?
CL: In the late 90s, we created a 20-year "Facilities Master Plan" that outlined many of the buildings and other features that we would like to see for the future of the field station. I'm happy to report that as of 2019 with the construction of the STEM Outreach Center, we have achieved this plan as we renovated the existing labs and houses, added four new buildings, and developed the grounds into an outdoor classroom. From a facilities standpoint, we are right where we like to be with state-of-the art teaching and research facilities, along with housing for up to 40 people.
My vision for the next 20 years is to refine the research and outreach programs, recruit students nationally and internationally, expand into distance learning programs, add more on-site courses both for undergraduates and grad students, and increase the paid staff to include a full-time outreach coordinator and lab manager. Further, I would like to see the station become self-sufficient from a budget perspective, meaning its revenue matches the expenses. Currently, we are about half way there. Through continued support from foundations, Friends of the Station, and other generous donors, along with user fees and grants, I believe we'll get there eventually. Lastly, I would like to see an endowment established for the station – one that helps cover the operations and maintenance of the Station and the programming. This will help ensure the long-term success of the station and position it well far into the future.
You were recently named president of OBFS – what does this mean to you and can you share a little about the impact you hope to make as an organization under your leadership?
CL: I am honored to have been recently elected as the next president of the Organization of Biological Field Stations. These are my peers – fellow station directors – from small institutions, like Thomas More, to the largest universities in the country and beyond. We have 240 members in 20 countries spread across six continents. To be able to work with these individuals and lead the organization is exciting and humbling, too. I do hope to make a positive impact in the areas of expanding collaborations across stations, communicating science to the general public and elected officials and increasing the recognition of the value of field stations and marine labs, particularly in light of some of our environmental issues. The field station will be hosting many of the board members from several countries for a three-day strategic planning retreat, and we are excited to welcome them and show them around the place.