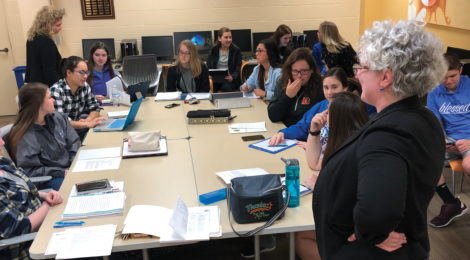 Step back in time to 1921 when the clear mission at the founding of Villa Madonna College, now Thomas More University, was to provide an excellent education for the training of school teachers, both religious and lay person. Northern Kentucky's Catholic (and non-catholic) schools needed a convenient and efficient pipeline to provide educators for grades one through 12. The University's current mission may have expanded to include more than 40 fields of study but that core focus on education continues today with the outstanding program housed in the College of Education and Health Sciences. This program is lead by Dean Kim Haverkos, Ph.D., and Department Chair Christy Petroze, Ed.D., who are supported by knowledgeable and dedicated faculty and staff. The Education Department offers program concentration in elementary, middle, and secondary school, as well as special education, for the men and women who answer the call to be teachers. 
A quick look in the archives of yesteryear shows an ongoing collaboration between the Education Department and local schools with students in this major gaining hands-on experience shadowing teachers and providing assistance in the classroom. The program still draws strength from ensuring education majors build on their skills by learning their trade from teachers who practice in their area of interest. This symbiotic relationship is a win-win for both the schools and Thomas More students. The latest collaboration comes in the form of in-classroom experience for junior and senior education majors at Yealey Elementary School in the Boone County School District (BCSD) and Twenhofel Middle School in the Kenton County School District (KCSD). These practicum experiences are comparable to residency work and the locations are considered professional development schools. The hope is to expand this collaboration to include a secondary school in the future so that the experience for all education majors can be tailored specifically to their area of concentration.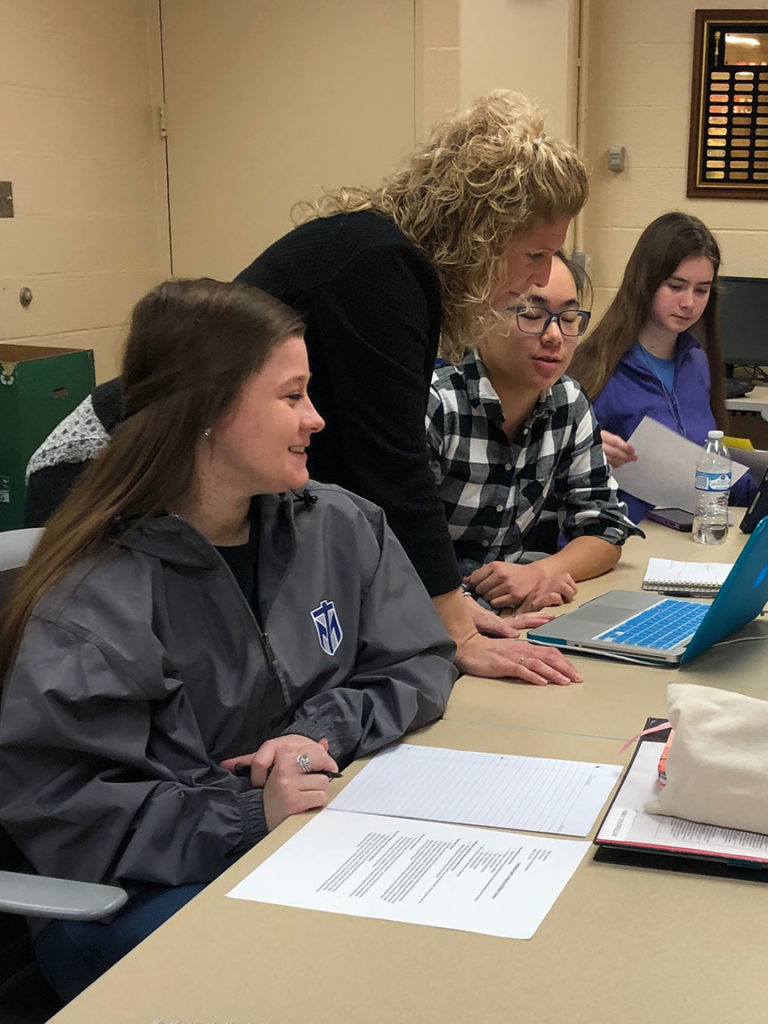 Much of the success of the collaboration depends on strong leadership in the principal position at the partner school. Petroze explains, "They are the ones who direct us to individual teachers, allowing us into the classrooms to see what we need our students to see in terms of good teaching. We collaborate with the principal on our method syllabi, setting up specific lessons and topics that we want our students involved in either co-teaching or having a faculty member come in to teach. For example, they may say the topic today is formative assessment and the principal will send students into classrooms to observe or work with teachers on that content. Then the students and the teacher come back and there is a debriefing." The two schools involved have set up dedicated classroom space for the Thomas More contingent which expedites the process. The number of days that students are on location varies from week-to-week and semester-to-semester but there is a requirement that in the fall of junior year, students are present at least 60 hours at the school in which they are serving. 
The BCSD collaboration began four years ago when Yealey Principal Renee Turner approached Petroze and Haverkos and discussed the possibility of housing Thomas More's practicum students on site at Yealey. "I wanted to have a partnership with a university or college that would benefit the teacher-candidate students, my elementary students, and my teachers," says Turner. In that first year, all education majors participated on site at Yealey. Turner, Petroze, and Haverkos looked at the individual Thomas More students' interests and needs and matched them as closely as possible with teachers who had similar experiences or could provide the support they needed. The collaboration worked out so well in the first year that much of the work was presented at the National Association for Professional Development Schools (NAPDS) Conference.
The relationship continues to thrive for both Thomas More students and Yealey faculty. Turner says, "I have been very impressed with how invested the students become in the school and how they go above and beyond their requirements. Many come back to see their Yealey students and volunteer in the classrooms even after their hours are complete. Yealey teachers have been guest lecturers in Thomas More classes and worked with the professors to align their syllabus, which we have found to be powerful work. Working with the interns is refreshing and rejuvenating to us all."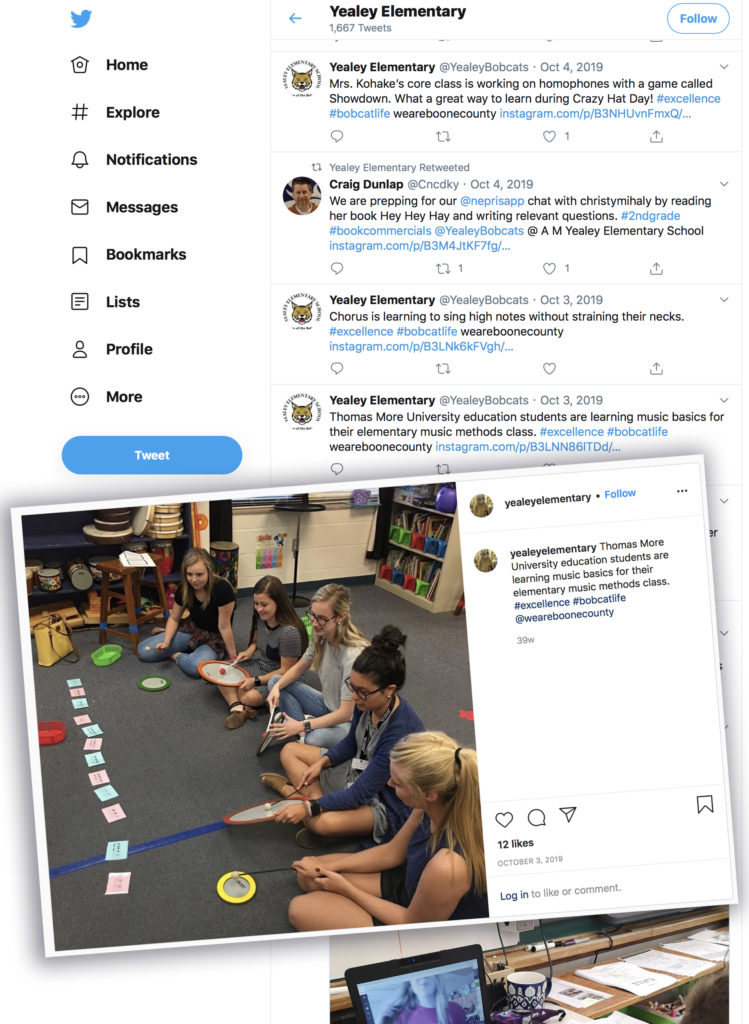 In addition to the benefits for teacher-candidates and faculty, the elementary students are reaping rewards as well with increases in reading and math scores indicated in the STAR data included in Yealey's Kentucky School Report Card. Thomas More student Abby Enzweiler explains how she loved the in-classroom experience at Yealey, "I was excited to work with the second grade team of teachers, meeting the students, watching and helping them grow as learners. I worked with students from different socioeconomic statuses and with different learning abilities. Every one was truly amazing! This experience was beneficial as it gave me the opportunity to teach and learn new strategies and skills that I will implement in my future classroom."
Complementing Yealey's elementary school experience, the Education Department has a relationship with Twenhofel Middle School, part of KCSD. Twenhofel Principal Shannon Gross, Ed.D., recalls how the relationship began three years ago, "I think it was Dr. Petroze who suggested the idea – the possibility – that Thomas More University have an education class taught at Twenhofel. The whole school would be their classroom. They were learning about concepts from a textbook, i.e. classroom management or a certain instructional strategy, and once they learned it from the textbook, they would then have the option to go into the classroom and see that skill put into practice. We had several conversations with our staff and they were willing to participate. We (the administration) thought it would be a really good idea if Thomas More was going to be here with practicum education students, that they have the opportunity at any time to go into any classroom."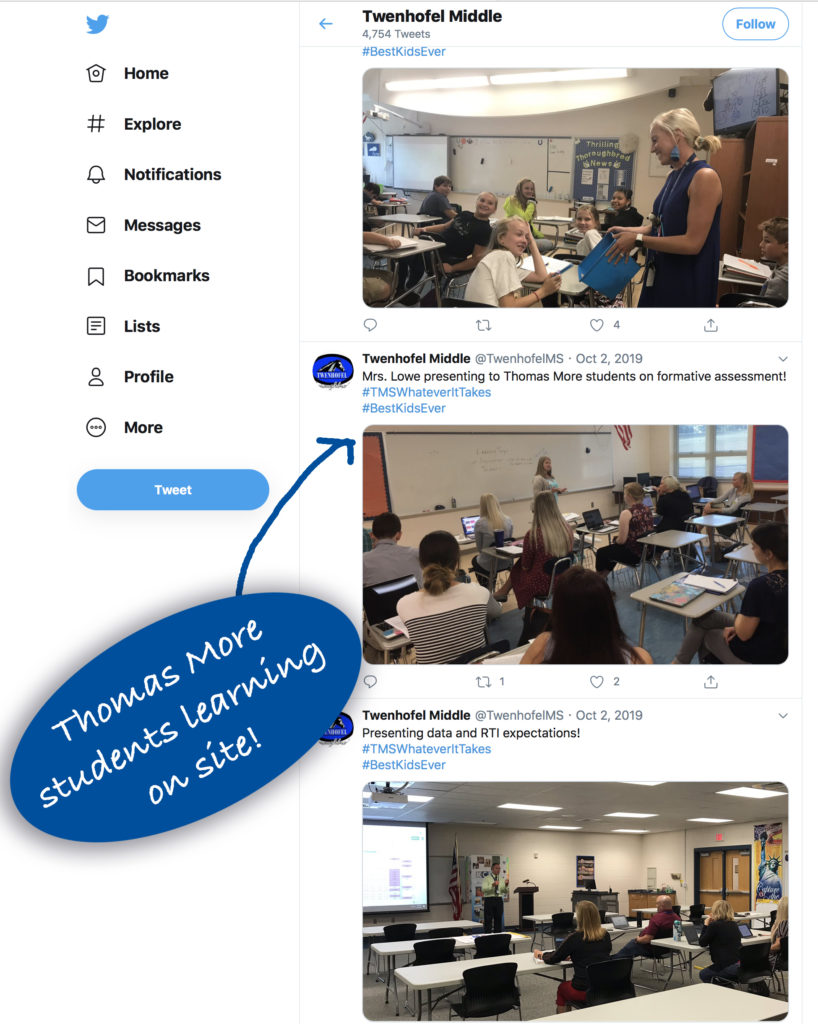 Gross adds, "We also had a conversation with the Thomas More students, that if they were going to do this, they were going to act and be treated as professionals. As soon as they enter this building, no longer were they just a Thomas More University student they were also an agent for Twenhofel Middle School. That means everything that they did, was also a reflection of us. I told them to have the mindset that this is a real life job interview. We will look at how they dress, how they act; we will check out their social media, and if there's anything inappropriate, we're going to let them know about it. We also told them to never leave this building having a question. If you notice a teacher is doing something a certain way, if you want to know why they separated children in groups a certain way, it's your job to ask. If you ever want to take the initiative to help teach or circulate the classroom to help monitor, this is your platform, this is your stage. Another component that we added, as Thomas More goes through specific chapters or over certain methods, is to invite one of our teachers to talk about their approach. It could be anything from how they develop learning targets, how they group students, if there's a certain instructional or classroom management style that they implement; we would provide coverage during that time and the teacher could present. It's been an evolving relationship."
Assistant Principal Tyler Teke adds, "Every one of our teachers, no matter what stage of their career they're in, want to help the Thomas More students just as much as they want to help their own students." Teke has first-hand experience with Thomas More students in the classroom. He taught sixth grade math before becoming assistant principal and notes, "The willingness of the students was awesome. Even if you can't quantify it with a number, the improved quality of the education; the way you're able to split kids up and have them work in small groups, work on intervention skills in the classroom – we always had the students working. I drew on my experience from when I was in college, I didn't want to sit in the back (of the classroom). I was trying to put those students in that type of environment. More recently, we had a teacher that had an unfortunate situation this year (outside of the classroom) and talk about an advantage for her class; one of the Thomas More students literally came in extra and was teaching lessons for her because they knew how the classroom worked. There would be a sub in the room but the Thomas More student understood what was going on. Even though we don't have a way to measure, we don't have a data point, I can tell you those (Twenhofel) students learned during those couple weeks because of the relationship we have with Thomas More. I think every teacher would say that they utilize the students because they (the students) get it, they understand why they are here."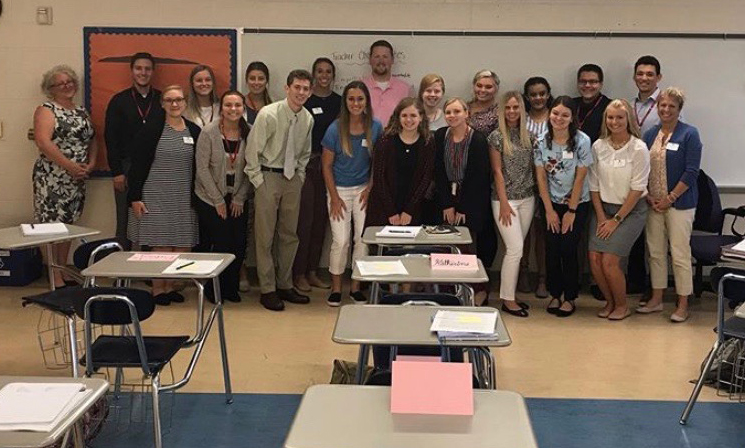 Gross was excited to share that one of the former practicum students will join the Twenhofel faculty as a teacher, just one example of how the relationship is paying dividends for Thomas More and KCSD. Gross explains the nuance, "We think of it like this: the student that we recommended has already been in this building for six months. He knows where his classroom is, he knows how to get to the school, how to get inside the building, he already knows what our mascot is – those little things that sometimes people don't think about. Coming into a job, having that knowledge already – he knows who the teachers are, he knows what the spaces are, he knows what the schedule looks like. He's already had that experience; he was leaps and bounds above everyone else. He had an advantage because, as an admin team, we actually got to see him teach, we had already evaluated him. Know that you can get student teaching experience anywhere, but he was one of the students that had the class here – that wealth of knowledge, having that familiarity with the building, it's been a really cool thing for him and us."  
Given the circumstances of Spring 2020 and the implementation of Non Traditional Instruction (NTI), this past semester was anything but normal for faculty, college, and elementary/middle school students. Turner relates, "Unfortunately, the Thomas More students were unable to work with us during NTI, except for the student teachers. Our student teacher worked alongside her cooperating teacher through Google classroom and ZOOM to complete her student teaching experience." Gross and his staff had a similar story to tell. Twenhofel Assistant Principal Caroline Capel explains the disruption COVID-19 had for their students, "I think that the greatest challenge was touching base with every single child and making sure learning was happening for every child. …The instructional piece was probably the toughest piece, but it was pretty awesome to see the staff, everybody, step up." Teke adds, "We had a chance to meet with Dr. Petroze (remotely) at the end of NTI. All the students were on with us and asked about the NTI experience. Some of the students were throwing out things like 'did you try this or did you try that?' They have never had a classroom but they were well prepared – they gave us ideas to present if this happens again this coming year."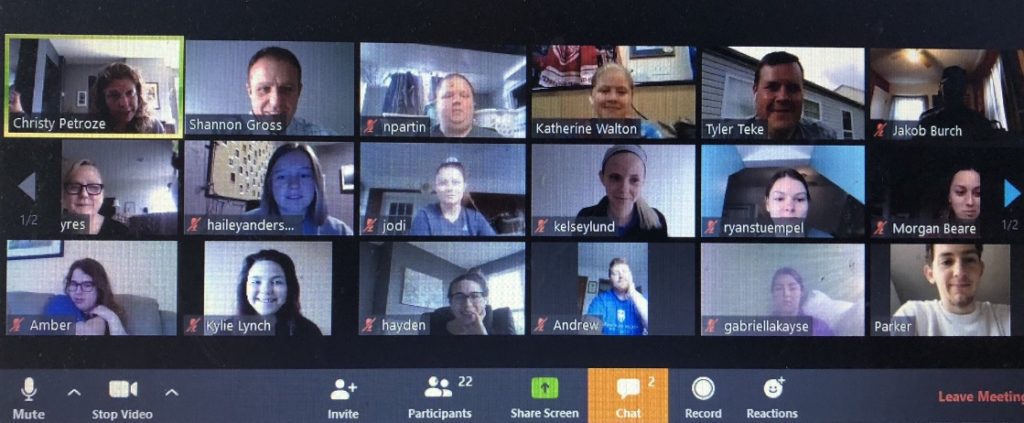 The symbiotic relationship with the schools and school districts provides excellent results for these highly prepared Thomas More students. As soon as they graduate, many have opportunities waiting for them. Dean Haverkos expounds, "We recognize that correlation is not causation and that these principals (Turner and Gross) are doing a lot of work in addition to having us in the classrooms, but student scores are improving in those buildings and they hire our students. They want to interview our students first. We continue to have a 100% employment rate upon graduation." That is an excellent return on investment for the Education Department plus there is the bonus of knowing the collaboration is working from the students' perspective. "They worked hard to create a meaningful partnership for education majors to grow their skills and prepare for their own classrooms. I definitely feel more prepared for the future because I was able to learn from all of these great educators," says education major Lacey Pohlman '20.
In conclusion, Gross dropped these words of wisdom for education majors ready to take on the world, "Every time you enter a classroom or a building, keep in mind that you just became a reflection of a larger community; your actions are a reflection of everyone. And never base your career on your first year – just as long as your good days outnumber your bad, it's a success." His thoughts about the coming semester? "It's an honor to have the opportunity to work with Thomas More and we look forward to meeting the new students in the upcoming school year."
---
Education majors give their feedback. Thank you to the following students for sharing information on their in-classroom experience:
Sydney Adamson '20 (Eighth grade English) – Before the collaboration, I was very anxious to meet the teacher and students. This was my first time being in a classroom for an extended period of time. I was excited to shadow a teacher with great experience. The teacher was also very flexible and understanding which was most beneficial for me. The teacher that I shadowed allowed me to do whatever I needed to expand my learning and was very patient with explaining everything to me and answering any question I had. It put my mind at ease when I was able to be comfortable with this teacher. I don't think I would do anything different! I had an amazing time at Twenhofel Middle School. I learned so much from the teachers I was able to work with. Also, I appreciated the several opportunities we were given to hear from the principal (Dr. Shannon Gross) of the school. He is a very knowledgeable, respected man and I learned so much from him!  
Morgan Beare '21 (Fourth Grade Math and Reading) – I was excited to get started but more nervous than anything. The only other experience I had was with Kindergarten, so I did not feel prepared for the "big" kids. I was almost looking at it as if I wanted it to get started so I could be finished with my upper-grade requirement. What I found was that I wish I could have spent the whole year with them! Most beneficial was my cooperating teacher pushing me to create lessons on my own. She let me have a lot of freedom over what I wanted to do, but asked what I could come up with first, and we would review that together and make changes where she thought necessary and she would explain why. Her involvement is what made this experience especially successful. Looking back, I would have taught more math lessons because it was out of my comfort zone. When I taught a math lesson, I thoroughly enjoyed it! The students were so involved and loved showing me their math skills and I learned different practices to use for the future. Yealey Elementary was a wonderful place to work. All the teachers collaborated with one another and were so accepting of us Thomas More students being there. They were committed to the growth in their students, rather than perfection, which made a great atmosphere for both students and faculty. 
Parker Dixon '21 (Eighth grade Social Studies)– I was excited to start my clinical at Twenhofel Middle School. As a secondary education major (8-12), I was relieved to work with some younger students who may have found it easier to see me as a classroom leader as I progress, mature, and begin to work with older students during my time at Thomas More. What I found most beneficial, was receiving direct feedback from an experienced teacher while in the field. I was able to experiment and tweak my lessons plans, while also being given freedom to lead the classroom in collecting data, implementing routines, and leading discussions. I was able to look at handwritten notes with my collaborating teacher and even meet with him one-on-one to discuss what worked for the class and what didn't. What I wish I would have been able to do differently, is work with more classes. Because of my schedule, I was only able to receive field hours with one particular class. I would have liked to have had time to work with more students and experience the differences between students, classes, and what makes them unique.
Abby Enzweiler '20 (Second grade) – I was excited to work with the 2nd grade team of teachers, meeting the students, watching, and helping the students grow as learners. My experience at Yealey Elemenatary was very beneficial. The teachers and staff were always welcoming and willing to help us in any way they could. There were many times when the principal (Mrs. Turner) would come and talk to our class about growth mindset, classroom management, and answer any questions we had. It was amazing to get to work with students from different socioeconomic statuses and learning abilities. I learned many instructional strategies and differentiation skills that I can use to help meet each of my students' individual needs. Every student was truly amazing! I enjoyed collaborating with the teacher and students so much, I am very thankful for the partnership Thomas More has with Yealey Elementary. It is a great school with amazing teachers and role models for us future teachers to work with. This experience will be beneficial as it gave me the opportunity to teach students, and learn new strategies and skills that I will implement in my future classroom. 
Taylor Gambrel '20 (Third grade) – I was excited that I was able to be part of a class so early in my college career. I found that the interaction with the students and the staff around the school was most beneficial. I found that I was able to learn from different students and cultures. The best teachers are the best students, so being in the classroom and learning from other colleagues was very helpful. An effective teacher is always eager to learn, so this opportunity gave me the chance to work cooperatively and learn from colleagues. 
Kylie Lynch '21 (Fifth grade) – I was very nervous to start this clinical because I had previously only worked with kindergarten students in the classroom and was worried that I wouldn't know how to interact with the students. I found Yealey Elementary's assessment strategies most beneficial. The team would plan the assessments based on the Academic Standards and then rank the assessments for students who need more help, students that are on target, and students who are beyond in understanding. They would then use this to build their next lessons and assignments, it was very student-centered. Something I would do differently is that, I would go and visit the other 5th grade teacher more often, who taught math and science; so that I could see what my students were learning in all subjects and make connections in class according to that. Overall, Yealey has an amazing and welcoming staff and faculty.
Isabella Miller '20 (First grade) – I graduated this year with a degree in Elementary Education. I was with a class of first graders for all of their core subjects (Math, ELA, Reading, etc.). When I found out that we would be working with the teachers at Yealey, I was excited. This was the second placement I had, and it is where I believe I transitioned fully from being a student to being a teacher. What I believe was most beneficial about this was that our class was there; we used a classroom at Yealey and another at Twenhofel for classes with our professors. Teachers from both schools would tell us about their classroom experiences. If I were to do anything differently, I would want to spend more time there, which would be difficult as I was already in the classroom as much as I could be. It was wonderful to be completely surrounded by learning, as we were learning. Both schools were very supportive, helping us in any way they could. It was a wonderful experience.
Lacey Pohlman '20 (Fifth Grade) – From the start, I was eager to collaborate with Yealey Elementary. Any opportunity to work in depth with an elementary school's students and faculty is exciting for education majors! Partnering with Yealey allowed us to observe how teachers and administrators interact with their students. I enjoyed learning how to create lessons which intentionally meet the needs of each student and inspire a growth mindset within the classroom. We had the opportunity to practice what we learned at Thomas More in real situations. My experience was wonderful, I learned a lot from my clinical 5th grade teacher about transitioning students from one task to another. Looking back, I would have liked to observe teachers in other grades as well. The teachers have great ideas to improve the learning experiences for their students.  I would have liked to learn more about specific practices and techniques the teachers use at each grade level. I am very thankful for the support of both the Thomas More Education Department and Yealey Elementary faculty. They worked hard to create a meaningful partnership for education majors to grow their skills and prepare for their own classrooms. Dr. Haverkos and Mrs. Turner were especially helpful throughout the process of my senior research project. I definitely feel more prepared for the future because I was able to learn from all of these great educators. (CLICK HERE for a Saints Spotlight featuring Lacey's research project experience.)
Ryan Stuempel '21 (Second grade) – I was really excited for the Yealey Elementary partnership because I had heard so many great things about the school. I also couldn't wait to put everything I had been learning in my EDU classes into real life classroom practice! For my clinical placement, I was with a 2nd grade class which switched for their CORE Reading and Math classes based on student performance levels. I really enjoyed being a part of this experience because I had the opportunity to see, learn, and practice how to teach while incorporating differentiation. With my clinical teacher, I was able to help with the lowest math group and highest reading group. I learned so many different strategies to use for each performance level that I will be sure to use in my own classroom one day! 
Ali Whalen '20 (Kindergarten) – I was very excited to start this collaboration but also nervous because I knew I would be taking on more of a teacher role with the students. The things that I found most beneficial are that you become apart of the school faculty and community when you are there every day. You build relationships with all students and teachers, even in different grades. I felt very comfortable there throughout this collaboration and it allowed me to develop easily as a teacher. I wish that I had taken more advantage of getting to know all the faculty and therefore getting different ideas and approaches to instruction. You learn the ins and outs of that school and so you start to understand how they do professional development and the different resources that are available to the teachers. I hope that the other students have a similar experience that I received because it taught me a lot!